Tyler Gotto came to Niagara last season as a player head coach Dave Burkholder envisioned could play in all situations and eventually run the defense from an offensive standpoint.
The Calgary native made the CHA All-Rookie Team and ranked sixth in defenseman and rookie scoring (16 points) while playing in all but one game.
This year, he has five assists in six games, picking up two of those in a 2-0 shutout of Bowling Green back on Oct. 18.
"With the rule changes that get rid of all the clutching and grabbing, Tyler benefits from that," Burkholder said. "(Former Niagara assistant coach) Albie O'Connell saw him play a couple times and after we scoured the junior leagues, we found what we wanted with Tyler."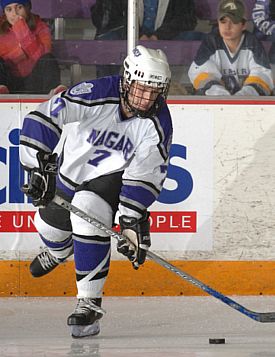 The 6-foot, 195-pound Gotto plays on one of the Purple Eagles' power-play units, kills penalties and is on the ice if NU is defending a one-goal lead or down a goal late in the game.
"When I came here, the coaching staff told me I'd play the power play and see where I would fit the best," said Gotto, 22. "I think I fit in with the tactical style of play here. I think I have a role on the PK and really, I just want to see lots of ice. I just want to fulfill the expectations that the coaches have for me. I think eventually I can quarterback the power play and make more of a difference out there."
In juniors with the Calgary Canucks of the Alberta Junior Hockey League, Gotto was runner-up for the league's best defenseman in 2005-2006 after scoring 13 goals (eight on the power play) among 49 points and 129 penalty minutes. Before playing for the Canucks, he was a member of the Calgary Northstars Midget AAA national championship team.
Coming the 2,100 miles to Monteagle Ridge was a bit of a reality check for Gotto, who said Buffalo is nothing like "back home on the prairie, but in both places, the people are very friendly."
"I thought in my mind that when I came here I was in good shape," said Gotto. "You definitely have to keep raising your level of fitness and during the summer, I hit the gym hard. Hopefully, that helps to translate into success on the ice."
"Tyler's a very professional kid," Burkholder said. "He's taken our fitness program very seriously. Last year, he played at a little over 200 pounds and this year he's playing at 190. He wanted to get quicker."
Gotto's speed is what Burkholder said is his greatest asset.
"I've told him personally that he has the green light to rush on his own," said Burkholder. "We have that faith and that trust in him. We have some pretty good forwards, so if he can rush the puck more, hey, he has the green light."
Gotto has played the bulk of this year with classmate Ryan Annesley on the blueline, but will be paired with redshirt junior Travis Anderson this weekend.
"I've always been the offensive-type player," said Gotto. "Whoever I'm with, they know my style and I know they have my back."
Still, being on the ice in pressure situations is when Gotto feels he plays his best.
"I like to get a head of steam and start up ice and see how far I can get and draw guys to me," added Gotto. "I try and make the offensive play when I can. I think I see the ice and can find the open guys and set plays up before they happen. I want to be out there if we need a big goal and I want to be out there to help keep a lead.
"The coaching staff can rely on me. On the ice is where I want to be."
Niagara, Bemidji Both Win At Glas
Niagara and Bemidji State split last weekend's series at Bemidji in a series symbolic of the parity in the CHA this season.
Friday night, NU freshman Bryan Haczyk scored the game-winner shorthanded for a thrilling 3-2 win. Haczyk scored off a 2-on-1 break with junior captain Vince Rocco for his first NCAA goal.
"I have been working with (associate) Coach (Jerry) Forton about opening up when we are in positions like that," Haczyk said. "Rocco gave me the pass and I was just thinking 'Get it on net.' It's such a great feeling, but the most important thing is that we got the win."
Last season, these two rivals played to three ties out of the four contests, including a pair of ties at the Glas Fieldhouse. Despite getting outshot, 36-18, NU was not going to settle for anything less than a win.
"What a courageous road effort," Burkholder said. "We persevered through a lot of pressure (Friday). They are a fast transition team at home and there was no question that we were under fire. We bent, but we didn't break, and we pulled through with some terrific defense."
Juliano Pagliero made 34 saves for the win. Orlando Alamano made just 15 stops for the Beavers, who got goals from Blaine Jarvis and John Vadnais.
Annesley and Egor Mironov scored NU's other goals. Sophomore Trevor Foster tallied his first career point with an assist on Annesley's goal.
Saturday, a 3-0 win by BSU ended Niagara's five-game winning streak.
Matt Climie stopped 31 shots en route to his eighth career shutout.
The victory, BSU's first since Oct. 13, ended the Beavers' longest losing skid since they lost five straight in the final month of the 2002-03 campaign, snapped a five-game winless streak versus the Purple Eagles dating back to Oct. 27 of last season and a put to rest a string of three straight losses at the Glas.
Matt Pope scored twice and Jarvis added a single. Joey Moggach assisted on all three goals to boot.
Niagara goalie Adam Avramenko posted 28 saves.
RMU-NU Series On Tap
In what could be a preview of the CHA title game next March, Robert Morris hosts Niagara this weekend in an early-season battle for first place.
"This weekend will be a battle," RMU head coach Derek Schooley said. "We'll see where we fit in. We just need to go out, play our game and let the chips fall where they may."
"After going to Bemidji last weekend and this weekend to Robert Morris, these are the two toughest road trips of the season," Burkholder said. "To have these trips back-to-back, maybe I wouldn't have written the schedule that way, but we have to show we're a good road team against a very tough Robert Morris team."
Niagara leads the all-time series 9-5-2. Last year, the Colonials won the season series with a 3-2-1 record.
"This will be our biggest test of the year so far," Colonials senior forward Ryan Cruthers said. "We are going to have to beat them to be a championship team."
"Playing at Robert Morris is one of the biggest weekends of the first half, if not the whole season," added Gotto. "We played them a lot last year, so we know their schemes and tactics, so we need to focus on that."
Cruthers sits second in overall conference scoring behind Niagara co-captain Matt Caruana with three goals and four assists. Caruana has five goals and eight points. Cruthers, however, leads the CHA in scoring with four points, tied with teammate Chris Margott and Moggach.
The series will also be a battle of two of the top goalies in the CHA in Pagliero and RMU's Christian Boucher. Both Pagliero and Boucher are 4-1-0 on the season, but Pagliero has a slightly better save percentage than Boucher (.952 vs. .939) and a better goals-against average (1.61 vs. 1.77).
"There are no easy games and no easy series in the CHA," said Schooley. "Anyone can beat anyone — we've always said that. Niagara is the premier team in the CHA and we want to go out and just battle."
UAH Shows Grit, But Drops Pair At Home
Alabama-Huntsville opened their home season falling 7-0 and 4-2 to Minnesota State last weekend.
Goalies Cameron Talbot and Blake MacNicol split time in Friday's loss.
"It was a bad way to play a hockey game," said Chargers head coach Danton Cole in the Huntsville Times. "Playing like that isn't going to get us anywhere."
Saturday, Brennan Barker and Joey Koudys scored for UAH and MacNicol turned away 31 shots
"Saturday was a lot better," Cole told the Times. "They came out and played the best period of the weekend. They also proved that they can hang in there. I liked that our guys blazed right to the end. We'll bank that and hopefully carry it through the weekend.
"They care and they work and they're in there. I'm real impressed with the adjustments they've made. There's an importance to keeping it a learning experience."
The Chargers open CHA play this weekend hosting Bemidji State on Friday and Saturday at the Von Braun Center.
Prior to the contest on the ice, Cole and BSU head coach Tom Serratore will be part of a luncheon in the Varsity Room at Spragins Hall on the UAH campus tomorrow at noon.
Each coach will address the audience (at a cost of $7 a pop) and take questions in a Q & A-like setting.
CHA Update
No news is good news. Right?