The pictures of the 2007-08 University of Connecticut women's hockey team that grace the Mark Frietas Forum are not your standard headshots of angry-looking players in helmets carrying sticks.
Instead there's a shot-putter, Justin Verlander, a snowboarder, a Ben and Jerry's ice cream fanatic, a teacher holding a globe and an FBI agent with handcuffs — seven-year coach Heather Linstad's idea to make sure the players, posed with their hobbies and soon-to-be professional tools, are regarded as individuals and not just numbers.
If the layout is special, it's because this could be a special team having a special season.
"I think with the growth of the program and where the recruiting has gone, this was the year we were going to turn the corner," said Linstad, "with more special years to come. The way we are recruiting kids, we're building it the way we want to," she said.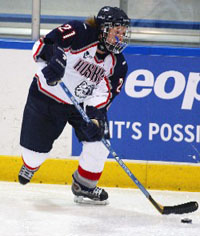 Entering this weekend's key matchup at New Hampshire, UConn is off to its best start in the program's seven-year history with a 9-1-0 (2-0-0 in Hockey East) record. The only loss was in the first game of the season when then-10th ranked Ohio State defeated the Huskies 3-2. UConn is ranked eighth in the latest national polls, again a first for the program. UNH is ranked first in national polls going into the game. In the preseason Hockey East poll, New Hampshire was picked first and Connecticut third, behind Boston College.
UNH is 8-1-0, having defeated Boston College Wednesday night. It is in first place in Hockey East with a perfect 6-0-0 record; UConn, meanwhile, is tied for second, but with far fewer HEA games.
UNH coach Brian McCloskey said he's glad there's more competition in Hockey East. "That's what we all want … you want a tough league because the lion's share of games are in your league."
Slowly, Hockey East is building up, he said. UNH has always been powerful, last year Boston College emerged and this year it's "Heather's program," he said. Boston University is also getting better. The WCHA has had that kind of balance because it has several established programs, he said.
McCloskey said some people may be surprised at UConn's fast start but "probably no one in our league. Heather's done a great job. A couple of years ago, she turned things over and this year she's getting the fruits of that rebuilding as the team starts to mature."
McCloskey said UConn is very balanced with solid goaltending, accomplished scorers and especially solid defense. "They've always been tough defensively. This year they're winning a lot of tough games, not by blowing people out but by playing both sides of the puck. They're a very patient team."
Players say the strength of the team, especially some of the newcomers, the addition of speed and the coaches' attitude to let them have fun while they are competing has made the difference so far.
But it's a long season and last year, looking good coming out of the holiday break, UConn went into a mini-slide, losing games to teams it should have beaten such as Vermont, Brown and a pair to Providence to end the regular season. Those losses dropped the Huskies to the third seed in the Hockey East tournament, so that they had to play UNH in the first round, a game they lost 2-0.
"We were disappointed because we gave away two games to Providence," said Linstad. "We would have played BC instead of Providence," she said. As it turned out Boston College advanced to the Frozen Four, but Linstad's point is that UConn wanted to set its own seeding rather than have regular-season losses determine it.
"A lot of players who had potential last season have stepped up this year," said senior co-captain Jaclyn Hawkins. "And the recruiting got better and we have a lot more speed and are so much quicker on forechecks."
Last season, Hawkins set a school record with 18 assists. She had a total of 36 points to lead the team, and with 116 career points is the UConn career leader in that category.
"The coaches also aren't as set in their ways and know how to adapt to different teams," added senior co-captain Bridget King. "The biggest thing is to stay consistent. Last year after Christmas break, we just crashed."
The players said they let personal issues distract them, issues that have to be left outside the rink.
One of the biggest explanations for this year's success is the growth of sophomore Dominique Thibault, a 5-foot-10 sophomore from L'Orignal, Ontario, who played with the U-22 Canadian National Team this past summer. To date she has a team-leading 10 goals and 10 assists and is well on course to break all school offensive records when she graduates.
Her freshman year she had 14 goals and 11 assists to finish with 25 points, second-highest on the team
Thibault said she is more confident on the ice this year. "I feel I can do anything … there's nothing stopping me," she said. "Last year I was a little fearful and nervous. I was on the U-22 Canadian team and so when I came in here I had to prove I could do everything. This year I'm just going with the flow."
"She's very aggressive, she's smart and she always knows how to get to the puck," said Hawkins of Thibault. "She also uses her size very well. It's tough going up against her in practice."
"Last year she put too much pressure on herself," said King. "This year when she's determined to get something, she gets it."
Linstad said Thibault has matured mentally. "We knew she could skate and handle the puck well, but now she comes to practice every day to get better. As a freshman she didn't realize the expectations."
Players said the team is much deeper this year, with four strong lines. They're also looser, dancing on the ice in warmups.
"We're having more fun … we're allowed to be more goofy," said Hawkins.
Linstad said the team is closer than in the past and calls it a "classless program" because everyone knows their roles and they're more accountable for what they want to accomplish. Thibault is having a great year, she said, and Hawkins and King, who have been forces on the team since they came,"just needed a few players to play with."
The team was tested physically Oct. 25 when it beat Providence 5-0. "They tried to get physical but we have more depth and five different people scored," Linstad said. "We haven't bumped into a line we couldn't score on yet." UConn is averaging 3.2 goals a game while giving up an average of 1.6.
Linstad the team is working on improving in the defensive zone and with special teams.
The UNH game will certainly be a test, she said. "They rely on senior experience and they're very balanced," she said. UConn was 0-1-2 against UNH last season, losing to them in the Hockey East semifinals. Overall they're 3-17-3 against the Wildcats, the last win in December, 2001.