College Hockey America is hardly the ugly stepchild of the college hockey community when it comes to moving its players onto professional hockey in North America.
In taking a look at current rosters of six minor leagues (American Hockey League, ECHL, Central Hockey League, International Hockey League, Southern Professional Hockey League and the new Mid-Atlantic Hockey League), more than 40 CHA alumni (of the five current schools) are playing at the next level, including 13 former Alabama-Huntsville Chargers and 11 former Niagara Purple Eagles.
Two seasons ago, Matt Ryan became the first former CHA skater to reach the National Hockey League as the ex-Niagara forward played a dozen games with the Los Angeles Kings and recorded one assist and two penalty minutes.
Two Niagara players — goalie and current assistant coach Greg Gardner and last year's captain, Sean Bentivoglio — inked NHL deals once they graduated from NU. Gardner signed with the Columbus Blue Jackets in 2000 and Bentivoglio with the New York Islanders last spring after a tryout with the AHL's Providence Bruins.
"Sean could have signed with more high-profile college programs, but came to us as a true freshman, played a regular shift and just got better with each season," said Niagara head coach Dave Burkholder. "I compare him to Chris Drury because no one works harder in practice and in games than Sean. Islanders fans are going to love him."
"This is an important signing for us," said Islanders general manager Garth Snow. "There was a lot of interest in Sean and our scouts are thrilled he chose to be an Islander. Sean was a dominant player in college and proved with the Providence Bruins that he's close to reaching the next level. He has NHL speed and playmaking ability and plays the game with a ton of determination."
Bentivoglio is among the scoring leaders for the Bridgeport Sound Tigers, the Islanders' AHL affiliate, this season.
Ex-UAH goalie Scott Munroe was called up by Philadelphia for the 2006 playoffs against Buffalo. He didn't see any game action, but was on the bench for the Flyers.
While it may be easier to spot alumni from CCHA or WCHA schools on pro rosters, seeing a CHA name gives much credibility to the fledgling league.
"To be able to move players on to the high levels of hockey after college is big for each individual program and for the league," Robert Morris head coach Derek Schooley said. "It shows that good pro hockey players can come out of the CHA and it is represented by the competitive nature of all our programs, especially in nonconference games."
The CHA has only been in existence since 1999 and with next season probable at best at this point, it's a testament to the league that a large number of players in such a short period of time have ended up going pro.
"I do think the CHA gives some kids a shot at impressing scouts that they wouldn't get elsewhere," said MichiganCollegeHockey.com editor Tom Balog. "They can skate on the first or second lines in the CHA, play high-quality competition and then maybe have a chance at moving to the next level. They might be just role players at the so-called 'bigger schools' or not have a shot at all. The CHA is a terrific option and can provide the catalyst to a lifelong dream."
Currently, just one CHA skater has been drafted by an NHL team as Bemidji State sophomore defenseman Chris Peluso was taken by the Pittsburgh Penguins in the seventh round of the 2004 Entry Draft. Peluso became the second NHL draftee to join the Bemidji State program since it moved to Division I in 1999, joining Andrew Murray, who was drafted by Columbus in the eighth round in 2001 and signed upon graduating in 2005.
CHA Players on Professional Rosters
(North American Teams)
*as of Nov. 14, 2007
Alabama-Huntsville
Shaun Arvai, Amarillo (CHL)
Craig Bushey, Huntsville (SPHL)
Tyler Butler, Rocky Mountain (CHL)
Chris Martini, Amarillo (CHL)
Brett McConnachie, Fresno (ECHL)
Bruce Mulherin, Las Vegas (ECHL)
Scott Munroe, Philadelphia (AHL)
David Nimmo, Amarillo (CHL)
Jared Ross, Philadelphia (AHL)
Keith Rowe, Amarillo (CHL)
Grant Selinger, Amarillo (CHL)
Jeff Winchester, Arizona (CHL)
Karlis Zirnis, Bossier-Shreveport (CHL)
Bemidji State
Brendan Cook, Austin (CHL)
Luke Erickson, Pensacola (ECHL)
Andrew Martens, Johnstown (ECHL)
Andrew Murray, Syracuse (AHL)
Nathan Schwartzbauer, Youngstown (CHL)
Layne Sedevie, Wichita (CHL)
Rob Sirianni, Utah (ECHL)
Niagara
Sean Bentivoglio, Bridgeport (AHL)
Scott Crawford, Bloomington (IHL)
Justin Cross, Kalamazoo (IHL)
Barret Ehgoetz, Cincinnati (ECHL)
Casey Handrahan, Bloomington (IHL)
Andrew Lackner, Tulsa (CHL)
Marc Norrington, Fayetteville (SPHL)
Pat Oliveto, Mississippi (ECHL)
Matt Ryan, Manchester (AHL)
Jeff Van Nynatten, Rio Grande Valley (CHL)
Kris Wiebe, Wichita (CHL)
Robert Morris
Aaron Clarke, Wheeling (ECHL) — on IR
Joey Olson, Mon Valley (MAHL)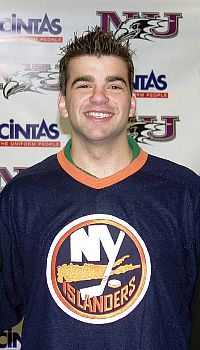 Wayne State
Jason Bloomingburg, Corpus Christi (CHL)
A.J. Bozoian, Corpus Christi (CHL)
Billy Collins, Muskegon (IHL)
Nate Higgins, Port Huron (IHL)
Tyler Kindle, Fresno (ECHL)
Mark Nebus, Port Huron (IHL)
Nathan Rosychuk, Rocky Mountain (CHL)
Travis Rycroft, Utah (ECHL)
Niagara and Robert Morris Each Win One
Niagara senior captain Matt Caruana reached the 100 career-point milestone Friday night with two goals as Niagara shut out Robert Morris 4-0, on the road.
Caruana became the ninth member of the illustrious group.
"It is a huge honor to reach the 100-point mark," said Caruana. "A lot of great players are part of the club and I couldn't have made it there without the help of my teammates."
Juliano Pagliero recorded his third career shutout in the win, making 45 saves on the night.
Sophomore defenseman Jim Burichin also scored his first collegiate goal in the win and Ted Cook scored his first goal since Oct. 13 at Holy Cross.
"It was another great road effort for the team and I am very pleased for Matt Caruana reaching 100 points," said Burkholder. "Again, he played like a senior captain. Juliano Pagliero played absolutely perfect tonight."
Thanks to three power-play goals, Robert Morris came back and defeated Niagara, 4-2, Saturday night.
Ryan Cruthers scored twice and Sean Berkstresser and David Boguslawski also scored for RMU.
Cook and Les Reaney tallied for NU.
Robert Morris goalie Christian Boucher stopped 21 shots and Pagliero made 37 saves.
The Colonials went 3-for-8 on the power play, while Niagara went 1-for-11.
"What a great weekend of hockey," Schooley said. "Both teams played well and competed hard. On Friday, we were the victims of their scorers being opportunistic and some great goaltending. On Saturday, our scorers contributed and our special teams were outstanding. As I said, it was a very good hockey weekend."
Robert Morris returns to action on Friday as it hosts Ohio State at the Mellon Arena in the second game of the second annual Pittsburgh College Hockey Showcase. The first game is RMU's club team against Washington & Jefferson.
"We are extremely excited to play at Mellon Arena," said Schooley. "This is a great showcase for our hockey program and for our university. Anytime you can play in an NHL building and associate your program with a big-name university it is a win-win for Robert Morris hockey.
"The Buckeyes have a tremendous amount of talent and skill. They beat a very good Wisconsin team earlier this season that we lost to so it should be a big challenge for our veteran team. Ohio State has six NHL draft choices and two local Pittsburgh players so they should be excited to play in an NHL facility. It will be another challenging weekend for our program."
Niagara, meanwhile, looks to extend its 20-game home unbeaten streak (18-0-2) against Sacred Heart. The streak is the seventh-longest in NCAA history.
"The streak didn't get looked at too much last year," Pagliero said in the Niagara Gazette. "People are turning their heads a little now and saying, 'Who is this team and why are they so tough to play at home?' We're still establishing ourselves. And this is a good way to kick in the door a little bit."
Beavers Beat, Tie Huntsville
Bemidji State took three points from UAH last weekend down in Huntsville.
Bemidji State goaltender Matt Climie stopped 36 shots en route to his second consecutive and ninth career shutout in a 2-0 win Friday night. Climie joins BSU alums Blaine Comstock (1967-71) and Jim Scanlon (1978-82), who sit atop the BSU all-time shutouts list with nine apiece.
UAH goalie Blake MacNicol made 36 stops in front of 3,000-plus fans at the Von Braun Center.
Travis Winter and junior Matt Francis (first NCAA goal, no goals in two years at St. Cloud State) scored for the Beavers.
Bemidji State fired 24 shots on goal during the second period, just four shots shy of a BSU school mark set versus Lake Forest in 1994.
"Blake was outstanding," UAH head coach Danton Cole said in the Huntsville Times. "He kept us in the game."
Saturday afternoon, Matt Sweazey had a power-play goal and a shorthanded goal to help the Chargers to a 3-3 tie.
Peluso, Winter and Chris McKelvie scored for the Beavers, with McKelvie's tying the game for good at 15:47 of the second period.
Joe Federoff tallied UAH's other goal.
"We battled hard again; that's a good team over there," Cole said in the Times. "I'm happy with scoring three goals."
Climie and MacNicol each made 21 saves.
UAH takes a break from action next weekend before heading to Troy, N.Y., for the 57th Annual RPI Holiday Tournament on Thanksgiving weekend. The Chargers' first game features a rematch of their NCAA opening-round double-overtime thriller with Notre Dame.
Wayne State Gets First Win of Season
Lake Superior State and Wayne State came into Friday night's game with just a single win between them. The Lakers came away with a 3-2 win over the Warriors in front of a pro-Lake Superior State crowd at the now-heated Michigan State Fairgrounds Coliseum.
Junior Bryan Olds scored his first career goal in the loss. Olds stole the puck in his own end and went nearly the length of the ice untouched before putting a shot off the far post and in.
Tylor Michel added a goal with 10 seconds left with WSU goalie Brett Bothwell on the bench.
Bothwell finished with 17 saves.
"We're fighting the puck and squeezing our sticks too hard," Wayne State head coach Bill Wilkinson said. "We played two periods and were right there. We've had our scoring opportunities, but we're just snakebitten. It's definitely not for lack of effort."
Wilkinson added that nonconference games loom large in the grand scheme of things.
"Any time you play a team outside your conference, those are all big games," he said. "You want to get that recognition for not only your team, but for your league. I think it's bigger for us playing them than it is for them to come here and play lowly Wayne State. We want to go out and prove ourselves."
Saturday was retribution of sorts as Wayne State snapped its season-opening seven-game skid with a 2-1 victory.
All three goals in the game came on power plays, one in each period. Jon Grabarek and Jared Katz scored for Wayne State.
Freshman goaltender Kyle Funkenhauser made 24 saves, 20 of which came in the last 40 minutes, to earn his first collegiate win.
For the first time this season Wayne State opened the scoring, as Grabarek took a cross-ice feed from Jeff Caister and fired a shot from the right circle past LSSU goalie Brian Mahoney-Wilson at the 16:56 mark of the first period.
Shots on goal went in LSSU's favor, 25-17, including a 12-1 difference in the third period.
Lake Superior State head coach Jim Roque chimed in with his thoughts on what he saw out of the Warriors, a team he said still has lots to play for.
"I think at times the players might get too individualistic out there and want to do it all themselves," said Roque. "But Bill's done a good job with that team. I would imagine it's hard to keep the players motivated, but Bill's done a good job. If a kid truly loves hockey and truly loves to play, then he won't just quit."
Wayne State will host Bemidji State this weekend for their first home CHA series.
New York Native Dowd Commits to NU
Forward Brian Dowd is coming home to play college hockey at Niagara.
The 18-year-old Williamsville, N.Y., native currently has a power-play goal and seven points along with a plus-4 rating with the United States Hockey League's Chicago Steel through 10 games this season.
Williamsville is about 30 minutes southeast of Monteagle Ridge.
CHA Update
Anything new to report on the future of the CHA after this season?
Nope.