By now we're used to the NCHA standings turning into a disaster zone about this point of the season, but for our enjoyment the MCHA is also shaping up to be a mess.
Before we take a look at each, and also finally take the promised looks at Adrian and Concordia-WI, let's see where everyone is stacking up in terms of national recognition.
Led by St. Norbert at no.3, three NCHA teams sit in the top fifteen of the USCHO.com Division III poll. River Falls and Stout follow at no. 4 and no. 5, respectively, and the Falcons actually held the top spot for two weeks until a 5-0 loss at St. Thomas dropped them a few spots in this week's edition.
Superior finds itself just out of the top fifteen, but still receiving votes, as do a pair of MCHA teams in Adrian and the Milwaukee School of Engineering.
And just as luck would have it, St. Norbert squares off with Stout and River Falls this weekend while MSOE travels to Adrian for a two game set. Could it have been drawn up any better?
MSwhOE?
With Adrian drawing a lot of attention due to some early success and the novelty of being a new team, no one has been talking much about the Raiders.
In light of such, it would be wise to not forget they are three-time defending MCHA regular season champions, return almost their entire club from a year ago, and are off to a strong start in their own right.
MSOE currently stands at 7-2-0 overall, and with a 5-1-0 mark is tied with Marian and Adrian for the MCHA South division lead. Aside from a 3-0 non-conference loss to Superior and a 6-5 MCHA setback to Lawrence — due only to a gargantuan third period comeback from the Vikings — MSOE has been perfect.
The Raiders hit the road this week to take on none other than Adrian in a key MCHA South two-game set.
After losing three goaltenders to graduation following last season, MSOE's one big question mark this year was in net, but much of its success has been fueled by the solid play of freshman netminder Chris Keller.
Keller looks to have assumed the starting role for MSOE, having started seven of the Raiders' nine games. He currently holds a 5-2 record with a 3.12 goals against average and a save percentage of .876, and could probably be expected to see both starts this weekend. His goal against average currently ranks third best in the MCHA.
Though Finlandia was unable to get a win against Adrian, MSOE offers a lineup just as potent and with just as much depth as the Lions, which should work to its favor against Adrian.
Senior forward Lee Swallow has paced the Raiders thus far with 17 points. A trio of forwards stacks up behind Swallow on the score sheet as freshman Mike Soik, sophomore Steve Smiddy, and senior Blair Hanberg all have scored in double digits.
Partly due to its overall depth, one thing the Raiders have done better than almost anyone in the country is get scoring from their defense.
Led by junior defenseman Jason Yolo's nine points, the Raiders have four defensemen who have scored six or more points already on the season.
Interestingly, senior captain Ross Chawansky has yet to score on the year. As Chawansky is one of the Raiders' top overall defensemen it merely speaks to the overall depth at the position.
As a team, MSOE looks to be able to compete with the high scoring Bulldogs as witnessed by its healthy 4.78 goals per game so far this season. MSOE also appears to be in a decent position to slow down the highest scoring offense in the nation, as it leads the MCHA in scoring defense having conceded only 2.89 goals per game.
If there is one element of the match-up that looks to be a potential problem for the Raiders it could be a propensity to put their opponents on the power play. MSOE enters the weekend averaging 27.4 penalty minutes per game, which could prove fatal considering the Adrian power play is scoring at in impressive 31.0% clip.
Additionally, though ranked third in the league, the MSOE penalty kill has a success rate of 82.6% .
Overall, this could be one of the finest early season series in the MCHA, though the two teams will meet again later in the season in Milwaukee with perhaps even more on the line.
Marian dropped Adrian last weekend with an impressive performance, but no one else in the conference has been able to take it to the Bulldogs on a consistent basis.
Perhaps that's only because they haven't played the three-time defending league champs yet. We'll find out this weekend.
Last First Impressions
As promised three weeks ago, it's finally time to catch up with the two first year programs, Adrian and Concordia-WI.
As has been discussed here numerous times before, Adrian's talent is no secret. At least on paper the Bulldogs look to have enough firepower to beat anyone, but how exactly has it translated thus far?
Well, the Bulldogs sit at a respectable 7-3-0 overall and are tied for the MCHA South Division lead with a 5-1-0 mark. Included in Adrian's wins is a road victory at then-No. 7 Neumann and a road sweep of the defending MCHA playoff champion in Finlandia.
A nice start for a new program certainly, but as expected, there have been some ups and downs along the way.
There is no finer example than the opening weekend of the season in which Adrian beat Potsdam 9-1 on Friday but lost 6-4 on Saturday. Though they did split two tight contests the following week with highly touted Neumann, inconsistency reared its ugly head yet again the following weekend as the Bulldogs hammered Lawrence 9-2 on Friday but barely escaped with a 4-3 win the following night.
Some have suggested Adrian is subject to Friday night letdowns, but head coach Ron Fogarty doesn't think that's necessarily the case.
"The games are closer on Saturdays because other teams are very well coached. They see us the first time and then come out with a different game plan. As expected, they have shown tremendous capabilities to come out and do different things so it's no so much us, but the great capabilities of other teams to adjust."
The numbers don't seem to back up the Friday night letdown theorists, as two of the Bulldogs' losses have come on Friday. Additionally, they have outscored opponents 32-16 in Friday games and 26-19 in Saturday contests. So while they haven't been quite as dominant on Saturday, the difference is hardly enough to consider it some form of epidemic.
Overall, Adrian has averaged a robust 5.8 goals per game, which actually leads the nation, significantly outpacing Plattsburgh who checks in at second with 5.17 per contest. However, the Bulldogs only rank 41st nationally in scoring defense, having surrendered 3.5 goals per game.
"We are very happy with our efforts," said Fogarty. "We have the ability to score goals and score in bunches. Our big downfall has been the ability to play consistently for 60 minutes."
Adrian's defensive numbers might be a tad misleading, as emergent number one netminder Brad Fogal has played quite respectably, allowing 2.67 goals per game while posting a save percentage of .912. Smart money says Fogal may be the Bulldogs' guy from this point on.
In terms of Adrian's scoring prowess, Fogarty's comments might even be an understatement. The Bulldogs' top line of Eric Miller, Adam Krug and Shawn Skelly are currently three of the top seven scorers in the nation, and Skelly leads all players nationally with 24 points.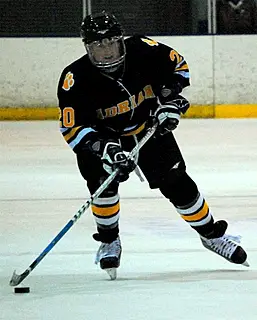 With a top line that has been so dominant, questions of depth are bound to arise, but Fogarty is pleased with what some of his other players have brought to the table, specifically forwards like Chris Kuzyk, Brad Houston and Mike Dahlinger, who have accounted for 22 points so far this season.
"(They've) put up good numbers as well," said Fogarty. "They've done it with less ice time, though. They don't see as much time overall, and they don't see as much on the power play."
Speaking of the power play, Adrian suffered early from excessive penalties, a problem that was highlighted in the loss to Potsdam as the Bears rattled of three first period power play goals that put the Bulldogs in a hole they would never climb out of.
Fogarty insists this problem has been rectified.
"We've eliminated the stick penalties — hooking, holding, interference; we've gotten away from the lazy penalties so I don't think it's a problem anymore."
Though Adrian flying relatively high for a first year program, no one is without weaknesses and they are no exception.
"We need to have mental toughness," said Fogarty. "We have to be ready for the unexpected. We're largely all freshman, and going to new rinks and new arenas — it's a new experience at the college level."
He continued, "We have no reference points for travel, teams, etc. — the tough part is being prepared for the unexpected."
Fogarty's worries are clearly illustrated by the events of last weekend, as an aggressive and speedy Marian team came out and, quit frankly, smacked Adrian right in the chops en route to a 7-5 win that included two shorthanded goals. The Bulldogs earned the series split with a 7-2 win on Saturday, but it goes to show that while unfamiliarity can work in Adrian's favor, it can also work against it.
Ups and downs aside, however, Fogarty seems pretty pleased overall with the progress of his club.
"Everyone is finally on the same page with the systems," he said. "We went through it again this week and I think it's finally second nature. I know we are sound in our systems and with what we want to do. Now all we have to do is concentrate on being consistent with what we have to do to be successful."
Moving over to the other new team in the MCHA, Concordia-WI, we find a little different story line but it is full of just as much optimism as Adrian's.
The Falcons currently stand at 1-8-0 overall and 1-5-0 in the MCHA South Division. In what could best be described as rude awakening, the Falcons opened their season against one of the top teams in the nation in UW-Stout. Though Stout rolled to a 10-1 victory, Falcons' head coach Tony Hrkac still thought it was an excellent learning experience for his young squad.
"It's something we learned right away in that first game against Stout," he said. "Most of our guys had not seen competition like that anywhere before, and it really opened their eyes to what it takes to compete at this level."
The Falcons didn't fare much better in their next game, as they dropped their MCHA opener to Finlandia 10-3 and were out shot 65-23. In a somewhat telling series finale, however, the Falcons lost 5-2 to the Lions the following night and cut the shot deficit to 52-31.
"It's all part of the learning process," said Hrkac. "A lot of it is physical, but a lot is mental. Our guys are learning that they have to be mentally ready for every game and that you have to start preparing for Friday on Monday or Tuesday, not on Friday night."
I like to think that it's somewhat obvious when coaches are firmly entrenched in the land of "coachspeak" and when they are not; having said that, numerous opposing coaches have offered legitimate praise to the Falcons for quickly developing a reputation as a team that does not give up and does not stop working hard — no matter the situation.
It is encouraging praise as far as Hrkac is concerned.
"We never give up," he said. "It can be easy to do when it is 7-0 or 8-0, but even when that's the case our guys are out there working hard to get that first goal. That's a tribute to the leadership on this team and to a guy like (captain) Sam Aide. He goes out there every shift and works as hard as possible which sets a great example for the rest of the team."
Concordia's determination paid off the following week as it notched its first win in school history by downing Northland, 3-2. They also out shot the Lumberjacks 49-22 in the contest.
"Well, it was great," said Hrkac. "Players can see that they are improving and it was a great thing for our program. It shows that if they keep at it and work hard we can come out and get a few wins."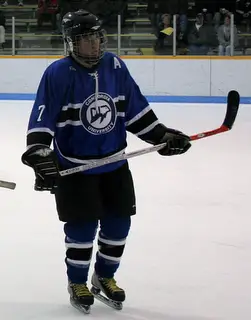 The Falcons already have had fifteen players get on the score sheet this season, with freshman forward Justin Maciuk's six points leading the way. Two of their top six scorers are defenseman and Hrkac feels it's definitely a positive so many players are getting in on the mix.
"Just get the puck to the net, go to the net, and we'll get some goals. Everyone on this team has to contribute to the scoring, contribute to the defense, and contribute to the offense. Guys have to have a desire to go to the net and accept all that comes along with it and we have a lot of guys on this team willing to do that."
Defensively, the Falcons have stuck to a three goalie rotation comprised of freshmen Alex Koeppen, Dustin LeClaire and Justus Neumann. According to Hrkac, the rotation will remain unchanged unless one really makes a push for a number one spot.
Overall, things have been much worse for first year programs on the results sheet and in the score column, but few have probably been as lucky to have so quickly established a winning attitude within the program.
Though it's never easy to lose some games by wide margins, Hrkac thinks it will work to Concordia's benefit somewhere down the road.
"When you take the ice you always want to give it your all. These guys have learned they need to practice hard if they really want to improve," he said.
Continuing, "We have seen some good teams, and now we know what we have to do to get to that level and compete with some of the teams we've seen like Stout, Stevens Point, Finlandia and MSOE. Our guys now know what it will take to get to that level."
300: More Than a Bad Movie
Almost three weeks ago St. Norbert head coach Tim Coghlin hit the road with his Green Knights to take on Stevens Point. The Knights skated away with a 3-1 win but it wasn't just any win. It also marked the 300th of Coghlin's coaching career — all of which have come at St. Norbert.
Coghlin's career record now stands at 302-92-32, good enough for a glittering .746 career winning percentage behind the bench. The winning percentage is so good, in fact, that it ranks him third all-time among NCAA hockey coaches at any level.
"I think the hype going into that weekend was a little blown out of proportion," said Coghlin.
Part of the hype stemmed from the fact Coghlin played and coached at Stevens Point.
"If anything, there is a little bit of irony in that I played there and that I began my coaching there, but aside from that it really doesn't matter," he said.
"The important thing with that game was getting our first NCHA points of the season. To go into Stevens Point and do what we needed to do is what mattered and I was far more interested in getting the NCHA points."
Though Coghlin himself crossed the 300 barrier with a healthy dose of humility, a congratulations is still in order as he becomes the 59th coach in the history of the NCAA to amass 300 wins, but only the second to win 300 within the NCHA.
Even more impressive is that it only took him a little over 14 seasons in which to do it.
Status Quo, or No?
As usual, I babbled this preseason about how tight the league was going to be and what a mess the standings would likely end up being. So far, I'm sort of right, though in an interesting twist the standings are nearly identical to where they were at the conclusion of last season.
Last year's tri-champs River Falls, St. Norbert and Stout are the top three, followed by Superior in fourth and St. Scholastica in fifth. Eau Claire and Stevens Point are once again in the six and seven holes and Lake Forest rounds out the league.
In terms of the standings and the undying quest for home ice in the playoffs, this weekend may prove to be a veritable powder keg as the top three teams square off, as do all four teams bunched up from fourth to seventh. The potential for a major shuffling up of things looms large.
If there's been one surprise in the league thus far it has been the relatively slow start of St. Scholastica. The Saints' record stands at 3-5-2 and they have only managed three conference points in two weekends. The sluggish start is interesting considering the fact that two NCHA coaches actually picked St. Scholastica to win the league in the preseason poll and with a talented corps of experienced juniors this would be a likely season for the Saints' to really put a foot down.
"There is no doubt this is not the start we were hoping for," said Saints' head coach Mark Wick. "If you had asked me the first time we talked this season if I thought we'd be 3-5-2, I would not have thought it possible."
A major reason for the Saints' lack of success in the win column is the same problem that plagued them at times last season: the inability to hold a lead. In fact, the Saints held leads on St. Thomas, Hamline, River Falls and Stout but ended up losing to all but Hamline, though they did escape with a tie.
"The biggest thing is that we have not been paying attention to detail," said Wick. "Our losing third periods is not a physical thing I don't think. Our guys came in already extremely well-conditioned and there are even more so now so I don't think that's the problem."
He continued, "It's been more of a mental thing, plain and simple: guys getting beat, not blocking shots, not picking guys up. If you make those types of mistakes against good teams like those it just won't work."
The final straw came on Nov. 21 as the Saints conceded the final three goals of the game in a 7-4 home loss to Bethel. Following another disappointing third period effort, Wick returned to the drawing board.
"After the Bethel game we said, ok, we're going to watch some tape. It gave us a great opportunity to work on our mental game and just teach; to get back to the fundamentals and that type of stuff."
The extra focus seems to have paid dividends as the Saints hit the road and picked up three conference points last weekend. The weekend included a notable 2-2 tie on Friday at St. Norbert in which the Saints overcame a 2-1 deficit after two periods — something that visitors to the Cornerstone don't often accomplish.
They then fought through an ice storm, power outage and an 18 hour delay to defeat Lake Forest 2-1 on a late shorthanded goal by sophomore forward Jordan Chong.
With the Saints' returning home to host Eau Claire and Stevens Point this weekend, Wick hopes they have finally turned the corner.
"I hope so, we'll see," he said. "You always like to be at home and we've had more success at home overall. These are games against teams that we expect to be battling for home ice with — they are two teams we are right in that mix with. This is a big weekend against teams we want to finish ahead of."
Up Top
Last season was a rarity as there was no regular season champion in the NCHA. Instead there were three. River Falls, St. Norbert and Stout all finished with 10-3-1 league marks and all claimed a share of the conference title. With the same three teams back at the top of the league, this weekend offers bountiful opportunity for all as River Falls and Stout hit the road to take on St. Norbert and Lake Forest.
Though Lake Forest is never an easy place to win, all eyes will be on the Cornerstone this weekend as it will host two match-ups between top five teams.
Despite St. Norbert's ludicrous success at the Cornerstone (82-4-3 in its past 89 games), the Green Knights might almost be considered home underdogs this weekend, a circumstance about as rare as a sighting of Halley's Comet.
If one wishes to call St. Norbert underdogs this week, it would stem partly because River Falls and Stout enter the weekend with teams largely reminiscent of the ones that went a combined 2-1-1 against St. Norbert in the regular season last season, partly because they both may be even better this season, and partly because St. Norbert still remains a bit of an unknown entity.
Yes, the Green Knights are ranked third nationally and hold a hearty 7-1-1 record, but they feature a vastly different lineup from the past few seasons. As Coghlin sees it, this is cause for concern as well as a test for his young club.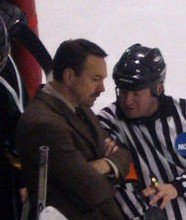 "We've questioned thus far if our young guys are up to the task. (Some of our past teams) were veteran teams and this one is not," he said. "At the same time, the early season has allowed us to gain some confidence. The fact we are able to play four critical NCHA games at home early in the season with this young group gives us the opportunity to build that confidence."
He continued, "We don't have the guys we had on some of those other teams. This is new for our young guys and you don't know how strong our willpower is."
"This is going to be a battle of wills."
St. Norbert's relative inexperience has led to them not manhandling early season opposition in the fashion many are used to witnessing.
Thus far, the Green Knights only rank fourth in the NCHA in scoring at 3.33 goals per game, and have scored more than three goals only three times this season. One upshot is the always solid Green Knight defense leads the league by conceding a paltry 1.78 goals per game.
"That is going to be the key match-up of the weekend I think: Our D corps and goaltending versus their D corps and goaltending. If we get into a 7-5 type of game with either of these teams it's not going to go into our favor."
Though the Green Knight defense is strong as usual, it will be tested to its fullest this week by the top two offenses in the league. Stout leads the league with 5.08 goals per game and River Falls is close behind with 4.91 per contest.
"Right now I think they are the best two teams in our league," said Coghlin. "Everything about us is different. They are two teams who play a little different style than us."
He continued, "River and Stout are both sort of track meet sort of teams. Again, it's really going to be a battle of wills."
That it will be as the Falcons have added scoring depth, which the lack of hurt them last season, and the Blue Devils have been getting scoring from all over the place with solid goaltending to boot.
The two enter this weekend with a combined record of 17-2-4 so it's certainly going to be trial by fire for a young Green Knight team.
Whether they pass the test remains to be seen, but if they don't, the Green Knights could be looking up at the top of the league with nearly two-thirds of their league home schedule already out of the way — something they are certainly unaccustomed to doing.
On the Periphery
Sure I stole the title from fellow columnist Russell Jaslow, but I like it and I'm only going to do it once.
A few weeks ago I posted on the Fan Forum about the poor hospitality I received while attempting to cover a game at St. John's. I thought long and hard about whether to do so, but decided to go ahead with it because reality is well…reality. Especially when the fans we serve will at times question why such and such is or isn't covered.
Well, much to my surprise, way more people than I ever would have thought commented to me about that post — many of them in person. It seems there isn't anyone who isn't aware of it.
Due to that, I'd like to qualify a few things. First, if I ever do return to St. John's I'm quite certain things would be much different, and one bad experience in no way changes the fact John Harrington has a heck of a team and program there. And second, I feel a little bad my one negative experience is the one that has garnered all the attention, because it is by far the exception rather than the rule.
So in turn, I'd like to point out that every single coach I've ever had to deal with has been more than accommodating at all times. I'd also like to thank everyone at every place I've ever covered a game in the past 14 months. That includes St. Thomas, St. Mary's, Superior, St. Scholastica, River Falls, St. Norbert, Stevens Point, Lake Forest, Lawrence, Marian, MSOE, and Finlandia. My apologies to those places I've never made it to. I've never been to Northland but I will be this Sunday and I'm certain I'll have yet another great experience as others have set a wonderful precedent.
What's even more impressive is that often times those who accommodate me are often working long hours for relatively little pay, or are straight up volunteers.
Division III hockey is a niche sport followed by an even smaller niche of fans, and looking back, it's highly encouraging that so many other people have worked hard to make things easier for me.
So mark my words, someday I'm going back to St. John's and it's going to be great. And once I do, I'm going to come back here and tell all of you exactly how great it was. How do I know? Easy. It's Division III hockey…it's always great.