As Yogi Berra once said, "90 percent of the game is mental."
For many of the teams starting out this season, they are learning that there is much more in play for their teams than just their physical capabilities and talent on the ice. In fact, both good and bad, the mental approach to how teams are playing and executing on the ice right now has some coaches delighted while others are looking to turn things around before the holiday break.
The good news is that it is still early in the season. The flip side arises if some teams don't address some inefficiencies now they may have bigger problems in the second half of the season. Here's a look at some of the good and some of the not so good leading into the semester break and what teams are looking at changing to improve performance on the ice.
Castleton Back to Basics
One of last year's clear success stories was the emergence of Alex Todd's Castleton Spartans as a contender in the ECAC East. Having reached the conference tournament final four last season before bowing out in the semi-finals to New England College, a strong returning nucleus augmented by a strong recruiting class, things looked very positive for the still young Spartans entering the season. But after a 1-4-1 start and 0-3-1 in the league, coach Todd has some issues to address and most of it isn't physical.
"Our issues are really all in the mental approach to the game right now," stated Todd. "We were successful last year because we were very committed to a strong defensive system, working hard for 60 minutes and making good decisions on the ice. This year we really haven't done that and I think because of the success we had last year, some players thought it would be easier this year and the competition is too good in this league to take that approach."
One of the primary areas of focus is looking to reduce the number of shots and scoring opportunities for the other team.
Noted Todd: "We really need to cut down on the shots on goal. We are giving up almost 30 shots per game and have been outshot in almost every game so far this season. We need to get back to the committed style of play we were successful last season if we are going to turn this season around and our seniors will be needed to lead the team in that direction."
Seniors Travis Martell (0-3-3), Matthew Link (1-1-2) and Tyler White will be looked to re-instill the mental discipline among themselves and their teammates in order to get the Spartans back on the right track.
"These are guys who were here when we didn't have any wins and know what those struggles were like," commented Todd. "It doesn't matter if you are going from one win to two or 15 to 16, the same preparation and commitment to the system has to be there and executed on the ice. I hope we can make some improvements in the final three games we have before the break and finish with some positive momentum."
The Spartans are on the road this weekend against Cortland and Geneseo before closing out the first half at home next Wednesday against ECAC northeast foe, Plymouth State.
Thoroughbreds Stumble Out of the Gate
Skidmore was another surprise team last year that had created great expectations around the league based on their returning core group of players and strong incoming freshman class. Like their travel partners, Castleton, the early going has been tough for coach Neil Sinclair's team as they look to improve on their 1-3-2 start overall and 0-3-1 in conference play.
"Every year is different," noted head coach Neil Sinclair. "We are still a young team making progress and understanding what hard work means in terms of the mental commitment to come and compete as close as you can to playing a full 60 minutes every game. Our mental effort isn't quite there and we are not doing the little things for each other on the ice that we need to be successful."
Right now the Thoroughbreds are looking to turn things around and are looking inward to do so.
"Hockey teams need to create their own luck," said Sinclair. "Bowdoin certainly did last weekend against us [more on that below] and we need to tighten up the details in our own game. It's all about us right now — not the opponent."
One area of strength for the Skidmore squad last year that has lacked strong performance in the early going has been the penalty kill.
"Last year our penalty kill unit was at 90% or better for the season," noted Sinclair. "We need to be committed to working hard in those situations and keeping people off the scoreboard — it's an important part of the game, an area where we have been proficient and something we really need to improve upon."
Senior Mike Gibbons (3-5-8) is leading the team in points so far this season but Skidmore will need to see some of last year's offensive leaders step forward to carry the team in the second half. Freshmen Brett Bandasian (3-1-4) and Alex Mykolenko (2-2-4) are among the team leaders for a team that is still looking to find its scoring touch.
"The good news about last weekend at Bowdoin was that we scored five goals in the game including three power-play goals," said Sinclair. "The bad news is we gave up a bunch more and that goes with the fact we are playing lots of people in new spots and are still figuring out where everyone goes together for this group."
Another focal point for the Thoroughbreds will be the play of goalie DJ Delbuono (.864 save percentage and 4.00 goals against average) who last year backstopped Skidmore with outstanding goaltending and is expected to return to form along with the improved play of the guys in front of him.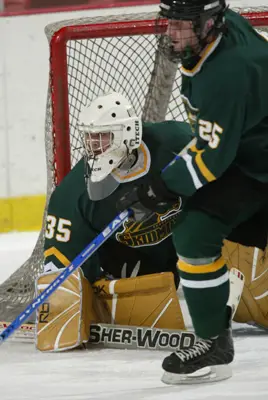 Sophomore DJ Delbuono has his eye on saving pucks in more Skidmore wins.