Returning from their Christmas break, the Denver Pioneers faced playing the annual Denver Cup without two of their top players. Assistant captain Tyler Ruegsegger and Rhett Rakhshani, who had scored a hat trick in seven minutes to spark the Pioneers to a come-from-behind victory over St. Cloud in mid-December, were off playing in the World Junior Tournament for Team USA.
Brock Trotter, however, was in Denver, and he stepped up. Trotter, the Pioneers' leading scorer in 2006-2007 and currently in 2007-2008, notched three points in each game to lead the Pioneers to victory in the tournament, earning tournament MVP honors in the process.
As successful as Trotter's collegiate career has been so far, it's all the more impressive considering that he suffered what could have been a career-ending injury in his freshman year that resulted in him redshirting the 2005-2006 season.
Trotter was a highly-touted prospect when he came to Denver in September 2005. The Brandon, Manitoba, native had played in the USHL for the Lincoln Stars, averaging almost a point a game. He started off his freshman year strong, getting five points in his first five games, and was named WCHA Rookie of the Week for the week of October 24-30, 2005. For most people, getting that honor so early would be a high point. For Trotter, it was bittersweet.
Playing against North Dakota in North Dakota on October 29, Trotter was in the corner in the North Dakota zone chasing the puck when Fighting Sioux defenseman Matt Smaby checked him. As the two collided, Smaby's skate severed Trotter's right Achilles tendon. The rest of Trotter's first year was a long process of physical rehabilitation and surgery to recover.
"It was definitely a long year, but I think I just took it one step at a time, literally," Trotter laughs. "I went through a lot of casts, I think six by the end of the whole thing. I started rehabbing with the little things, just kind of working hard to just get back on the ice. I started walking, then started skating and before long it just comes back to you. It was a long time off the ice, but you don't really forget how to skate or stuff like that."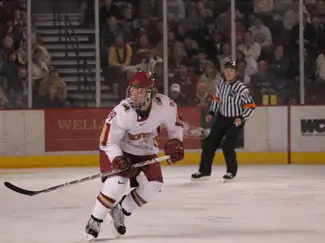 For Pioneers' coach George Gwozdecky, the focus wasn't on getting his star freshman forward back on the ice as quickly as possible to try for a third consecutive national title. Instead, Gwozdecky wanted Trotter to focus on school.
"Our biggest concern was academics," says Gwozdecky. "It was, you don't have hockey for the next six months, but we need you to establish a good solid foundation of your academic work. That's one thing that we were very responsive on and we asked him to work extremely hard to get a good solid foundation and he did so, along with his rehab, and I think it's worked to his benefit."
Along with his academics, Trotter did a lot of different exercises to strengthen his leg. "It was just kind of a combination of things cause all my muscles hadn't been used in so long. I pretty much had to re-strengthen pretty much everything in my ankle and my leg. As far as the actual Achilles tendon, that was probably the toughest part, just being able to re-strengthen that obviously, cause it had been cut in half."
The work paid off for Trotter, who started practicing with the team again towards the end of the season, and continued to work over the summer to be able to play at a high level again. In 2006-07, his first full season with the Pioneers, Trotter picked up where he left off, playing in all 40 games and scoring 40 points.
Trotter started developing his offensive talent at a very young age. He started skating when he was two, and, like many other Canadians, played in a backyard rink that his father built every year.
In addition to hockey, Trotter played other sports, including soccer, golf, baseball and basketball. Ultimately, he knew he would choose hockey.
"Hockey has always been my favorite sport; I knew I was ultimately going to pursue that," he said. "The more you keep playing hockey, the less time you have for other things."
As he got older, Trotter faced the decision of whether to further his hockey career in Major Junior or college, ultimately choosing college, a decision that was influenced by friends like former Pioneer Brett Skinner.
"I had an opportunity to go and play in the Western Hockey League when I was 17, but I opted to go to the USHL and eventually come here. It was in the back of my mind, like all my friends ended up going to do that. That's what western Canadian kids do, but I felt this was the right choice for me for my hockey career."
Trotter looked at several different NCAA programs, including Minnesota-Duluth and New Hampshire, but ultimately felt that Denver was the best place for him to go.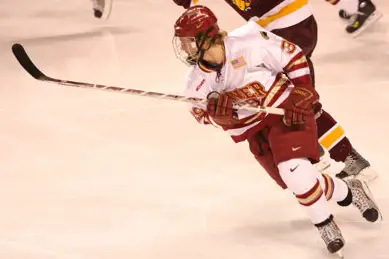 Gwozdecky feels that Trotter is a natural offensive talent who nevertheless works very hard at all aspects of his game, something that really attracted the Pioneers when they scouted him.
"He's a very gifted offensive player, a quick stick," says Gwozdecky. "In a hockey sense he's very slippery, tough to contain. I think he's better in certain parts of his game than he was a couple of years ago. He's one of these guys that right now in his game he's learned to take the puck in traffic.
"I think part of his game when he was a younger player was everybody would just work to get the puck to him and then he'd get it and score. When you advance to the higher levels, everybody has to work to get the puck, so there's no question that Brock's game continues to develop and evolve, based upon how skilled and how dedicated he is to his game."
For much of this season, Trotter has played with another offensively skilled Canadian, freshman Tyler Bozak. The two seemed to have chemistry almost from the moment that they paired up.
"He's unbelievable to play with," said Bozak. "I've been with him since the start of the year. We've kind of had instant chemistry. He always finds a way to get open. When I'm open, he'll always give me the puck, and whenever I give him the puck, he'll always put it in the net, so there's not a better guy to play with. He led the team in scoring last year, and to be put on a line with him, he was a guy I looked up to. I think all the guys do; I think they try to learn from him and his offensive talent."
For Gwozdecky, the pairing has had huge dividends.
"I'm pleased by it, but not surprised. They're both creative players and the more you play those kinds of players together, the more they seem to be able know how each other plays, where they're going to be, where to put the puck. They play off each other very well."
Trotter likes playing with Bozak, and feels that the two complement each other very well. "We feed off each other. If I'm not having a great night, he's got my back and he's pushing me. It's give and take. We seem to be working really well together, so hopefully that can just continue the rest of the year.
Gwozdecky once said of Trotter that the coaching staff sometimes doesn't know what he is going to do when he has the puck. Despite that uncertainty, Gwozdecky won't try to put up set plays for his star forward.
"When you have tremendously gifted offensive players, you never want to rein them in so you take away all their creativity. I mean, [Paul] Stastny was that way, and Brock Trotter is. You don't want to give him specific things; it would be foolish for me or anybody else to give him specific rules as to you have to be here when the puck is here, you have to be here when the puck is there, you have to do this, you have to do that.
"One of the reasons they're such good players is they have a creative mind. Sometimes that creativity gets you in trouble, but if you're playing with the right players, creative players can be very effective. I think Brock has been very effective for us, and at the same time I think he's learned what works and what doesn't work at this level and what risks to take and where to take them."
Bozak concurs that Trotter has a unique ability to read and react to plays very quickly, and develop plays in the offensive end of the ice.
"He's just unreal offensively," said Bozak. "We don't have any set plays; we just read off of each other really well. We know what each other is going to do and where we're going to be, so we can react off each other much quicker. We've gotten pretty good knowing where each other is at all times and going to the right spots as the season has progressed. I know when he has the puck he's going to look for me and I'm usually there and when I have the puck, wherever I'm going to look he's usually there, so our chemistry has been great so far."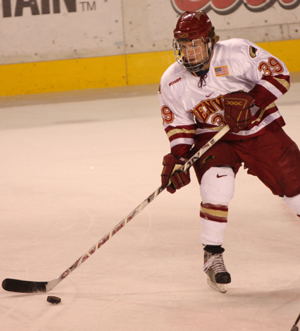 As well as Trotter performed in his first full year, the season ended in disappointment, as Denver missed the NCAA tournament by one victory. Though the Pioneers, currently No. 4 in the country, have been strong so far, Trotter says that they still have a lot to accomplish. With the Frozen Four in Denver this year, the Pioneers have some extra motivation to get to the tournament.
"You try to learn from your experiences, obviously," Trotter said. "I think our team's doing well right now, but we can't be content with what we've done so far this year. We just have to go out each week getting better. The funnest hockey is always the second half, playoffs and all that, so we gotta set ourselves up for a good shot to make a good run near the end. With [the Frozen Four] being here, it's definitely a big motivator for us to try to get there. I know we'll have a lot of people behind us if we can make it there."
For someone as gifted offensively as Trotter, it's a surprise that he is undrafted by any NHL team. Trotter does hope to play professional hockey someday, but it isn't his focus at the moment, something that is good news for Pioneers' fans.
"Right now, I'm just kind of worried about playing for the University of Denver. I've still got two more years left here, so that's still a long ways down the road. I'm just trying to worry about this season right now, and it looks good, so I'm looking forward to the rest of the year."