Lies, Damned Lies and Statistics
There are a lot of great scorers in this league, true snipers who could tear a gnat right off a goalie's earhole. There are playmakers: athletes with the vision, skill, and sense of anticipation to put the puck right where it needs to be, right when it's got to be there.
This section isn't about them.
Let's face it, the ECAC Hockey League is a defensive animal. The flashy forwards are pile-driven out of the play as often as not, open ice is always at a premium, and dependable goaltenders are more prolific than flasks on Slope Day.
Bud Fisher (1.89) and Billy Blase (1.92) are six-seven on the nation's goals-against leaderboard, Justin Mrazek (1.98) is hundredths of a point beneath them at 11th. David Leggio, Peter Vetri, Ben Scrivens, Mark Dekanich and Kyle Richter all fall within the top-20 and under the 2.25 mark. Note that these are their overall figures, including those disheartening non-conference losses that the ECAC piled up over the holidays.
Scrivens, Blase, Dekanich, Leggio, Richter and Mrazek fall inside the country's top-20 in save percentage, as well. They're all stopping between 92.2 percent and 92.9 percent of incoming shots.
While only Quinnipiac, Dartmouth and Princeton are averaging as many as three goals a game, it is coincidentally the same Tigers and Big Green — along with Brown — who are surrendering three-plus each outing. The ECAC is momentarily home to the eighth, ninth, 13th, 14th, 15th and 19th-toughest defenses in the country.
Heck, it's even a cleaner game out here. Dartmouth, Yale, St. Lawrence and Princeton are all taking fewer than 12 penalty minutes a game. Only Hockey East can match that, with four honorable teams of its own. (Harvard, Clarkson, Colgate and Quinnipiac all beat the 50th percentile for PIM/game, as well.) By the by, Yale's 90.7 percent penalty-kill rate is the best in the nation.
Now for some individual accolades.
Clarkson's Steve Zalewski has scored in seven straight games, totaling seven goals and three assists since December 1. He already has two hat-trick-pluses this season: a four-goal game at Princeton on November 11, and a three-goal, one-assist outing at Harvard two weeks ago. Zalewski leads the league with 11 ECAC goals, and 14 overall.
Josh Coyle's got a lucky-seven streak going as well, with five goals and four assists in his last seven games for Union. Princeton sophomore defenseman Jody Pederson notched five assists in his last four games, after accumulating only two in his first 13 games.
No stranger to the spotlight, Quinnipiac's Brandon Wong has taken off on his own seven-game hot streak. Following a 44-point freshman campaign, Wong has busted out of his slow start with five goals and eight assists since December 29.
Next week, I'll sift through the goalies. As though they don't have big enough egos as it is.
Getting Back on the Horse
Playing in this league is a lot like riding horseback: you get thrown, you've gotta get right back on and try again.
So it goes once more for Rensselaer. The Engineers are Puckman-deep in a nine-game losing plummet (sometimes "skid" just doesn't cut it), and opposition aside, the goals just aren't coming for the 'Tute.
RPI has scored three goals in four games, hasn't lit the lamp twice in a game in three weeks, and summed nine goals scored in the last eight games of the slide. There are adjustments to be made, no doubt about it, but head coach Seth Appert isn't losing his cool.
"Our complete focus is on the next day," he said. "The guys came in with a great attitude, ready to work on Monday, and we tried to build on that for Tuesday.
"We've learned that the most important thing is the next shift."
One of the most frustrating aspects of the descent has been the Engineers' power play, ranked dead-last in the nation, functioning at barely over five percent efficiency. Again, Appert spoke positively of the unit, but did not mollify himself with delusions of bad puck-luck or random chance sinking his PP percentages.
"This week our power play was better," he remarked of the team's practice. "It was good, it made plays." He hopes it will be effective and make plays this weekend, he continued.
Overall, Appert is entirely absorbed with keeping his team focused on what's to come, rather than what's happened so far.
"We need to focus on what we can control. We can focus on how smart we play, how hard we play. We're very excited to play Clarkson … they're a traditional rival, and they're the next team on our schedule," he said, neatly tying themes together.
Seeking the Red Light District
Just like last year, Colgate has been baffled in its quest for the net. As a consequence, the Raiders are looking up at the bulk of the league, with nine points in ten games.
However, there are plenty of reasons to keep hope alive for this bunch. For starters, the 'Gate has played as few league games as anyone else on the chart. The team has scored four goals three times in four games, and Mark Dekanich has only given up two goals in his last 185 minutes 'tending the twine.
"We were challenged once again to put up some offense, and it was costing us in the wins column," summed head coach Don Vaughan. "We've gotta bring it every shift; there's a fine line between winning and losing [in this league]."
Since the holiday break, Vaughan has been heartened by a new attitude in the offensive zone.
"We like a lot of the things that we're seeing. We're generating a lot more shots," he said, adding that shots attempted and quality scoring chances are far more informative and important than the basic shot-on-net totals. "We need to throw more pucks to the net. We were waiting for the perfect play … trying to be too fancy with the puck," the coach said of the offense's first-half struggles.
The Raiders also have seven remaining home games to only five on the road, and Starr has been kind to the home team so far: 1-1-2 in league play, but 6-2-2 overall.
"Would we rather play at home than on the road? Of course. But those are not guaranteed wins," Vaughan cautioned.
The Raiders host Yale and Brown this weekend, against whom the hosts are 7-0-1 at Starr in the past three seasons (including a two-game playoff sweep of Brown in '04-05).
PP Pick-Me-Up
While Clarkson's offense is on-again, off-again in strobe-light fashion, the defense is finally resettling with the return of third-year rearguard Philippe Paquet. Following a one-and-a-half-month absence, Paquet returned to the lineup healthy and hungry on December 28.
"A big part of [the success of the defense] is getting Paquet back," said coach George Roll. "He brings a physical presence; he plays the body well, and he creates space for other guys."
Paquet played 37 games in each of his first two seasons, accumulating seven points apiece. At 6'3 , 200 pounds, a long-range threat he is not … but an unholy terror in close quarters? Without a doubt.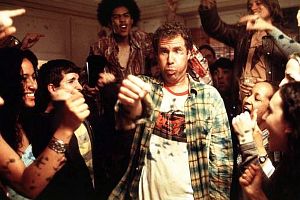 Don't Look Now, But …
… we're going streaking. (It was unreasonably hard not to make a pun out of "but" in the subhead.)
In case you hadn't noticed, Quinnipiac has strung together the nation's longest current unbeaten streak, at 9-0-1 since the first of December. The Bobcats aren't merely riding Wong, Ben Nelson or Bryan Leitch to victory after victory, either.
"The interesting thing about it is how many guys we've had injured during that stretch," observed head coach Rand Pecknold. "One of our strengths is that we have three lines that can score."
Of late, Pecknold praised the line of sophomores Wong and Jean-Marc Beaudoin with senior Dan Travis as being especially potent. The trio has combined for 16 goals in the last eight games — more than half of the 'Cats' 28 total goals in that period.
Even the captains are interchangeable. With the loss of senior assistant captain Matt Sorteberg for the season, QU is down to one captain, Jamie Bates, and one regular assistant, Dan Henningson. However, Pecknold also instituted another rotating "A," shared between Beaudoin, Nelson, and junior defenseman Andrew Meyer.
Fortunately for equipment manager Sal Lombardi, no mid-season tailoring is necessary. Beaudoin has the A on his road sweater, Meyer's is on his home white (which the team wears each Friday home game) and Nelson's assistant's patch is on his third jersey (gold, worn for Saturdays at the Bank).
It's their First Time Around
Sorry, Paul Simon is stuck in my head.
Union is on a six-game winning streak, but don't look to the seniors when you're handing out credit for this one, though; it's the youngsters who are pulling the load.
Of the six goals that the Dutchmen scored last weekend, for example, four were by freshmen (Stephane Boileau had a pair, while John Simpson and Adam Presizniuk each lit the lamp as well.) There are six freshmen and sophomores among the team's top nine scorers, including sophomore Jason Walters (3-13-16), Presizniuk (4-11-15) and soph Mario Valery-Trabucco (7-6-13) at the top.
Coach Nate Leaman admitted that his probably won't be a team that can score at will, but one that will definitely call upon its younger players to make big contributions down the stretch.
The past four games of Union's recent sizzle have been against ECAC foes, and in two weeks the eight points shot the Dutch from the cellar to a three-way tie for fourth. It was a rise that epitomizes the volatile nature of the league.
"The first thing you have to look at is that we played only six [league] games before Christmas. A rough start can create the misperception that you're out of it," said Leaman, whose team still has games in hand on four of the five programs jostling with it for position.
"Any time you can win two games in a weekend, you've accomplished something," he said.
Union just accomplished a pair of somethings, with even bigger somethings in sight.
Snapshots
• Colgate senior Dustin Gillanders is listed as questionable for this weekend. The forward has scored a goal with two assists in 16 games so far.
• Union's Torren Delforte is still questionable for this weekend as well. The senior forward has missed the past three games, and has four goals and two helpers in 18 games played.
• Freshman forward Scott Freeman missed last weekend for Clarkson, and is out again this time around. In 19 games, Freeman has potted two and added eight assists. Junior forward Mike Willemson has only played in eight games this year, including the past five, but is questionable for the Golden Knights this weekend as well.
• Quinnipiac's Rand Pecknold indicated that Sorteberg may just barely qualify for an extra redshirt season next year, if the senior elects to pursue such recourse.
• Dan Peace will serve his one-game suspension for a fighting major and game disqualification on Friday. The Engineers' senior forward should be available for Saturday at St. Lawrence.