Hard to believe that the calendar rolls into February this weekend and that we are heading down the stretch run in the season where both leagues are very competitive for all of the playoff spots.
Fondly referencing a 'Badger Bob' Johnson quote, Bowdoin coach Terry Meagher noted that "we are right in that hockey tunnel and we'll be out of it before you know it."
Just four weeks remain in the regular season and for some squads that are playing well right now probably wouldn't mind if the playoffs started now. For others this is where they need get to get it going to playing some quality hockey and making a final push for position in the standings. Either way the competition isn't getting any easier and points will be cherished in each of the remaining weekends.
The teams are revved up, the fans are stoked, and the coaches blood pressure is undoubtedly higher than usual. It is going to be a wild ride.
Cadets Cruising
Two six game winning streaks this season have Norwich sitting pretty at the top of the ECAC East standings. According to head coach Mike McShane, they are doing it with improved defense and goaltending from one familiar face and one new contributor.
"We are playing seven defensemen right now," commented McShane. "It's an area of strength for us right now over the past couple of seasons where we were somewhat inconsistent on the blue line. Despite some injuries that have had some guys out for awhile, we have had good depth and now are pretty healthy for our difficult schedule in February."
Phil Sbrocchi (1-11-12) and Tyler Stitt (0-3-3) have been dependable blue liners for the Cadets and freshman Sylvain Messier (2-7-9) has returned from injury to play a regular shift and quarterback one of the power play units with his quick passing and accurate shot from the point.
In goal, Norwich has enjoyed a successful sophomore campaign by last year's surprise starter David Thompson (9-1-0 record, .892 save percentage, and 2.22 goals against average) who according to his coach has been fabulous. The surprise contributor has been sophomore Ryan Kligensmith (5-0-0, .950 1.19) who has stepped in for Chance Gieni and posted some impressive performances for the Cadets.
"Ryan's a military student," noted McShane. "He really got serious about his training program over the summer and put in some serious time working out with the weights and a goalie coach back home while he was working hockey camps all summer. It was like we sent home a boy and a man came back to campus. He has been terrific and gives us a solid tandem of goaltenders coming into the final part of the regular season schedule."
Up front the usual suspects, Cleaver and Kashirsky, continue to produce and score big goals for the Cadets. But the coach also likes what he sees from some of the other lines and the balance his team is showing offensively. DJ Fimiani (5-19-24), Rico Piatelli (6-3-9), Eric Lauriault (7-8-15) and Chad Anderson (6-8-14) are among the contributors who keep the opposing teams honest, precluding them from paying too much attention to the Norwich top guns.
This weekend finds Norwich facing a hungry St. Anselm squad along with the ever-competitive New England College Pilgrims who always give the Cadets a good battle.
"I think we have one of the toughest schedules to finish the season," observed McShane. "None of the remaining games are easy but we are playing well right now and have most of our guys back healthy so we would like to keep the momentum going these last few weeks."
Definitely on a roll right now, Norwich next faces Middlebury in their annual match-up which will most likely reveal a lot about how two league leaders are shaping up headed towards the playoffs.
More Middlebury Magic
While attending a coaching clinic in early December following the Panthers 3-1 loss to Southern Maine, Middlebury coach Bill Beaney noted that his best two players were his goalies and that unless his squad found some offense and more consistent play things were going to be tough for the Panthers.
Fast forward to a second half jump started by knocking off Plattsburgh just before the break and the Panthers have been on a roll having won ten games in a row and outscoring their opponents 45-21, including a 9-4 romp over Bowdoin.
As expected the offense is led by senior Mickey Gilchrist (10-10-20) who got off to a slow start this season but has found his scoring touch in the second half. He has been supported by defenseman Tom Maldonado (5-15-20) who likely will join his teammate in passing the century mark for career points in an upcoming game. The Bronx native is high on Beaney list of players who make an impact on and off the ice.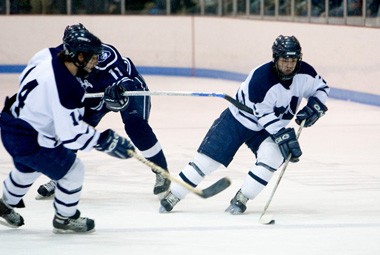 "Tom is a real quality kid," noted Beaney. "He's from the Bronx, New York and has been a big part of our success from the time he arrived as a freshman. He has been a great student here and really exemplifies the character of athlete we want to bring here to Middlebury. He is a great leader on and off the ice and he is really having a terrific season this year."
When asked about what got his team going, coach Beaney pointed to grasping the system and attention to detail. .
"We probably take a little longer to get all of the pieces put together," he said "Our system requires some thought and decision making that takes some time for all of the players to get on the same page. We really saw a commitment to the details by the players in both the offensive and defensive ends and they are out having fun with it right now.
"Defensively, we changed some things on our penalty kill and went from being one of the best at it to being one of the worst — we did some adjusting there and right now everything is coming together pretty well. We are getting rewarded for our hard work with some goals by guys like Scott Bartlett and Mason Graddock and that really keeps us going. Even our goaltending, which has been good has been more consistent — we could fall on our faces tomorrow but right now it's going pretty well."
Last weekend, ironically at NEC where coach Beaney started his career, he achieved career victory number 500 when the Panthers won on the road, 6-3. Never one to search out the spotlight, coach Beaney did take a moment to reflect on the significance of the milestone victory.
"It really says a lot about the number of great players we have had here over the past 20 years. But also, the great assistant coaches, trainers who are so important, our bus driver who has been the same guy for 19 years, the rink and Zamboni crew — really everyone who has made a contribution to our success as a program. It really comes down to the players, but also to the school that creates the environment for us all to be successful."
It's probably not a surprise that the Panthers are leading their conference, but unlike last season they have found their cadence early which might augur trouble for the rest of the NESCAC teams entering February.
Vikings Racking up Victories
Look out ECAC East! If you are searching for a spoiler this year, look no further than Salem State. They have played pretty consistent hockey and have some important wins to show for their efforts, including a 4-1 victory over Babson last weekend to close out a weekend sweep and pick up four important points in the standings. The Vikings have won five in a row and six of their last seven headed into this weekend's home match-up with rivals Bowdoin and Colby.
"It's always fun to play against Bowdoin," noted head coach Bill O'Neill. "Terry and I go all the way back to our playing days at BU and we always have good games against each other. We played them in the finals of our tournament in December and lost to them so we know we have to do things a little better than we did just a month or so ago."
A cast of young guns is leading the way for the Vikings, spearheaded by freshman Justin Fox (11-15-26) who also leads the team in power-play goals and game-winning goals this season.
"Justin is a really good player," noted O'Neill. "He can do some special things offensively and he has made the adjustments to play at this level pretty quickly as have some other guys like Mike Genovese and Chris McInnis. We are still trying to put all of the pieces together so we can get better and with no easy games you know we will have to keep working on it."
Another name player who has flown under the radar for a lot of people — excluding the teams he has shutdown — is junior goaltender Ryan Hatch. Hatch (10-6-0, .904, 2.88) has played virtually every game for Salem State and has the confidence of his coach and his teammates.
"Ryan is really solid," noted O'Neill. "He is dependable and has great toughness in being able to play back to back each and every weekend. I think we have another great goalie in James Lacour who always is ready to go any game and prepares to be ready to play but Ryan is our guy and he has played big for us all season.
Putting an emphasis on continuing their hot play at the right time of the year is the fact that they play four of their last six games against ECAC East opponents. A home ice playoff berth is definitely a possibility for the Vikings, especially if they can get a little better play from their special teams during the final month of the season.
It's still tight and while some familiar names are at the top of the standings there is still a lot of hockey to be played, points to be had.
Drop the puck!