Jim: Well, Scott, tons of things to talk about this week, from the Beanpot to brawls in Rochester to leading scorers leaving early. But we can start it all off with the marquee matchup in Miami. I think we both agreed that a split between No. 1 Miami and No. 2 Michigan seemed most likely. So when the Wolverines came away with three points, earning a victory on Friday and a tie on Saturday, you have to think that they got the better of the series. Most importantly, Michigan leapfrogged the RedHawks in the race for first place in the CCHA. What are your thoughts on this clash of the titans?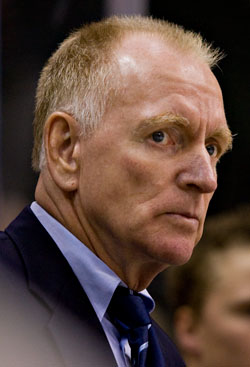 Scott: Miami can't be particularly happy with the outcome of the series, but as Rico Blasi pointed out, this is hardly a death knell. One point out of four in your own arena is never a good thing, but it's not as if Miami was playing a peewee team. And the RedHawks showed a lot of heart in coming back from a two-goal deficit Saturday to earn a point when they could have gotten none; that may be the silver lining in an otherwise-gray weekend. As you mention, Michigan passed Miami in the CCHA standings and also in the all-important PairWise Rankings, but the 'Hawks are still on track for a good seed in the NCAA tournament, and once you get to the field of 16 it's anybody's game, as Michigan State demonstrated last season. Moving East, though, this week it's your turn to comment on a melee, between Canisius and RIT. What gives?
Jim: I've just today seen some video from that Canisius-RIT brawl and have to say that this one ranks up there as one of the biggest disgraces in recent memory. Obviously, tempers flared between these in-state rivals, but the key to this altercation was the actions of Canisius defenseman Carl Hudson. After officials placed Hudson in the penalty box and it appeared things were beginning to defuse, Hudson battled his way past the penalty-box doorman and rejoined the battle. Once back into the melee, Hudson could be seen grabbing and continuously smashing an RIT player's head into the ice. When all was said and done, only five players received disqualification penalties, which befuddles me. If all 12 players (actually, it appears the count should be 13, as one of the Canisius players reportedly left the bench) are engaged in fights, each deserves a disqualification penalty. It's not without precedent in Atlantic Hockey as a game two years ago between Mercyhurst and Army resulted in a six-by-six brawl in which all 12 players were pumped with DQs. The only thing that the refs seem to have gotten right was slapping Hudson with a double DQ for leaving the penalty box, which carries with it a three-game suspension. I'll be surprised if Atlantic Hockey doesn't increase that and some other suspensions once videotape is reviewed.
Scott: Have to agree. I watched the video, and if Hudson doesn't get his suspension extended (and a few other guys too, from the look of things) I'll be shocked. This one made the UND-Minnesota scrum from a week ago look like a playground tussle. I don't claim to know the context or history here, but when I tell people about the college game, one of the things I usually explain is how little of this sort of nonsense goes on because the discipline is severe. But now, with two YouTube-quality incidents a week apart, I may have a tougher time justifying that claim. Does something need to be done at the conference or even NCAA level to crack down further? My gut feeling is no, that the rules on fighting have worked pretty well in recent years, but a message may have to be sent in this case to remind everyone. Your thoughts?
Jim: The one thing that I keep hearing, mostly from fans on the USCHO Fan Forum, is that the referees let the game get out of control. Though I understand why fans might think this, I think it's scapegoat reasoning for actions such as this. Yes, referees can be inconsistent in what penalties they call and what they do not. But that doesn't justify the Neanderthal actions that we witnessed in this fight. The head-bashing that Hudson imparts on one of the videos and the sucker punch that RIT's Ricky Walton delivers in this video are both so far beyond part of the game that I can't point blame to the officials for these action. These are two players who simply lost their minds. I don't know either player so I can't speak for their disposition as young men, but both acts reek of cowardice. Referees can struggle with enforcing the right penalties, but they can't be blamed for cowardice.
Scott: Amen. Switching gears, there's the Brock Trotter departure to mull over before we get to the Beanpot. Denver seemed to do just fine against Minnesota last weekend without its leading scorer, but for a team with designs on the Frozen Four (which is, of course, being played in the Pioneers' backyard), this isn't going to help in the long run. And this sort of thing (see: Okposo, Kyle) seems to be getting more and more prevalent. I've got friends who are casual fans asking if big names leaving midseason is typical of college hockey, and I'm starting to have to admit that maybe it is. At least we had a thrilling night of on-ice action in Boston Monday to remind us why we love the game.
Jim: Well, I think there may be more to the Trotter departure that many understand. According to reports, he had not practiced with the team the week prior to his leaving and his last game in the lineup, in fact, was January 19 against Bemidji State. The school never released any official word that I've heard about why he was out of the lineup. And now with his departure, there likely won't be any scuttlebutt to discuss. Who knows if there's more to this story that meets the eye, but this seems far different from the Okposo situation, where an NHL team was unhappy with the development of a player. As for the Beanpot, Monday was a brilliant night of hockey that offset so many of the negatives we've had to discuss here. The consolation game was spirited, with thousands of Northeastern fans coming out to show their support, while the championship game featured not only an incredible atmosphere but also a game for the annals, complete with 11 goals, an heroic comeback and a freshman who always dreamed of playing in the Beanpot scoring the game-winning goal. Not much more you could ask for there.
Scott: With regard to the championship game, I didn't know whether to cheer for BC or cry for Harvard. The Crimson were one play away from what would have been a head-turning win, but instead the BC/BU dominance of the tournament continues. The turnout this season — and every season, it seems — is a real testament to fans of all four schools, and to Boston hockey in general. That speaks to why ESPN's big-time coverage of the college game is limited mostly to the Frozen Four (which they televise) and the Beanpot, and I say that as a West guy who thinks the Great Lakes Invitational deserves more national respect. Congratulations to the Eagles, and until next week …