And the parade of CHA players to the NHL continues.
Niagara junior Les Reaney left the team last week, signed a two-year rookie deal with the Edmonton Oilers and was assigned to their AHL affiliate, the Springfield Falcons.
Reaney had been a healthy scratch for NU this season, but still piled up 15 points in 25 games. Last year, he finished third in CHA scoring with 16 goals and 44 points while playing on a line with Ted Cook and then-captain Sean Bentivoglio.
"First and foremost, we are happy for Les because he has fulfilled his lifelong dream of playing professional hockey," said Niagara head coach Dave Burkholder.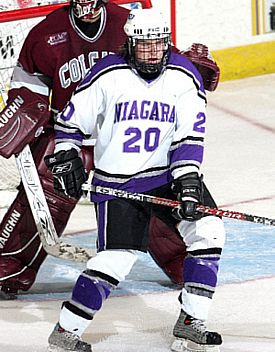 As a freshman, Reaney was named Co-CHA Rookie of the Year (with Cook) and finished the season fourth in the nation with 1.14 points per game as a rookie. Reaney also holds the CHA rookie record with Cook for points in a season with 40 and stands alone in first for assists by a rookie with 27.
Still, Burkholder would have liked to see Reaney, a 23-year-old native of Ceylon, Sask., graduate with his class.
"Les continues a tradition of Niagara hockey players who have signed professional hockey contracts and I think that speaks to the quality program we have built," Burkholder added. "At the same time, it's my job as a college coach and educator to make sure we get our players to commencement. Unfortunately, Les is three semesters short from that goal, but this is an opportunity that he feels he can't pass up."
When Reaney first came to Monteagle Ridge, he had a reputation as being a player who wasn't in the best of shape, even with a 100-point season in his final year of junior hockey in 2004-2005 with the Williams Lake TimberWolves of the British Columbia Hockey League. The conditioning issue turned off most college programs, save for Alaska-Fairbanks, which nearly signed him before Reaney made the decision to come to Niagara. Had Niagara not jumped into the picture, Reaney would have probably signed with a lower-level pro team.
To be offered a pro contract shows that, at least in Edmonton's eyes, Reaney has come full-circle.
"I figured I didn't know if the chance would be there in a month, so I had to take it," Reaney said in the Niagara Gazette. "The guys were pretty happy for me. With six games left, though, it was tough to leave when you think you're leaving a championship."
He also said he harbors no ill will from his time at NU.
"It was a blast," said Reaney. "I couldn't ask for anything more. It was three great years. It's a privilege to play at Niagara."
Reaney ends his Purple Eagle career with 99 career points and is the fourth Niagara player to sign a professional contract with an NHL team, following in the footsteps of his now-former assistant coach and goaltender Greg Gardner (Columbus, 2000), forward Matt Ryan (Los Angeles, 2004) and Bentivoglio (New York Islanders, 2007).
Springfield hosts Portland Friday night and that's where Reaney is expected to make his pro debut.
Niagara Ties RIT Saturday
Niagara trailed by two goals in the second period, but battled back to gain a one-goal lead before RIT tied the game late for a 3-3 tie in front of a sold-out crowd at Frank Ritter Memorial Ice Arena last Saturday night.
However, the tie builds on Niagara's unbeaten streak as the Purple Eagles are now undefeated in their last eight games (5-0-3) and retained their No. 20 spot in the USCHO.com/CSTV Poll this week.
Ted Cook and Bryan Haczyk scored in the second period for NU and Egor Mironov gave NU the lead in the third period.
RIT scored an extra-attacker goal in the final minute and nothing was solved in the OT.
Burkholder said with all things considered, his team came prepared to win and probably should have.
"We persevered through a tough week with the flu bug going through the team," said Burkholder. "It was difficult not to have a regular practice week. We played a great road game and the team deserved better."
Juliano Pagliero stopped 30 shots for the Purps.
Niagara continues its season with its final six conference games ahead, including the last two home games for Wayne State March 7-8 in Detroit.
RMU And Beavers Do Splits In Steel City
Robert Morris and Bemidji State both need wins in conference play as the home stretch is here and each got one last weekend in Pittsburgh.
The Colonials won, 4-1, on Friday night before BSU stormed back for a 7-2 shellacking the next night.
Blaine Jarvis gave the Beavers an early 1-0 lead on Friday, but RMU then put four unanswered on the board.
Logan Bittle, Sean Berkstresser, Tom Biondich and Ryan Cruthers, with his CHA-best 19th goal, scored to back Christian Boucher's 22-save outing.
Matt Climie stopped 31 for the Beavers.
BSU scored four first-period goals and never looked back Saturday in keeping their five-point grip on first place.
Prior to the game, Bemidji State head coach Tom Serratore cited one of the keys to Saturday's game was scoring first and holding the lead for 60 minutes. The Beavers didn't score first, but they scored often.
After falling behind 1-0 just 90 seconds into the contest on a goal by Kyle Burton, BSU bounced back netting three goals in a 4:46 span to erase the deficit and go up 3-1.
The Colonials went through all three of their goaltenders on the night trying to find an answer for the Beaver offense. BSU netted goals on their first three power-play shots, went 3-for-4 on the man advantage and posted a season-high seven goals on the night as 15 players recorded points.
"It was a great effort not for us only offensively, but also defensively," Serratore said. "Everybody contributed. It was a must-win for us and that is why I am proud of the guys. They really responded."
Travis Winter scored twice and singles came from Matt Pope, Joey Moggach (first goal in 17 games), Matt Read, Graham McManamin and Ryan Cramer (first collegiate goal).
Dan MacIntyre assisted on Cramer's goal for his first NCAA point and Tyler Scofield added three assists for the Beavers.
In the third period, David Boguslawski scored for the Colonials. Too little, too late, though.
Climie recorded 19 saves in 49:54 between the pipes. He earned his 12th victory of the season before Orlando Alamano recorded eight saves in the final 10:06.
Boucher was tagged with the loss and recorded just eight saves in 25:34 of action. Wes Russell held BSU scoreless in 20:34 while Jim Patterson also played 13:52 and gave up two goals.
Bemidji State is now 10-6-1 all-time record versus RMU.
Warriors Split In Huntsville
Wayne State ventured to Huntsville last weekend for their final trip to the Rocket City and came away with a win and a loss.
Saturday afternoon, the Warriors snapped their three-game losing streak with a 4-2 victory.
Derek Bachynski scored twice and added an assist for WSU. Stavros Paskaris and Ryan Adams also scored with Adams' empty-net goal being his first at the NCAA level.
Jeff Caister notched two assists for the Warriors and goaltender Brett Bothwell made 13 saves.
"I thought Wayne State was hungrier than us and they worked harder," Chargers head coach Danton Cole said in the Huntsville Times. "I didn't think we had much energy nor enthusiasm. And I was very disappointed with the effort. Wayne State deserved to win. They did everything better than us."
Cam Talbot stopped 21 shots for UAH. Joey Koudys scored his first NCAA goal and Kevin Morrison also tallied for the Chargers. Koudys' goal 5:18 into the first period gave UAH the lead heading into the first intermission and marked only the fifth time this season UAH has been in the lead after the first period.
"I just went hard to the net there and got a lucky bounce," Koudys added in the Times article. "It felt great. I hope a few (more goals) can come from that and just go from there."
Bachynski and Paskaris each had a goal and an assist Sunday afternoon for WSU, but the Chargers rebounded for a 5-2 victory.
Morrison, Tom Train, Josh Murray, Chris Fairbanks and Matt Sweazey scored for the home team to back Blake MacNicol's 30-save performance.
Bothwell kicked out 24 shots for the Warriors.
Chargers Active In Promoting Hockey Down South
As part of USA Hockey's "Hockey Weekend Across America," Alabama-Huntsville, in conjunction with the Huntsville Amateur Hockey Association, worked together to further hockey in the Tennessee Valley.
This past Monday and Tuesday, each HAHA team had at least one Charger cheering them on during their house league games. Several UAH players have been involved with a number of youth teams throughout the year.
"This is a great opportunity for our team to get out in the community and help work with the youth hockey programs," noted Cole. "It is great to see a number of Charger alumni coaching within the Huntsville youth hockey programs. Our players are definitely excited to get out and work with their respective hockey teams."
Wayne State Memories
This week's Wayne State flashback comes from the 2004-2005 season when the Warriors played their home games at Compuware Arena in Plymouth, Mich.
Jason Bloomingburg tied Dusty Kingston's team record of 18 goals on Feb. 26, 2005 against Air Force in a 5-1 win and then set the school record eight days later in a 6-5 loss to Alabama-Huntsville. He finished with 20 goals that season, still a school record and one that will not be broken.
Bloomingburg, who graduated from WSU last spring as a Wayne State co-captain after starting his college career at Providence, has bounced around the minors this year.
Tiebreakers Could Come Into Play
As the final three weeks of the regular season are here (already?), nothing is set in stone standings-wise. The "what if" scenarios are being bandied about and tiebreakers discussed. Here is a pretty clear breakdown of the CHA standings.
Bemidji State has a five-point lead on Robert Morris and owns the tiebreaker over RMU with a 2-1-1 record. Their series is complete.
Niagara is two points back of the Colonials. Niagara and RMU are tied with a 2-2 record and RMU has one more conference win, but Niagara has two games in hand. Niagara leads in goals with 15 and 13 goals against. Two games remain in this series.
BSU owns the tiebreaker over Niagara with a 2-1-1 record. Their season series is complete.
In the battle for fourth and fifth place, WSU owns the tiebreaker over UAH with a 3-1 record. The series is complete. Wayne State could still catch Niagara, but Niagara owns a 4-0 record against the Warriors. Wayne State and Niagara still have two games left in the series — March 7-8 in Detroit to shut the door on WSU hockey in Motown.