Everyone is getting ramped up for perhaps the most exciting week of the season. Not only does opening round NCHA and MCHA playoff action begin this weekend, but we also have our first look at the NCAA West Region Rankings.
They are:
1. St. Norbert
2. St. Thomas
3. River Falls
4. Adrian
5. Stout
6. Stevens Point
7. Bethel
Nothing looks too out of place save for Adrian landing in the fourth spot. It's not that the Bulldogs might not be one of the top four teams in the region, but rather that it is hard to justify that position based on the numbers alone.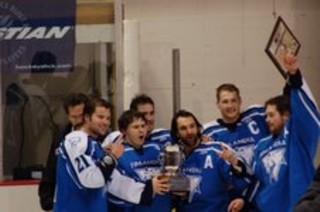 Adrian's "problem" is that they fare extremely poorly against a majority of teams in the region in terms of the record-against-ranked-opponents and strength-of-schedule comparisons.
The first is due to fact the Bulldogs' have not played a West Region ranked team, so they lose the comparison to anyone with at least a tie against a ranked team. The second is due to the MCHA's relatively poor showing in non-conference action.
Perhaps unfair to the MCHA, those realties put a team like Adrian in a bind as it enters a host of individual comparisons at a built in 2-0 disadvantage. Without playing any MIAC or NCHA teams head-to-head it becomes extremely difficult for them to beat out teams like River Falls, Stout, Superior, Hamline, Bethel, Stevens Point, etc. on a straight numbers comparison.
Adrian landing in fourth is admittedly higher than I expected, so it bears asking: how did it happen?
Well, only the West Region Committee knows for sure but there is speculation that winning percentage is being weighed quite heavily. The Bulldogs check in at 17-1 against West Region teams, the best in the region, and it's the only comparison they fare extremely well in.
If not that, what could it be?
Speculation indeed, especially as we are all in the dark as to the weightings the criterion are receiving, but as if this wasn't enjoyable enough to figure this out in the past isn't it fun to have a MCHA team, no matter which one, now in the mix?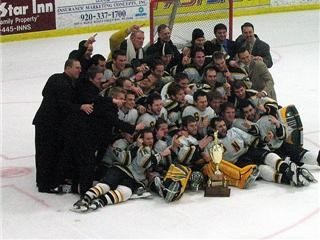 With St. Norbert and St. Thomas anything but locks to win their respective leagues, and River Falls drawing a tough opening round match-up in St. Scholastica, this should no doubt be more stimulating than ever to try to decipher as we head for home.
MCHA
As a reminder, all opening round series are first to three points. If the series is tied following the Saturday contest, a 20 minute mini-game will be played to determine the winner.
It was said here last week that the Lawrence and MSOE series were ones worth paying attention to, and were they ever.
Entering the weekend, Lawrence trailed MSOE by a single point for fourth place and the final playoff home ice position, and Friday's results served to make the situation even more interesting.
The Raiders dropped a 4-1 decision to Marian while the Vikings won 3-2 at Finlandia. The loss dropped MSOE out of the top half of the MCHA for the first time all season, and put Lawrence in position to host this weekend's playoff series between the two.
The change was short lived, however, as the Raiders utilized a third period comeback to defeat Marian 4-3 on Saturday while Lawrence lost 5-3 to Finlandia.
The end result: everyone ended up right where they started.
Meaning, MSOE will host this weekend's 4-5 Harris Cup Playoff match-up with Lawrence.
Despite the fact Lawrence controlled its own destiny and a Saturday win would have solidified hosting rights for the Vikings, head coach Mike Szkodzinski wasn't as discouraged as some might guess.
"I think we definitely gave away an opportunity to get home ice," he said. "However, I'm proud of the effort the guys put forth at Finlandia. I thought we played extremely hard. Both teams competed as hard as I've seen this season and it was a good tuneup for what could happen in the next couple of weeks here."
He added, "I think our team showed a lot of grit, showed a lot of hunger, showed a lot of desire. It just so happened Finlandia capitalized more on the chances on Saturday and we did on Friday. It was a great series."
As mentioned, as a result the Vikings must hit the road to take on MSOE in this weekend's opening round.
The two split a series earlier this season with Lawrence claiming a 6-5 win on the opener and MSOE coming back to take the following game by a 5-2 score.
How much of an indicator of how this weekend will go remains to be seen, however.
"To be honest with you I think both teams have improved tremendously since then," said Szkodzinski. "It was only the second weekend of the season when we faced each other and it will be interesting to see the differences between the teams that met earlier in the year and those that will be playing this weekend in Milwaukee."
As MSOE won three consecutive MCHA regular season titles prior to this season, Szkodzinski knows they will be a formidable opponent.
"Obviously MSOE has an extremely talented first line with Swallow, Hanberg and Soik," he said. "Any team that wants to compete with MSOE needs to contain that line for sure."
The Swallow-Hanberg-Soik line has indeed paced the Raiders this season, accounting for nearly 40% of MSOE's goals. Swallow leads the team with nine goals and 29 assists for 38 points, while Soik leads the Raiders with 16 goals on the season.
They aren't the only concern as far as Szkodzinski is concerned, however.
"I think from top to bottom MSOE does not have a weak line, and their goaltending has been darn good for freshman despite the numbers."
Odds are that freshman Chris Keller will man the Raider net this weekend. The freshman has seen action in 18 games this season and is 9-9-0 with a 3.78 GAA and a .872 save percentage.
The Vikings will likely counter with a freshman of their own in net, as Evan Johnson (5-9-3, 3.83, .878) has garnered a majority of the action down the stretch.
All in all, there is no question this should be the most competitive MCHA series this weekend, something Szkodzinski knows all too well.
"MSOE has the experience and obviously we have a very young team," he said. "That's something we are going to have to battle through."
"I think like our Finlandia series this is going to be a very competitive and very exciting series that could easily come down to one or two bounces of the puck."
#6 Crookston (5-15-0) @ #3 Marian (14-5-1)
This season: Marian won both meeting this season, sweeping a home series 7-4, 7-1 in mid-November.
Breakdown: The Sabres are a clear favorite on paper. They out perform the Golden Eagles in every major statistical category, and have the conference record they do for a reason.
Marian brings a highly balanced offense into the weekend match-up, as the boast a whopping 14 players who have posted at least 10 points on the season.
Senior Carl Bresser leads the way with 21 goals and 11 assists for 32 points while junior James Goodfellow is right behind him with nine goals and 21 assists for 30 points. Bresser has also scored a remarkable six shorthanded goals this season.
After playing musical goalies over the first half of the season, Marian appears to have settled on junior Jason Jadczak. He has seen action in 14 games this season and is 9-3-0 with a 2.60 GAA and .916 save percentage. It wouldn't come as a shock to see sophomore Cullen Caldwell get a start, but Jadczak appears more likely to get the nod.
On the other side of the ice, Crookston has been led by junior goaltender Eric Everson all season.
The junior transfer from MSU-Bottineau has played in19 contests this year and is 6-11-0 with a 3.92 GAA and a .889 save percentage. He has earned the win in every Golden Eagle victory this season, and has been named MCHA Defensive Player of the Week on multiple occasions.
Up front the Golden Eagles are led by seniors Matt Hann and Teal Plaine, who have 20 and 19 points on the year, respectively. Freshman Alex MacGinnis and senior Ryan Tucker check in behind them with 17 and 16, but after that the Golden Eagles next leading scorer only has nine points.
Crookston has lost 13 of its last 16 games, with the only wins in that stretch coming over Northland and Concordia.
The Sabres have lost three of their last six, but one has been to MSOE and the other two to Adrian.
Whether it's on paper or on the ice, everything looks to be in Marian's favor here and they should be considered a heavy favorite to be playing at the Kern Center next weekend.
#7 Northland (4-16-0) @ #2 Finlandia (14-6-0)
This season: Finlandia won all four meetings. The Lions won 4-3, 3-2 (ot) at Northland earlier in the season, and convincingly 10-1, 9-0 at home three weeks ago.
Breakdown: Like Marian, there is no denying that Finlandia is a heavy favorite here.
As evidenced by the early season match-ups between the two, the Lumberjacks have shown the ability to keep it close with the Lions, but odds are Finlandia's experience will prove too much this weekend.
The Lions' return nearly their entire roster from the team that won last season's Harris Cup and are laden with upperclassmen experience.
Eight of Finlandia's top nine scorers are juniors or seniors, and are led by senior forwards Josh Paquette and Mike Parks. Paquette has registered eight goals and 26 assists for 36 points on the season while Parks checks in with 13 goals and 20 assists.
Freshman Ryan Donovan has assumed control of the number one goaltender spot for the Lions this season and has performed admirably. Garnering action in 16 games, Donovan is 10-4-1 with a 2.91 GAA and a .875 save percentage.
As far as the Lumberjacks are concerned, goaltending has proven to be a strength, as freshman Daniel McIntosh has performed well despite facing upwards of 50 shots per game.
McIntosh currently holds a 3-17-1 record with a 5.61 GAA and a .884 save percentage.
The Northland offense ranks last in the league at 2.12 goals per game and will likely find it tough to score as Finlandia has allowed 3.00 goals per contest — second best in the league.
Northland has made strides this season and is significantly better than they were last season, but unfortunately probably is not far enough along yet to pose a major threat to the Lions this weekend.
An upset isn't impossible, but Finlandia should be expected to join Marian in Milwaukee next weekend.
#8 Concordia-WI (2-18-0) @ #1 Adrian (19-1-0)
This season: Adrian won all four meetings, winning 10-3, 7-2 at Concordia in January and 16-2, 20-2 last weekend.
Breakdown: Though both are first year programs it's no secret here who should move on to the semifinals.
Adrian rolled up 36 goals on the Falcons last weekend and, quite frankly, are just too much for the Falcons to deal with right now.
The Bulldogs top line of Shawn Skelly, Adam Krug and Eric Miller are the top three scorers in the nation and have an astounding 192 points combined on the year.
Defenseman Quinn Waller leads the nation in scoring among defenseman, posting seven goals and 36 assists for 43 points on the year.
After them the Bulldogs boast another 40 point scorer, a 30 point scorer, four 20 point scorers, and six more in double digits.
Regrettably, against a Concordia defense that ranks last in the league in conceding 7.32 goals per game, it should be all over but the yapping.
There probably isn't anyone in existence who doesn't think Adrian will take this series in a couple of routs, but let's remember that both are first year programs.
While what Adrian is doing is unprecedented, at least in the D-III era, Concordia is struggling in the same manner nearly every first year program does. The Bulldogs are the ones defying the status quo, not Concordia.
Though this weekend almost assuredly won't work out for the Falcons, the future undoubtedly will, and that's probably the most important thing anyone can take away from this series. It wasn't that long ago teams like Manhattanville and Neumann were nothing but fodder for the Elmira's and RIT's of the world.
NCHA
Like the MCHA, all series are also first to three points. If the series is tied following the Saturday contest, a 20 minute mini-game will be played to determine the winner.
Before moving on to the series themselves, it should be noted that the NCHA all-conference awards were handed out this week.
St. Norbert goaltender Kyle Jones garnered NCHA Player of the Year honors for the second time in his career. He also won the award in the 2005-06 season.
Additionally, St. Norbert head coach Tim Coghlin was named NCHA Coach of the Year after guiding the Green Knights to an undefeated conference season despite having 20 underclassmen on this year's roster. The NCHA title marks the seventh in a row for St. Norbert.
Finally, UW-Superior senior defenseman Dustin Cosgrove received the NCHA Scholar-Athlete Award. On the ice, the Neepawa, Manitoba native has only played in six contests this season due to injury, but is back for the Yellowjackets playoff run.
#5 Eau Claire (6-7-1) @ #4 Superior (6-4-4)
This season: Eau Claire won 3-1 in Superior in early January, but the Yellowjackets rebounded for a 2-1 overtime win in Eau Claire two weeks ago.
Breakdown: Both teams enter the series on a bit of a hot streak. The Yellowjackets have only lost once since December 8, while the Blugolds are 3-2-1 in their last six, including wins over River Falls and Stevens Point.
Historically, Eau Claire has fared poorly at Wessman Arena as prior to winning there this season they had been 0-4-1 there over the past five seasons.
The Blugolds are one of the most unbalanced offensive teams in the league, as after Sean Garrity (24), Greg Petersen (17) and Andrew Johnson (16), they only boast one other scorer in double digits.
Superior, conversely, is one of the most balanced teams in the league, and might be the hottest team in the conference right now.
Eau Claire's Tyler Brigl and Superior's Chad Beiswenger both possess the ability to steal a game in goal.
It's no surprise that a 4-5 NCHA match-up could go either way, but with the Yellowjackets hitting their stride at perhaps the perfect time, the Yellowjackets have only lost five times all year.
For the sake of context, only six other teams in the country have fewer than six losses this season. Superior has shown the ability to make big playoff runs in the past and this year might be no different. Don't sleep on the Yellowjackets.
#6 Stevens Point (5-6-3) @ #3 Stout (7-5-2)
This season: Stout handled the Pointers 6-3 at home earlier in the year, while the two played to a tight 1-1 tie in Stevens Point three weeks ago.
Breakdown: Road teams have only won NCHA Quarterfinal series five times. Not that it means a lot now, but one was Stevens Point winning at Stout in 2001.
An upset certainly isn't out of the question here, but if one is going to happen the Pointers will need to find some offense. Amazingly, the Pointers have not allowed more than two goals in a game since a 5-0 loss at St. Scholastica on December 8.
While the Pointers' revamped defense and solid play of freshman goaltender Thomas Speer are paying dividends, the Pointers still stumbled a bit down the stretch, finishing out 0-2-2 while posting only four goals in those contests.
Stout, on the other hand, has had no problem putting the puck in the net as they rank second in the NCHA at 4.08 goals per game.
Forward Derek Hanson leads the way with 31 points. Behind Hanson are four 20 point scorers and six more who have posted double digits.
The Blue Devils big and mobile defensive corps has only allowed 2.48 goals per game this season and has been bolstered by the return of All-American Mike Stone in goal.
Stout has had the Pointers' number over recent years, posting a 6-1-1 record in head-to-head meetings over the past three seasons.
The friendly confines of Dunn County Arena should give the Blue Devils an edge, but don't be fooled by the Pointers' record down the stretch as they still bring a hot goaltender to town, and everyone knows that makes a dangerous team come playoff time. Keep an eye out for an upset if Stevens Point can score a few goals.
#7 St. Scholastica (4-7-3) @ #2 River Falls (8-5-1)
This season: The Falcons scored an early season 6-3 win in Duluth, but the Saints returned the favor with a 4-3 overtime win at River Falls in late January.
Breakdown: There is no question the Eau Claire-Superior and Stevens Point-Stout series are ripe with upset potential, but if there ever was a series that should trigger the five alarm, red light, bells and whistles upset alert, this is it.
Were they to have a choice, it is doubtful River Falls would have picked St. Scholastica as a first round opponent as the Saints have won three straight at River Falls, the most notable a NCHA semifinal win last season.
No home ice for the Saints? No problem. The Saints were only 1-5-1 against NCHA teams at home this season, but managed a 3-2-2 record on the road.
If they wish to have success at River Falls again, it's no secret to anyone they will need to slow down the Falcons' top line. Tyler Dahl, Derek Hansberry and Pat Borgestad, having accounted for 111 points this season, once again pacing the Falcons in scoring.
Perhaps unlike last season, however, they aren't the only scoring threats the Saints will have to worry about.
The Falcons boast eight more double digit scorers, and four who have scored over 20.
That being said, the Dahl line will be the focus as they have accounted for 44% of the Falcons' goals both this year and last.
It should be interesting to see what St. Scholastica does in net this weekend as after appearing to settle on Steve Bounds during the middle portion of the season, both him and Tyler Johnson have been seeing action as of late.
The Saints put themselves in the seven spot largely by being inconsistent this year, but they have to like their match-up this weekend. Meanwhile, River Falls lost four consecutive conference games down the stretch before closing out with two wins.
All that being said, what will happen in River Falls this weekend? Your guess is as good as mine but it's tough to not give the Falcons the edge at home.
#8 Lake Forest (1-12-1) @ #1 St. Norbert (10-0-4)
This season: The Green Knights swept the season series, winning 6-2 at Lake Forest and 6-0 at home.
Breakdown: Stranger things have happened, but a Green Knight series win looks to be about the most sure bet in the NCHA this weekend.
The Foresters have run a goalie rotation involving Brandon Kohuch and Scott Campbell, and if they wish to pull the upset they will have to receive stellar play from whichever sees action this weekend.
It is indeed possible as Campbell turned back all 50 shots he faced in the Foresters lone conference win over Lake Forest.
The Forester goal will likely be tested often this weekend as they have allowed the most shots in the league this season, while the Green Knight offense ranks third in the NCHA at 3.88 goals per contest.
Offensively it also looks to be an uphill battle for Lake Forest as not only is St. Norbert leading the league in goals allowed with 1.56 per game, but senior netminder Kyle Jones is having is best season yet as far as statistics are concerned.
Thus far, Jones is allowing a miniscule 1.31 goals per game while posting a .940 save percentage.
Add in the fact Lake Forest is last in the NCHA offensively in scoring only 1.68 goals per game and it becomes hard to figure out a way the Foresters can come out of this series on top.
If it should happen by chance, look for a big game from one of the Foresters goalies as if they can find a way to steal one and force a mini-game all bets are off from there.
That being said, the smart money — as always — is on the Green Knights at home.