This is it, folks.
This weekend, the Wayne State hockey program makes its final on-ice appearance in Detroit before jaunting to the CHA Tournament next weekend at Niagara.
Can't believe it's been nine years, can you?
That first game, albeit an exhibition against Western Ontario, back on Nov. 5, 1999 had glitz, glamour — and a packed arena that saw Wayne State lose a heck of a game, 8-4. If that first game's atmosphere could ever be duplicated, we may not be where we are today discussing the sad state of WSU dropping their program at season's end.
That being said, the Warriors don't want any extra attention Saturday night against NU at the Michigan State Fairgrounds Coliseum. They prefer to go ahead with Senior Night as planned and ride (skate) off into the sunset, so to speak.
And who can blame them? It's not like their 9-23-2 record this season is anything to write home about.
But let's look at the positives — a sweep at Northern Michigan in January, numerous individual honors, six players moving on to other schools next year, playing in front of 4,000 fans at the Palace of Auburn Hills and a three-game winning streak from Jan. 25-Feb. 1 that included a sweep of Alabama-Huntsville.
The players get the lion's share of the credit. Have they quit? Nope. Have they gone half-speed? Not a chance. Have they played their hearts out to sparse crowds of family and friends at home? Absolutely.
This is one writer's plea for USCHO readers. If you're in the Detroit area, come on out this weekend to salute the Warriors one last time. A separate column could be written about the shameful act of the program folding, but that's out of this writer's control.
Kind of ironic, too, is it that post-game, Scandal's "The Warrior" (an epic 1980s tune) is blared through the Coliseum's speakers. The chorus stands out in the song and that will mean even more this weekend:
Shootin' at the walls of heartache, bang, bang,
I am the warrior.
Well I am the warrior and heart to heart you'll win,
If you survive the warrior.
Save for the CHA tournament next weekend and a miracle run, survival is non-existent for WSU.
No matter the circumstances, it's still sad. And yes, there is crying in hockey.
Beavers Win CHA Regular-Season Title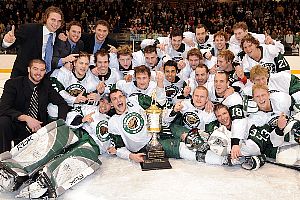 Bemidji State brought the Peters Cup back to Bemidji last Saturday as the Beavers clinched the CHA regular-season title with a 5-3 victory over a game Wayne State team at home.
The Beavers bounced back from an early 2-1 deficit to rally. Nine skaters recorded at least one point in the game, while freshman Ryan Cramer netted a pair of goals to pace BSU.
"This was a nice win," said Bemidji State head coach Tom Serratore after directing his BSU squad to its third league title in five years. "Anytime you win a championship, it is very fulfilling and gratifying. I am really happy with the way we won it this year. It might be the sweetest of the three CHA titles we have won."
Tyler Scofield, Travis Winter and Kyle Hardwick (first NCAA goal along with his first NCAA assist) tallied the other goals for BSU to back All-American candidate Matt Climie's 25-save performance.
Riley Weselowski chipped in with two assists as well.
Derek Bachynski, Derek Punches and Jared Katz scored for the Warriors. Stavros Paskaris added two assists and Kyle Funkenhauser and Mike Devoney combined to make 26 stops. Funkenhauser started and made eight saves on 12 shots to take the loss.
Serratore also said that he hopes this game is a glimpse of what's to come from Cramer in the future.
"It's always nice to see your young guys step in and break things open and [Cramer] did that," Serratore said. "He's got a wicked shot and his last goal was indicative of that. Hopefully, we are going to see a few more of those in the next four years."
Friday night, despite taking a 2-0 lead less than five minutes into the contest, the Beavers found themselves down 4-3 after 40 minutes of play and needed four third-period goals to skate out with a 7-5 victory.
"It was a helter-skelter game," Serratore said. "We found a way to survive, but it was an ugly way of winning. As happy as you are to win a game, there are also some concerns
in our lack of consistency. If we don't remedy this…we could be in rough shape."
With the score knotted at five and the clock in its last 10 minutes, the Beavers skated the puck into the zone. Matt Pope fired a shot form the right faceoff circle that was saved by WSU goalie Mike Devoney, but Brandon Marino bounced a second attempt off the leg of Devoney before Weselowski found the rebound at the top of the crease and slid the puck into the back of the net.
The goal would put the Beavers on top, 6-5, and they would not look back.
"The game-winning goal was the result of great effort," noted Serratore. "On the sixth goal, we went to the net hard. We created a scrum in the slot and Riley Weselowski was Johnny-on-the-spot."
The game began with a BSU flurry. Just seconds after the drop of the puck, a
Marino shot was saved by Devoney and Blaine Jarvis whizzed the rebound past the
right post. The play set the tone for early Bemidji State play.
Jarvis added another to go with singles from Scofield, Ian Lowe, Cramer,
WSU cut its deficit to one goal 9:11 into the period on Paskaris' second marker of the evening. The tally sent the Beavers into a tail spin. During the next 10 minutes, BSU would fail to register a single shot on net. Meanwhile, the Warriors would take the lead, 4-3, collecting two more goals from Matt Krug and Katz by the 16-miniute mark of the stanza and knocking Climie out of the game.
Jarvis tied the game early in the third only to have Punches score on the power play at 8:55 to give WSU the 5-4 lead.
Matt Francis evened the score at 5-all 42 seconds later to set the table for Weselowski's heroics. Pope would add an empty-net goal with seven seconds on the clock to secure the victory.
Orlando Alamano earned the victory in relief, marking the second time in his career he has come off the bench to lead BSU to a victory. He made 12 saves in 29:40 between the pipes. He allowed the Warriors final two goals. Climie logged 31:20 allowing three WSU goals while making 10 saves.
Devoney turned away 24 shots in the loss.
The champs are idle this weekend.
Niagara Brooms Away Colonials
Niagara played two totally different games last weekend, but both amounted to wins in a sweep at Dwyer Arena over Robert Morris.
Down by two goals in the second period Friday night, the Purple Eagles battled back in scoring five consecutive goals for a 6-3 win over the Colonials.
Paul Zanette's goal 12 seconds after a Denny Urban goal cut the RMU deficit to 2-1 and changed the momentum for the Purple Eagles, who then scored four unanswered goals.
"I made a mistake on their second goal," said Zanette. "But Coach kept us out there and we made it happen."
Niagara's power-play unit proved once again why they are the sixth-ranked power play in the country scoring three of the next four goals that way. Egor Mironov, Ryan Annesley and Ted Cook scored with the man-advantage with the even-strength game-winning tally coming from Ryan Olidis.
Vince Rocco added an empty-netter to seal the game.
"We are playing hard, our power play is clicking, the third and forth lines are chipping in," said Cook. "With all that going for us, it's hard to lose. We have a lot of leaders on the team and everyone is moving along as one."
Chris Margott and Ryan Cruthers scored the other RMU goals and Christian Boucher made 25 saves.
Juliano Pagliero kicked out 34 shots for the Purple Eagles.
"We are playing really well in February," said NU head coach Dave Burkholder "You need to play well in February to play well in March for tournament time."
Saturday night, Niagara kicked off a seven-goal outburst less than two minutes into the game and never looked back in defeating Robert Morris, 7-1, in front of the largest Dwyer Arena crowd in program's history at 2,100 fans.
"It was almost a perfect game, especially our systems," Burkholder said. "We certainly won the spirit and energy game. It was a great game on a very special night, honoring our seniors."
Rocco scored two goals and added an assist on the night. Matt Caruana chipped in three helpers and Pagliero finished with 32 saves.
"This was a real special night, and it has been a real special weekend," said Caruana. "Hopefully this is not the end."
Mironov, Annesley, Dan Sullivan, Bryan Haczyk and Cook potted goals for NU.
Kyle Burton mustered the Colonials' lone goal. Boucher played the first two periods and stopped 21 shots before giving way for Jim Patterson, who turned aside nine shots in the final 20 minutes.
NU is now 8-1-3 in their last dozen games.
Quick Stat Of The Week
Heading into the weekend, Robert Morris is the only team in the nation that holds the honor of having two of the top 10 scorers in the country. Cruthers ranks second in the nation with 1.45 points per game, while Margott ranks tenth with 1.29 points per game.
Who knew?
Forgie Chosen For Frozen Four Skills Challenge
Wayne State senior captain Mike Forgie has been selected to participate in the third annual Frozen Four Skills Challenge, which will be held April 11 at the Pepsi Center in Denver and broadcast live on ESPNU.
The competition will be conducted in an East versus West format with each team having six male position players, six female position players, two male goaltenders and two female goaltenders.
Joining Forgie on the West squad is Michigan's Kevin Porter, Jimmy Kilpatrick (Colorado College), Andrew Thomas (Denver), Bryan Lerg (Michigan State) and Tommy Goebel (Ohio State). The West goaltenders will be St. Norbert's Kyle Jones and Denver's Peter Mannino.
The competitions will include puck control relay, fastest skater, hardest shot, rapid fire shooting, accuracy shooting and penalty shot.
Carlson Will Bolster BSU Blueline
Second-year Fairbanks Ice Dogs defenseman Matt Carlson deciding on Bemidji State for next season looks to be a coup for the Beavers.
Carlson, a 20-year-old from Grand Forks, N.D., has three goals and 21 points after 45 games this season and is also a plus-7.
"Matt is a big guy (6-foot-4) who has great feet and hasn't come close to meeting his potential yet," said Ice Dogs head coach and general manager Rob Proffitt. "I think he's picked a great school that will challenge him both athletically and academically."
Knott Takes Reins of USHL's Bucs
Former Bemidji State defenseman Todd Knott is the new head coach of the Des Moines Buccaneers of the United States Hockey League after Regg Simon abruptly quit last week.
Knott, who turns 29 next Tuesday, played for BSU from 1999-2002.
Knott, in his third season with the Bucs, has served as a head coach in the past. During the 2004-2005 season, he guided the Fargo-Moorhead Jets of the North American Hockey League to a division title.
Ironically, Des Moines hosted the CHA Tournament last season at 95KGGO Arena.
B2 To Show Three Tournament Games
College Hockey America and B2 Networks announced this week that the first three games of the 2008 CHA Men's Tournament will be broadcast worldwide on B2 Networks live from Dwyer Arena on the campus of Niagara University next weekend.
The entire CHA women's tournament will also be on B2 this weekend, also from Niagara.
Wayne State will take on Alabama-Huntsville in the quarterfinal matchup on Friday, Mar. 14 at 7 p.m. in what potentially will be WSU's last-ever game. The winner will face top-seeded Bemidji State in the semifinals at 2 p.m. on Saturday. The second semifinal will follow at 7 p.m. between second-seeded host Niagara and third-seeded Robert Morris.
"The CHA is extremely pleased to join with the B2 Networks in bringing CHA Division I men's and women's championship tournament hockey to college hockey fans worldwide," said CHA commissioner Bob Peters.
"B2 Networks has enjoyed an expanded role in delivering CHA games to fans around the world this season thanks to our partnerships with Alabama-Huntsville, Bemidji State, Mercyhurst, Niagara and Wayne State," stated Richard Brosal, B2 Networks executive vice president for business operations and marketing. "We are pleased to be involved in the conference's men's postseason for the second straight year, and for the first time, we will be broadcasting the women's tournament as well."
The men's final will be on CSTV.
No Bemidji Rink To Spell End Of Program?
In a letter to the editor of the International Falls (Minn.) Daily Journal, the following was posted this week regarding the new arena and events center in Bemidji. It's an interesting read to say the least, and written by a member of the Bemidji Chamber of Commerce.
We all know how important hockey is to the fabric of our state. Yet the state of hockey could soon be tarnished. Bemidji State University is at risk of loosing its 51-year tradition of hockey excellence, including 13 national titles and the highest winning percentage in all of college hockey, most of it under well-known head coach R.H. "Bob" Peters.

Playing Division 1 hockey for the past eight years in the College Hockey America, Bemidji State has to change leagues soon as the CHA is losing teams. It has worked out a scheduling agreement with the Women's College Hockey America (he obviously meant WCHA) for 2010 and is in hopes of joining the WCHA. In order to join the league, they must build a new facility with 4,000-seat capacity. The city of Bemidji, in cooperation with BSU, has purchased 127 acres along Lake Bemidji for an extensive multi- use development including a 4,000-seat event/convention center.

The city's contribution to this is $66 million and the project needs $22 million in bonding money (in addition to $3 million received last year) from the state to become reality.

Governor Pawlenty has previously supported this project, but with transportation issues it did not make this year's bonding list. Without the arena, there is no entry to the WCHA and Division 1 hockey ends very soon at BSU.

The city of Bemidji, BSU and the Bemidji Chamber of Commerce have come together for an intensive lobbying effort to influence the state powers to save one of the most revered hockey programs in the state of hockey. Please support efforts to get bonding money for this regional multi-use project. Without it, there is no Division 1 hockey at Bemidji State University.

Michael J. Beard
President-elect
Bemidji Chamber of Commerce
Bemidji, MN
RMU Gets Third Wayne State Transfer
Robert Morris is notorious for getting transfers from other CHA schools and next season will be no different as the third soon-to-be former Wayne State player will transfer to Pittsburgh next season.
Freshman forward Chris Kushneriuk is the latest to reportedly give the nod to the Colonials, joining freshman defenseman Brock Meadows and junior defenseman Matt Krug.
Last year, RMU had three Niagara transfers in forwards Doug Conley and Aaron Clarke and defenseman Bryan Mills.
More Wayne State Memories
Huntsville fans will love this one.
The 2002 CHA tournament win at Niagara is a sour point in UAH history, but was nonetheless WSU's second-straight tournament championship.
In the final, the game between the Warriors and Chargers went to overtime after Tyler Kindle's goal with 1:13 left in the third period tied the game at 4-all for WSU.
The electricity at Dwyer Arena was just that, electric. Fans were on the edges of their seats knowing anything could happen.
And then it did.
But when Dusty Kingston scored at 9:12 of the extra period, controversy ensued that is as revered in Huntsville as Brett Hull is in Buffalo.
Jason Durbin appeared to be shoved into Alabama-Huntsville goalie Mark Byrne and Kingston jumped on the loose puck and banged it home.
"It's funny, though," Durbin said in 2005. "Dusty scored the goal, but I didn't celebrate because I was pushed into their goalie and I figured the goal would be waved off. But there was no whistle, nobody was waving, so we started celebrating. Top to bottom, that team was dominant and it showed as we won the regular-season title and the playoff championship."
Wayne State won its third CHA title in 2003 and UAH won its first in Cinderella fashion last year.