The Magic Ingredient
When Elmira skated off the ice after warm-ups for last Saturday's NCAA Quarterfinal game against Trinity, the packed house of fans were treated to quite the surprise as the players removed their helmets. The Soaring Eagles players were sporting Mohawk style haircuts.
"All of our players got them," said Elmira coach Tim Ceglarski. "I'm not really sure what they are all about. One of our upperclassmen, Nic Dumoulin, was getting a haircut one day and decided to go with a Mohawk. When he came into the dressing room, all the guys rallied around it. The next day in practice, everybody had them, which was great. Our guys are a pretty loose bunch of guys and they have done everything together all year long. It was exciting to see all the guys come in with the Mohawks on."
Matching haircuts are perhaps the most visual clue of what has been a key ingredient to the Soaring Eagles success this season: team chemistry. It's what has set this year's team apart from others that have played at the Thunderdomes.
"I would agree 1,000%," said Ceglarski. "In year's past, we have had some superstar players, not that we don't this year, I think we have some very good players. This team, more so than any other team, it is a group effort. They always seem to be together all over campus, whether it is at the restaurants or in the dining hall or at any of the community service functions.

"It's not just one or two of them but 26 of them. There are no egos on our team, everyone is just pulling for each other. I think they believe in themselves and believe in each other more so than any team I've been around in a long time."
Every coach talks about team unity, getting the right chemistry amongst the players and coaching staff, and having everyone operating from the same page. But it is an elusive thing, a feeling that is hard to create, even harder to maintain, and is a product of the mix of personalities on a team.
"It has a direct reflection of our three captains, Mike Richard, Nic Dumoulin and Kyle Branson," said Ceglarski. "These three guys welcomed the first year players into the mix very quickly. They went out of their way to get guys together the first day of classes back in September. They've gone out of their way to include every single guy on the team in every single function they go to.
"They've let guys know who may for a minute or so thought they were a little bit above the team, let them know exactly that it is 26 guys pulling the oars in a single direction and not one or two guys going off doing their own thing. I give them all the credit in the world for that."
When chemistry happens, it is magical, and can lead to moments like last week at Elmira's Thunderdomes where team hijinks lightened the mood and led to a dominating performance against Trinity on Saturday.
"Having everybody close together and relaxed, especially this [last] week has gotten us through the tough times this season," said Ceglarski. "We had a great week of practice. Friday's practice was pretty special and funny, with a new team picture with all the Mohawks and the coaches with stupid looking long hair wigs on.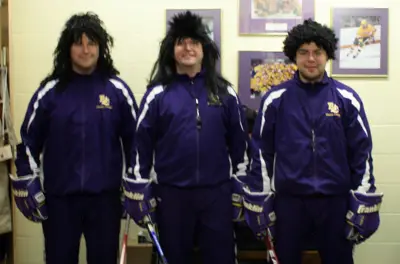 "On Thursday in practice, our guys were pretty tense and not knowing what to expect with the game right around the corner. Friday, everybody was joking and laughing and relaxed out on the ice. When the coaches came out on the ice, with the long wigs and the flows skating behind us it was pretty funny. That kind of lightened the mood for the rest of the day."
Elmira will need all of the team chemistry it can muster when it faces long-time foe Plattsburgh in the semifinals. The Soaring Eagles lead the all time series 38-34-3, and defeated the Cardinals 3-2 in a come from behind victory back on Nov. 17.
"We don't have to look too far for tendencies because they know a lot about us and we know a lot about them," said Ceglarski. "Playing Plattsburgh is always fun and the series is even throughout all the years."