Niagara head coach Dave Burkholder said last fall that the NU class of 2008 was the only senior class never to get to the NCAA tournament.
He said the No. 1 goal this season was to win the CHA tournament on home ice and move on to the NCAA round of 16.
Talk can be cheap, but last Sunday, Burkholder's squad cashed in his words with a 3-2 win over Bemidji State last Sunday to win their first CHA title since 2004. They will find out this Sunday who they'll face in the NCAAs.
"From the first day of practice, we talked about being a championship team," Burkholder said. "All year we dreamed about celebrating on our home ice. I had visions of this. We were on a mission to make sure our seniors went to the NCAA tournament and we've accomplished it. We have good kids. Honestly, I feel very fortunate to be able to coach them. It all starts when we recruit them. They come from good families. They come to practice every day and work hard."
The Purple Eagles scored two goals in the final four minutes of the second period and Juliano Pagliero stopped all nine Beaver shots in the final period, including two incredible saves while on a 5-on-3 penalty kill, to preserve the victory.
"During my career, I feel like I had experienced almost everything, but this is really, really special," co-captain Matt Caruana said. "I have never been on a team as close as this group. This is really, really special."
That penalty kill made for some nail-biting moments for Burkholder. He sent three defensemen out and Ryan Annesley took three draws.
"I was an absolute mess, but our players weren't," Burkholder said. "Credit our guys. They were unfazed on the bench. Annesley, (Tyler) Gotto, and Pagliero were amazing. We weren't going to lose. Our best penalty killers are our defensemen."
"Killing the 5-on-3 was a little unexpected, but we believe in each other," forward Egor Mironov said. "Winning a championship is unbelievable and the fact that we could do at home, words can't even begin to describe the feeling."
Kyle Rogers connected on a one-timer just 10 seconds into a power-play opportunity in the final minute of the second period for the game winner. Caruana won the draw and cycled the puck to Ted Cook, who sent the puck cross-ice to co-captain Vince Rocco and he found Rogers wide open in the center of the zone.
Cook came racing down center ice and Annesley fed him the puck on a breakaway late in the third. After a quick deke, Cook sent the puck past BSU goalie Matt Climie and the goal light went on. After a short break, officials ruled no goal after video replay from CSTV showed inconclusive evidence.
"As we kept clearing the puck and winning faceoffs, there was electricity in the air," said Cook. "Even though I think the goal should have counted, the time it took to review it gave us some rest."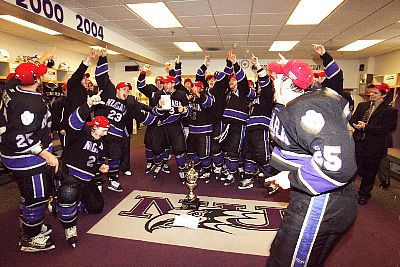 "I've never seen anything like those two penalty calls late in the game and then the disallowed goal," added Rocco. "It shows you what kind of guys we have on this team. I am speechless."
Before three minutes had rolled off the clock in the opening period, BSU was up 1-0 on a Brandon Marino goal. Chris Peluso started the play with a shot from the point and was redirected by Travis Winter. Pagliero stopped the initial shot and Marino was there to clean up the rebound.
Cook then tied the game on a power play at 10:19 and the Beavers managed just one shot the rest of the period.
Tyler Lehrke put the Beavers back on top midway through the second frame. Bemidji State kept that 2-1 lead until Chris Moran got one by Climie 16:28 into the period and Rogers followed 2:47 later with what would prove to be the game-winner.
"We worked on getting the puck on the net in practice the last few weeks and in both games of this tournament it really paid off for us," Rogers said. "I thought especially today we really did a good job of controlling draws."
Pagliero finished with 27 saves and Climie made 22 stops.
"We just didn't have that mojo today," said BSU head coach Tom Serratore. "Our puck possession and forechecking weren't what they normally are and we didn't sustain the kind of pressure you need to win on the road. I thought our guys showed a lot of resiliency and fought until the end and that is all you can ask.
"We talk a lot about hanging banners and we have such a wonderful tradition at Bemidji State. (The five seniors) have been a part of four championships — two tournament championships and two regular-season championships. They achieved a lot of success here. They are a wonderful group of guys. One of the toughest things in coaching is to say goodbye to your seniors. They have invested a lot of sweat equity into the program. But now it is time for somebody else. That's just the way it goes."
Next up for NU will be a national powerhouse on the biggest stage of them all in the NCAA tournament. The team knows their situation and what scenarios could play out, yet aren't intimidated by who they may play next week.
"You'd like to say it's a relief to win, but we will be playing a number one seed," said Cook. "If you could see the stuff we go through in the summer, September and October, it makes this all worth it. Tonight is why.
"It pays to work hard."
All-Tournament Team
F Chris Margott, Robert Morris
F Tyler Scofield, Bemidji State
F Kyle Rogers, Niagara
D Cody Bostock, Bemidji State
D Dan Sullivan, Niagara
G Juliano Pagliero, Niagara
Tournament MVP: Ted Cook, forward, Niagara
NU, BSU Both Win In Semis
Niagara advanced to the title game with a 6-3 win over Robert Morris on Saturday night with four goals in the third period.
"I thought that we played well tonight," Burkholder said. "And when we play well like that, it's easy to roll with four lines. When you are playing a one-game series, you need your goaltender to be one of your best players. 'Pags' was one of our best players tonight."
With the scored knotted at three halfway through the final period, the Purple Eagles third line of Mironov, Paul Zanette and David Ross (Bowmanville, Ont.) took control of the game. Zanette sent a pass from behind the net to a wide-open Mironov and he buried the one-timer to give Niagara a 4-3 lead on the power play.
Just two minutes later, the trio teamed up to give NU a two-goal lead, as Zanette and Ross again found Mironov in front of the net for the quick wrister.
"Ross, Mironov and Zanette were the difference in the game tonight," Burkholder explained.
Ross scored Niagara's first goal of the night as well, tying the score at 1-1 in the second period. Zanette also assisted on the tally.
Dan Sullivan tied the score 2-2 after he found himself alone in front of the net, as Caruana and Rocco assisted. Caruana wrestled the puck away from RMU against the boards and Rocco snatched it up and fed Sullivan.
Pagliero made 34 saves in the win.
The Colonials had taken an early 1-0 lead on a slap shot by Chris Margott and jumped ahead 2-1 on Margott's second goal of the night in the second period. Margott got his hat trick in the third period to tie the score at 3-all.
Christian Boucher made 22 saves for Robert Morris, as the Colonials said farewell to their 14 seniors, including Boucher. With the RMU season coming to an end, they finished with their first .500 record at 15-15-4.
Burkholder said after the game that facing BSU in the finals is what he expected.
"Bemidji State is start to finish the best team in the CHA," he added. "We are glad that we get a crack at them."
In the first semifinal of the day, Wayne State and Bemidji State met in the tournament for the first time in five years, though this time, WSU was on the losing side of the game.
And in losing the game, down the drain goes the Wayne State program.
"It's bad for the CHA, it's bad for college hockey and it's bad for these players," said Serratore. "This college hockey fraternity isn't that big. I had a lump in my throat just thinking about that walking through the line (postgame handshake)."
Tyler Scofield led the Beavers with a goal and two assists while Matt Read and Cody Bostock each posted a goal and an assist.
The game described by both Serratore and senior Climie as "weird," a total of 21 penalties were called for 54 minutes. The Beavers were whistled for nine, including a five-minute major and game disqualification (to senior captain Dave Deterding), while WSU was sent to the box 12 times.
"When you are playing 40 minutes of special-team hockey, you can't establish any flow," commented Serratore of his team that spent eight of the first 20 minutes a man short. "At that particular point in the game, I really think we played desperation hockey from the standpoint that we made sure shots were not going to get through.
"They have a nice power play. We have had a lot of trouble with their power play all year and I think that really helped us. Then when we got our opportunity on the power play, we got that first goal which was important."
Climie, who made just 10 saves in the win and extended his BSU Division I-era record for career wins to 45, attributed a lot of his success to his teammates.
"There were a lot of power plays in the game and the guys did a great job of fronting and blocking shots and that made my job a lot easier," Climie said.
Matt Pope got the Beavers on the board four minutes in when he tipped a Peluso slapper past WSU goaltender Brett Bothwell.
Nine minutes into the second stanza, Deterding was called for hitting from behind, sending him to the locker room and out of Sunday's final. The Warriors would seize the moment scoring a power-play goal three minutes into the opportunity. Chris Kusheriuk netted the Warriors only goal of the game (and last ever) with help from Ryan Bernardi and Jeff Caster.
The extra shifts skated by both teams on the penalty kill was evident in the third period. BSU managed just seven shots on net while WSU collected three and didn't register their first shot on goal until the 13th minute.
The score remained 3-1 until Scofield put the puck in an empty Wayne State goal with 32 second to play.
"Being on the bench and watching the clock tick down, it was tough to handle and try not to show too much emotion," said WSU senior forward Stavros Paskaris. "We felt we had a chance to get a 'W,' and we've been able to compete with Bemidji this season, but we did our best and it just wasn't meant to be I guess."
Bothwell ended the game with 26 saves for the Warriors.
Paskaris was the last to leave the ice and still found a way to express his emotions.
"It's still depressing and it was a weird feeling," he said. "In the locker room, it was a tough scene. That wasn't the way we wanted it to end. We wanted to go out and win this thing and show the CHA what they were losing."
WSU Takes Play-In Game Over Chargers
Wayne State advanced to the semifinals for the first time since 2004 following a 4-0 victory over Alabama-Huntsville on Friday night.
The Warriors snapped a four-game postseason losing streak and achieved their first ever shutout victory in CHA tournament play.
Paskaris scored a power-play goal and extended his point streak to nine games, eclipsing Dusty Kingston's previous school record of eight set in 2003, and surpassed Tyler Kindle for third all-time with 99 career points.
Caister notched an assist on Paskaris' marker and moved ahead of Kindle to establish a new WSU record for points in a single season by a defenseman (30).
Brock Meadows gave the Warriors a 1-0 lead and senior captain Mike Forgie was credited with an assist on the play, his first helper since Jan. 11 at Northern Michigan.
Wayne State scored twice in the second period on goals by Paskaris and Forgie.
Dylan Exton tallied WSU's fourth goal in the third period.
Bothwell made 21 saves for his second shutout of the year and Blake MacNicol turned aside 25 shots for the Chargers.
Crowds Decent At Dwyer Arena
Even with decent, but not sold-out, crowds last weekend at Dwyer Arena, the Niagara administration is satisfied with the way everything ran.
"There are always a lot of challenges with postseason tournaments," said Glenn Hofmann, Niagara's associate athletic director for external affairs, to the Tonawanda News. "I think we've raised expectations. We were hoping we'd average about 1,100 for our games and we were about there. Overall, we were pleased.
"Winning always makes it a little more enjoyable."
Although the crowds weren't among the biggest the Purple Eagles had all season, the championship game between Niagara and Bemidji State was drew 1,081, while 1,165 fans came out for the NU-RMU semifinal.
Just 536 came out to see Wayne State's final game and 785 showed up for the play-in game. That 785 mark surpassed the total for the 2006 championship final between NU and Bemidji State in Detroit (752).
"If we had students, that would have changed a lot," Hoffman added. "We're talking about at least three or four hundred more people. Plus, prices were higher for this. And there's not a lot of time for people to plan to come to this tournament.
"I think the best place for a tournament is on a campus site. We enjoy it. And I think our Dwyer is perfect for it. Sometimes you go to somewhere so big it's impossible to fill. Ours is the right size. And we take a lot of pride in how we stage events."
Luncheon Set For Monday In Lewiston
Niagara will host a fan and media luncheon with Burkholder, Caruana, Rocco and Pagliero at the Water Street Landing in Lewiston, N.Y., on Monday at noon.
The luncheon will take place in The River Sidebar at 115 S. Water St. and is open to the public. The cost for the lunch buffet is $15 per person.
The CHA champs will discuss their season, the conference championship and their opponent in the NCAA tournament.
Climie Seeing Stars With NHL Deal
Bemidji State sent another player on his way to the NHL as Climie signed with the Dallas Stars on Wednesday and was assigned to the Iowa Stars, their American Hockey League affiliate on an amateur tryout.
"This is a huge step for my career," commented Climie. "Now I'm a professional hockey player; it's my job."
Climie capped the 2007-2008 campaign with a 2.16 goals-against average, a .913 save percentage and an overall record of 14-8-3.
"There is no way I would have been able to sign a professional contract without my time at Bemidji State," added Climie. "Bemidji gave me the opportunity to get that first break.
"My four years at Bemidji State were great. They were everything and more than I thought they would be. We had a lot of success as a hockey team, I met great people and made some friendships that I'll have for the rest of my life. I have learned and developed so much as a person and that has prepared me to take the next step."
"It's every kid's dream to be a professional athlete," Serratore noted. "Now Matt has that opportunity with the Dallas organization and we couldn't be happier for him. This is another exciting time at Bemidji State. A situation like this is a great reflection of our program. It reinforces that we are doing a lot of things right and are bringing in great people.
"Our student-athletes have the opportunity to come to Bemidji State and excel not only on the rink, but also in the classroom. Matt is a perfect example of that. He finished his degree in education in just three-and-a-half years. So he got the best of both worlds."
Paskaris, Two Colonials Advance To ECHL
A pair of Robert Morris skaters, forward Joel Gasper and defenseman Chris Kaufman, signed ECHL contracts Wednesday and Paskaris signed his name on the dotted line this morning.
Gasper, the CHA's Student-Athlete of the Year, signed with the Johnstown Chiefs, while Kaufman, a four-year captain, inked with the Bakersfield Condors.
"(Bakersfield director of hockey operations) Bob Bartlett recently saw (Kaufman) play at a tournament and was impressed with his skating," said Condors head coach Marty Raymond. "Chris also came highly recommended by other coaches and NHL personnel."
Paskaris signed with the Dayton Bombers and was to make his pro debut tonight in Elmira, N.Y.
"For a kid who can't skate, I think it's pretty damn good," laughed Paskaris of his pro deal. "I had nerves before the first practice and I'm sure I'll have nerves tonight, but it's an opportunity I hope to make the best of."
Fellow WSU senior Tylor Michel has also reportedly signed an ECHL deal to be made official next week.