New Hampshire goaltender Kevin Regan was named the 56th recipient of the Walter Brown Award, presented annually to the best American-born college hockey player in New England. The President of the Gridiron Club of Greater Boston, Al Robichaud, made the announcement Thursday evening.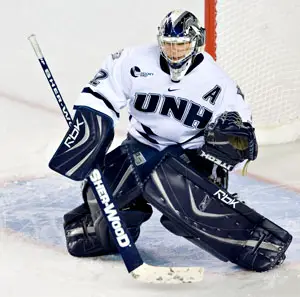 Regan was named one of 15 semifinalists in February, marking the second-straight season he was selected as a semifinalist. After being named a finalist, the senior assistant captain then beat out the other two finalists — Boston College's Nathan Gerbe and Boston University's Bryan Ewing — to win the award. Regan is the sixth Wildcat to earn the award, joining Bob Miller (1977), Ralph Cox (1979), Ty Conklin (2001), Mike Ayers (2003) and Steve Saviano (2004).
Regan is one of 10 finalists for the Hobey Baker Memorial Award. Among his Hockey East honors include his unanimous selection as Hockey East's Player of the Year, All-Hockey East First Team goalie, and Hockey East Goalie of the Month in February. Regan was named Hockey East Defensive Player of the Week seven times this season.
At 23-7-1, Regan is the first goaltender in UNH history to post back-to-back 20-win seasons. His .933 save percentage is the second best single-season mark in school history, trailing only his own .935 effort from last season. Regan's 23 wins and 2.12 goals-against-average rank him fourth on UNH's single-season lists in those respective categories. Regan has won 13 of his last 15 games, including an unbeaten month of February when he was 7-0-1.
Against Hockey East opponents, Regan posted an 18-4-1 record to go along with a 1.83 GAA and a .940 save percentage. The 18 wins and .940 save percentage are the second-best marks in a single Hockey East season. In his last 18 games versus Hockey East foes, Regan has compiled a 16-1-1 record with a 1.55 GAA, .952 save percentage and three shutouts.
In the conference, Regan ranks at the top of all the major goaltending categories both overall and in Hockey East play. Regan is first in GAA, save percentage, wins, shutouts (3/3 HE) and winning percentage (.758/.804 HE). Nationally, Regan ranks third in save percentage, third in winning percentage and 11th in GAA.
Regan holds most of the goaltending lists in UNH's record book, including wins (70), saves (3,208), save percentage (.929), games played (111) and minutes (6539:46). With a 2.25 career GAA, Regan currently sits second behind Ty Conklin's 2.18 GAA.
Regan also holds some Hockey East records. His .932 save percentage is the best all-time, while his 50 wins place him second and are just two shy of the record. Regan owns the fourth-best GAA (2.08) in Hockey East play all-time, and has the fifth-highest winning percentage at .726.