Deja vu? It's an eclectic but familiar cast of characters at this year's Northeast Regional, where top-seeded Miami heads up an unpredictable group of teams.
The RedHawks — who boast the nation's top scoring offense and its second-ranked defense — draw Atlantic Hockey champion Air Force, which carries a nation-best nine-game unbeaten streak, in the regional semifinal.
Miami may be heavy favorites, but the Falcons aren't exactly intimidated after scaring the daylights out of then-No. 1 seed Minnesota at last year's West Regional before the Gophers prevailed.
Interestingly, the regional's other semifinal features two teams recently remembered not for playing each other, but for games against their Northeast counterparts. The Minnesota Golden Gophers, they of the aforementioned near-upset last year against AFA, play Boston College, which has faced Miami in each of the last two NCAA tournaments, winning both times.
Depending upon who wins Saturday, fascinating rematch possibilities appear. There's the chance of Minnesota-Air Force again, this time in the regional final, or Miami-BC for the third straight year, or some other combination, with the winner advancing to the Frozen Four two weeks from now in Denver.
Miami vs. Air Force
Saturday, 4 p.m. ET, DCU Center, Worcester, Mass.
Miami RedHawks
Record: 32-7-1, 21-6-1 CCHA (second)
Seed: No. 2 overall, No. 1 East
How in: At-large
2007 NCAA tournament: Lost in regional final
The RedHawks are making their third consecutive NCAA tournament appearance and their fifth overall, their fourth under ninth-year head coach Enrico Blasi. Last year, Miami traveled to Manchester, N.H., where the RedHawks beat New Hampshire 2-1 before losing 4-0 to Boston College. In 2006, the RedHawks went to Worcester, where they lost 5-0 to BC.
"I think we should open up a satellite campus site out East," joked Blasi about heading to New England again this year.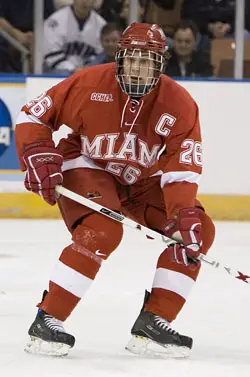 Miami is 1-4 all-time in NCAA tournament play, having taken that lone win last year against host UNH, an experience that Blasi said better prepared his returning RedHawk squad not just for this year's NCAA tournament, but for a highly-competitive regular season through which the team was often ranked No. 1.
"I think winning a game in the tournament against a hostile crowd and a great UNH team obviously helped us this year," said Blasi. "It gave us an opportunity to establish what we needed to do going into this weekend."
The RedHawks are the No. 2 seed overall in the tournament after losing their bid for a CCHA championship title to the No. 1 seed Michigan Wolverines. Miami played a cautious semifinal game against Notre Dame last weekend before a looser display against the Wolverines, but each contest had something glaring in common; the RedHawks failed to score until the final minute of each game.
In the 2-1 overtime win over the Irish, defenseman Mitch Ganzak scored the equalizer at 19:56 in the third, while fellow blueliner Alec Martinez scored at 19:21 in the 2-1 loss to Michigan the following night — and both goals were scored with Jeff Zatkoff pulled from the net in favor of the extra attacker.
This is some concern for a team with the top scoring offense in the nation, averaging just over four goals per game. Martinez also had the overtime game-winner against ND, so the RedHawks netted just three goals in two games in the CCHA tournament, and all three by two defenders.
"When our defensemen are scoring," said Blasi after the title game, "that means our forwards are going to the net and causing a lot of traffic, and that's a good sign, something we pride ourselves in. Our guys had chances, whether it be not executing or a little bit of poise, I don't know exactly what was the case, but we definitely had our chances."
The RedHawk offense is led by Ryan Jones (30-17–47), who is a threat from anywhere on the ice, and in any situation. Jones is a superb agitator, the kind of player who can take an opponent off his game just by being in the right place at the right time.
Jones is tied for second in the country in goals per game (0.75), tied for first in the country in game-winning goals (seven), and has 11 power-play tallies to his credit. Along with Justin Mercier (24-15–39), Jones is part of the second-best one-two punch in the country; the pair has 54 goals between them, second only to Michigan's Kevin Porter and Chad Kolarik (56).
Two freshman standouts, Carter Camper (14-24–38) and Tommy Wingels (14-14–28), have 28 goals between them; junior Brian Kaufman (12-24–36) is the fifth RedHawk with 10 or more goals.
While Miami gets offense from all four of its classes and any line it plays, the RedHawks are also solid defensively and in net. The RedHawks are second in the country defensively, giving up just 1.80 goals per game — and they gave up just three last weekend in two contests, as many as they scored.
And Zatkoff, a junior, (1.67 GAA, 9.24 SV%) is arguably the best goaltender in the country, second in goals-against average and first in save percentage nationally. Because of Zatkoff and the stingy Miami defense, the RedHawks lead the nation in penalty killing (89.6 percent).
So what does Miami have to do to escape the East Regional? "I think we need to bury some of our chances," said Blasi. "I think we played very well defensively last weekend. We didn't give up much."
Air Force Falcons
Record: 21-11-6, 14-9-5 Atlantic Hockey (third)
Seed: No. 16 overall, No. 4 Northeast
How in: Atlantic Hockey tournament champion
2007 NCAA tournament: Lost in regional semifinal
The Air Force Falcons have played two seasons in Atlantic Hockey, and won the playoff title each time. In 2007, Air Force finished fifth in the league but was elevated to the fourth seed in the playoffs due to regular season champions RIT being ineligible for the postseason. The Falcons upset Sacred Heart and Army on the way to the title and their first-ever NCAA berth.
This season, the Falcons entered the Atlantic Hockey tournament as the third seed, and in front of a league-record 3,900 partisan fans in Rochester, N.Y., soundly defeated second-seeded RIT 5-0, and then outlasted fifth-seeded Mercyhurst 5-4 in double overtime to claim the title.
"There's no question, winning this year validated what we accomplished last year," said Air Force coach Frank Serratore. "You don't win a 10-team league twice in a row without doing things right and being the real deal. Last year there might have been an asterisk because RIT finished first and couldn't play in the playoffs. But this year we left no doubt."
There was some doubt concerning how the Falcons would cope with the loss of senior Eric Ehn, a Hobey Hat Trick finalist last season. Ehn went into the boards hard in game on Jan. 19 against Colorado College, fracturing his fibula and tearing ligaments in his ankle. Ehn has not played since.
"People were saying 'Your plane just got shot down'", said Serratore. "And we struggled for a couple of games. When you lose as player like Eric Ehn your culture changes. Your go-to guy is no longer there."
The Falcons, fresh off a big 5-2 win over Denver the night before, lost that game 2-1 to Colorado College and then lost a pair of games to archrival Army, also by 2-1 scores.
But players like Brent Olson (38 points), Jeff Hajner (37 points), Matt Fairchild (28 Points) and Josh Frider (27 points) stepped up to fill the scoring void. Olson, who did not play the second half of last season due to academic ineligibility, has seven points in four postseason games and was named the Most Outstanding Player of the Atlantic Hockey tournament. Frider had the tying and game-winning goals against Mercyhurst in the championship game.
"From there the team seemed to get their legs under them and get on a roll, a better roll that we were on with Eric in the lineup," said Serratore. "We're 9-1-2 in our last 12 games. We're not a one-hit wonder. Not a one-man band."
Ehn, who began skating two weeks ago, is listed as a "game-day decision."
"We're hoping," said Serratore. "Eric's going to have to be close enough where he's going to be able to contribute. We're not asking him to lead us to the promised land … but to be effective as a two-way player."
Last season, Serratore used four goalies before finally settling on Andrew Volkening for the AHA title game and the Falcons' NCAA game against Minnesota, which they led in the third period before eventually falling to the Gophers, 4-3. This season, Volkening has played every minute of the team's last 21 games, posting a 2.08 GAA (10th in the nation) and a school-record .912 save percentage.
Junior Greg Flynn (31 points) leads a defense that's limiting teams to only 24 shots a game. The Falcons' aggressive team defense will need to be on top of its game against Miami, which boasts the top-rated offense in the nation. But Serratore says the experience his team gamed against Minnesota last season will help.
"Playing Goliath last year and giving them more than a run for their money, that's helping us right now," said Serratore. "Miami, they've won 30-plus games in a big-time league but they're not better than Minnesota was last year. If we're hitting on all cylinders and doing all the little things well that we can do in a game, we can put ourselves the in same position that we were in last year.
"But we're not going to sneak up on anyone. You look back over the last three years at what the Atlantic Hockey representative has done in the tournament … I can tell you, [Miami head coach] Rico Blasi isn't going us to let his players take us for granted."
Boston College vs. Minnesota
Saturday, 7:30 p.m. ET, DCU Center, Worcester, Mass.
Boston College Eagles
Record: 21-11-8, 11-9-7 Hockey East (fourth)
Seed: No. 6 overall, No. 2 Northeast
How in: Hockey East tournament champion
2007 NCAA tournament: NCAA runner-up
Much like they did two years ago before advancing to the national championship game, the Eagles stumbled in the last few games of the regular season before righting the ship in the playoffs. They dispatched Providence in the quarterfinals by identical 5-1 scores and shut out Vermont, 4-0, in the title game. Arguably, though, the triple-overtime semifinal win over a New Hampshire team that had won the regular season going away was even more impressive.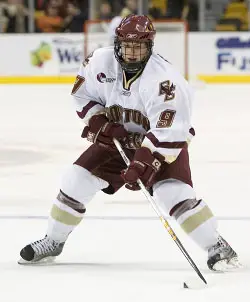 Can there be any doubt the Eagles are peaking at the right time?
"It's been an interesting year," York says. "We had two stretches where we were winless in five games, one earlier and one later. The feeling amongst ourselves even during those stretches was that we were still a good team.
"We use that expression, 'sawing wood.' We just kept on sawing wood and working at it, but never once did we have the internal strife that sometimes comes with losses like that. That made me feel good about our club, and then we just hit our stride."
Boston College ranks first among Hockey East teams in overall scoring and tied for first (with New Hampshire) in team defense.
"We've been pretty diligent in trying to get better in all three zones," York says. "Sometimes good defense is your forecheck not getting caught or outnumbered coming back down the ice.
"There has to be a balance, we feel, with your offense and defense. We're not ready to sell the whole store just to score a goal because if you don't score, they're right back in your face and you can be outnumbered. So we're trying to be conscious of defense in all three zones but in particular in our own end.
"[Freshman goaltender] Johnny Muse has been a backbone for us. We might not have the all-league type guys on defense, but certainly Mike Brennan and Timmy Filangieri have emerged as shutdown-type defensemen. The rapid improvement of Carl Sneep as the year progressed has given us a bona fide league all-star maybe not this year but certainly down the road."
Hobey Baker finalist Nathan Gerbe leads the nation in scoring with 28 goals and 29 assists. He's a threat to score even strength, on the power play or shorthanded. He lines up with Ben Smith (21-22–43) and Brian Gibbons (13-16–29). The scoring doesn't stop there, though, as Joe Whitney (8-39–47) and Benn Ferriero (16-22–38) can attest.
"We're almost scoring by committee after Nathan," York says. "The rest of the guys are all capable of scoring goals. We have a lot of them in that seven-to-10 goal area so we might not have the offensive magic that we've had in the past, but I think we've got a whole group of players that can score goals."
The Eagles' playoff experience tops the list of intangibles. They've played in four straight Hockey East championship games, winning three of them, and two straight national title contests.
"Without any question, that's a big component of our recent success in the post season," York says. "We have a lot of players that return every year who have been through the hype and the importance of late-season games. That has been able to carry over to the incoming freshmen.
"There's a regular-season game and then there's a tournament game in March. There's a completely different feel from the locker room to the fans in the stands. The whole surroundings of the game is different. I think it helps to have been there before."
In the first round, BC will be facing another tournament-tested team in Minnesota. The two traditional powerhouses share many traits: freshmen goaltenders, team speed, toughness, and even maroon and gold uniforms.
"They skate extremely well," York says. "They make plays, they're creative as a team and now they're getting outstanding goaltending from the young freshman [Alex] Kangas. It's a team that has a chance to win a national title this year, no question. They've won a couple this decade, so we've got a dangerous opponent for sure."
Minnesota Golden Gophers
Record: 19-16-9, 9-12-7 WCHA (seventh)
Seed: No. 11 overall, No. 3 Northeast
How in: At-large
2007 NCAA tournament: Lost in regional final
Despite losing a lot on the back line at the beginning of the year, everyone thought the Gophers wouldn't rebuild; they'd just reload, like usual.
Instead, the Gophers stumbled. They won their early nonconference games before struggling against the meat of the WCHA, failing to make the title game in their own holiday tournament.
The Gophers struggled to score goals, lost players early to injury and early departure, had their worst power play in years and struggled to find consistency in net — heck, the coaching staff used a senior walk-on who had never seen ice time to start a nonconference game against Wayne State.
The Gophers scored 10 goals that weekend, the most all season. Though it didn't start a late-season push, Minnesota learned to love and hate overtime, gaining a tie in all but one of its series in the second half of the season but going 0-5-9 in the extra frame.
But then something happened, and the Gophers started winning. They rallied from a double-overtime loss on the road against Minnesota State in the first round of the WCHA playoffs, winning one game in single and the other in double-overtime, to make it back to the Xcel Energy Center for the Final Five.
Once there, they almost needed overtime to beat St. Cloud, used it to beat CC and came close to needing it in a loss to Denver in the championship game — understandable, when you consider they played the equivalent of seven and a half hockey games in nine days.
In short, the once-powerful Gophers have turned into the Cinderella underdogs, if you can believe it.
"We understand that we're playing BC, who's just been terrific in the NCAAs the last 10 years. They've been in the national championship game the last two years and we're playing in their backyard — how difficult it's going to be," said head coach Don Lucia. "But we've relished the underdog role the last month of the season and we'll wear it again this weekend."
That's right, the Gophers are happy to be underdogs. Lucia would prefer that his team score a few more goals — they're 43rd in the nation in scoring offense with 2.43 goals per game — but he realizes his team is now a grinding one, and may have some difficulty against the Eagles, who have the fourth-highest scoring offense in the nation.
"We're not going to go out and outscore BC," said Lucia. "We have to find a way to get to three [goals], I'm sure — we're not going to win 2-1."
In other words, the Gophers will hope to get offense from various sources who can step up — like Mike Carman, Tony Lucia, Mike Howe and Mike Hoeffel have so far (none has 20 points). In fact, this year's Gophers squad doesn't have a 40-point scorer — something you'd have to go back at least 10 years to find. As a result, Lucia's squad needs to work the basics to success.
"I think specialty teams are going to be huge [like] our penalty kill, because BC's got a very good power play," Lucia added. "We're going to have to play smart, we're going to have to be good positionally and our goaltender is going to have to continue to play how he's played."
That goaltender, of course, is freshman Alex Kangas (1.92 GAA, .932 sv%) who stepped up to take the starting role in January and hasn't looked back, improving as the season has gone on and excelling in the playoffs.
"No goaltender probably in our league faced more playoff pressure than he did because of the fine line we have with winning and losing," explained Lucia, "knowing that you can't give up more than one or two goals if we're going to have a chance to win."