Heroes come from unlikely places in the postseason. As Denver head coach George Gwozdecky noted earlier this week, college hockey keeps getting younger so that underclassmen step to the forefront more so than ever.
With that in mind, here are some first-year players who could play a big role in their regional as we present the rookie watch for the weekend.
The Madison regional is obvious as all eyes will be on an NHL star of the future in Wisconsin's Kyle Turris. Depending on who you believe, you'd better watch him closely because this might be his last game or two in the NCAA.
There are also high-profile and talented freshmen on the roster at North Dakota, and Gwozdecky is simply amazed at how his first-year players have been thrust into such prominent roles. Other than former Hobey Baker winner Matt Carle, that is somewhat different from his title teams earlier in the decade. Remember that six-on-three Denver killed off in the last 94 seconds of its national-title win against Maine? Carle was the only freshman on the ice for Denver.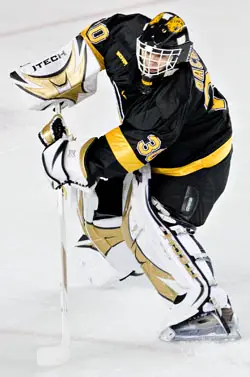 Flying under the radar will be Princeton forward Taylor Fedun. The youngster hails from his coach's hometown of Edmonton, Alb., and has been a great contributor to the Tigers' success. He has great vision, makes a crisp first pass and possesses an excellent one-timer. This right-handed shot plays in all situations during games and has displayed a proficiency at handling odd-man rushes against. A gritty and hard-nosed player, the engineering student has shown himself to be smart on and off the ice.
In the Springs, several solid freshmen will hit the ice and many of them will be wearing the white and blue of the New Hampshire Wildcats. James VanRiemsdyk has had an unassuming but solid freshman year and has done a great job deflecting his status as an NHL superstar in waiting to being just one of the boys in Durham. Danny Dries and Phil DeSimone have also impressed the fans of Hockey East. Dries was moved into VanRiemsdyk's spot as the left wing on the top line with Mike Radja and Matt Fornataro and has been simply brilliant.
However, Colorado College also boasts a few good ones — look no further than the kid in goal. Where did Richard Bachman come from? He's a Denver-area kid who was about fourth or fifth on CC's list of goalies, and when he was available in the recruiting process, CC grabbed him very much under the radar. Head coach Scott Owens, a former star goaltender himself, knows quality goalies and has a few good ones at CC. He didn't disappoint his fan base on this one as Bachman has carried CC all season. Forward Steve Schultz was having a good debut until a season-ending injury a month ago.
Then there's Notre Dame, and where would you like to start here? Take your pick before I do from Ryan Guentzel, Calle Ridderwall, Ben Ryan, Ian Cole, and Teddy Ruth. Ryan is playing as well as he has all season, Ridderwall is coming into his own on a game-by-game basis and Guentzel has shown flashes of being a very good Division I player with his work ethic and hard-nosed play. Ian Cole is a factor on a shift-by-shift basis but Teddy Ruth has demonstrated that he is the next big and bruising yet mobile defenseman in the CCHA.
The freshman I'm picking, though, is Michigan State defenseman Jeff Petry. The son of former Tigers pitcher Dan Petry, Jeff arrived in East Lansing and quickly earned a prominent role on the blue line of the defending national champs. Mobile, hostile, and agile — the three components of a good defenseman — Petry has them all along with a great shot and above-average hockey sense and anticipation.
Eastbound towards Worcester, there are a ton of good ones and you can't start anywhere but the goaltending matchup in game one between Minnesota's Alex Kangas and BC's John Muse. Both of these talented kids have been backbones of their teams. Derrick Burnett of Air Force has also opened eyes in his first year of college hockey, but Miami has a few that you need to watch.
Carter Camper has been lights-out as a freshman for the deep and talented RedHawks but I'm highlighting a sentimental favorite here, and that's center Pat Cannone. Cannone played Junior B for me on Long Island and when he was being recruited by Division I schools, the things that I told coaches about him were that he might have been the smartest player I have ever coached either in the pro ranks or in the junior ranks. Cannone sees the game unbelievably well; options that wouldn't be noticed by some players appear as obvious choices to him.
The other aspect of Cannone is his passing. I'm convinced you could put him in a pitch-black arena with one other player on the ice and he'd deliver the puck tape-to-tape on his forehand or his backhand. The knock on Cannone as a kid was his conditioning, but that is now a moot point as he has shown that his work ethic on- and off-ice is what future pro players are made of.
That season in junior B, he broke his hand and missed about six weeks. With a cast on one hand and a stick in the other, Cannone never missed a practice and never bailed out of hard skating at the end of it. That earned my respect.
The Capital District of the Empire State is the last stop on the tour and that's where nearly the entire Michigan team could fall under the rookie watch. Stop me if you've heard me on this before, but this might be the most impressive collection of star and role-playing rookies ever put on one team.
They dot the first through fourth lines, play a role on the back line, and have made Michigan a national-title contender as opposed to a team in a rebuilding year. The kids on this team have made Kevin Porter and Chad Kolarik's decisions to come back as seniors brilliant ones. Those two leaders made the kids better players and the kids supported both seniors in stellar seasons which should be capped by Porter winning the Hobey Baker in two weeks.
Michigan's season-opening win against Boston College at the Ice Breaker was scored by a rookie, Louie Caporusso, on a shot that deflected like a pinball before going in off a BC skate. It started there, as coach Red Berenson noted in his CCHA Coach of the Year acceptance speech, and hasn't stopped for this dynamic freshman class.
The class includes Aaron Palushaj, Matt Rust, Carl Hagelin, Max Pacioretty, Ben Winnett, Scooter Vaughn, Tristin Llewellyn, and Chad Langlais and a pair of goalies who'll have to wait out Billy Sauer's senior season until they can shine in Bryan Hogan and Shawn Hunwick.
Pacioretty, like Dries at UNH and Cannone an Miami, has played a first-line role with two established stars as he rides shotgun on the left side of Porter and Kolarik. Caporusso has a great knack for being open and available for grade-A chances, a lot of which seem to go in at clutch times. He's a star in the making.
Hagelin has as much speed as anyone who ever skated for the Maize and Blue and is a dynamic offensive player. Langlais is slowly becoming the offensive defenseman Michigan needs to replace what Jack Johnson took with him to Los Angeles. Winnett, Vaughn and LLewelyn have played solid supporting roles.
Matt Rust has drifted just south of the publicity line at times this season and that can be traced to the fact that he is a solid player who does his job well but isn't flashy. Tough and tenacious, Rust is looking forward to Albany because, as he says, "I didn't have a ton of playoff success in junior."
Palushaj might be the one to keep an eye on here. His ability to either get pucks to the net himself or be by the net when pucks arrive is a gift. Big, strong, and not afraid to get his nose dirty, Palushaj brings an Eric Nystrom-type intensity to the Wolverine offense. Soft-spoken off the ice, he is a player who can't be missed on it and should play a huge role in the Albany regional.
Palushaj was a member of the Des Moines Buccaneers Clark Cup team a couple of years ago, and was a supporting-role guy then like he is now. He was the go-to guy a year later, so he has big-game experience and isn't intimidated by the national stage he is about to enter.
Lastly, and totally off-topic, was there a better player than this season among defensemen than Alaska's Tyler Eckford? If he played out east he'd have been a Hobey Baker finalist.