Throughout Michigan's remarkable season, much has been made of the fact that Kevin Porter and Chad Kolarik are the only seniors in Red Berenson's lineup.
As such, they're also the only Wolverines who were wearing Maize and Blue the last time the Wolverines were the clear favorite in an NCAA tournament game.
For those scoring at home, that would be 2005, when the Wolverines beat Wisconsin by a 4-1 margin in the semifinals of the Midwest Regional, played a two-hour drive from Yost Ice Arena at Van Andel Arena in Grand Rapids. Every other game the Wolverines have played in the tournament since then — the next day's regional final against Colorado College and two first-round dates with North Dakota — was expected to be a battle, at best.
"We were the favorites for sure," Kolarik said of Friday's game against Niagara. "They were the [15]-seed, and we were the No. 1 seed. We heard it all week. We were supposed to win. We were supposed to blow them out, but we had to take care of our own business."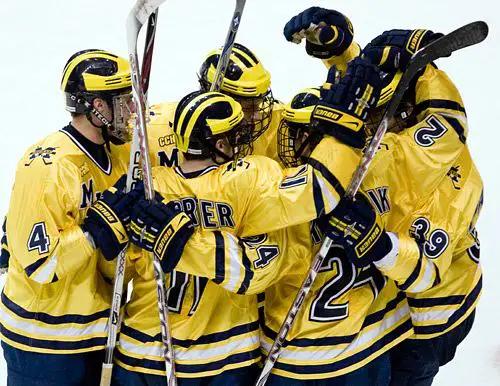 So, how did the Wolverines' leaders decide to handle the difference in external expectations?
Act like there was't one.
"We told them to stay positive on the bench," Kolarik said, "and just have fun. We've been having fun all year. It doesn't matter if it's the NCAA tournament or the first game of the year. Just have fun and relax."
Whether the Wolverines were able to relax is debatable, but the No. 1 team in the land was certainly having fun by the end, as Kolarik assisted on all five Michigan goals — four by Porter and one by Max Pacioretty — as Michigan cruised to a 5-1 win over Niagara.
"This team's been amazing," Berenson said. "We've had good teams that disappointed in big games, and this team has just found a way to impress in big games."
Of course, the Purple Eagles have a history of impressing in the NCAA tournament in their own right, having upset New Hampshire in 2000, but Kolarik and Porter didn't need to think back quite that far to recall a purple-clad team pulling a shocker in the tournament. The Wolverines were waiting to take the ice in 2006 when Holy Cross upended Minnesota in Grand Forks, and that memory did figure into the seniors' message to their teammates.
"'Ports' and I had seen it before," Kolarik said. "We told the guys that anything could happen. We needed to just come out strong."
The Wolverines did that, outshooting the Purple Eagles 11-4 in the first period, but goaltender Juliano Pagliero was equal to the task, stopping every shot he saw and leaving the score tied at the first intermission.
The scoreless tie wasn't exactly a problem — Michigan came into the tournament 7-1-1 when tied after 20 minutes — but the Wolverine leaders made sure there was no cause for concern.
"We told them they needed to stay calm and stay focused," Kolarik said. "We didn't have a bad period, but we definitely wanted to get a couple of quick goals on them. The longer they stayed in the game and it was 0-0, the more confidence they were going to gain."
"That's how upsets happen," Kolarik said. "If Niagara stays in that game longer and longer, they get confidence, just like Holy Cross did against Minnesota. You get one bounce and the game's over."
The Wolverines made sure that bounces weren't necessary, as they took the lead 55 seconds into the middle frame on Pacioretty's one-timer on a Kolarik feed, stretched it to 2-0 less than nine minutes later when Porter went five-hole on Kolarik.
Porter would add a rebound goal, a one-timer of his own and an empty-netter in the third — becoming the first player to score four goals in an NCAA tournament game since 1990 — but with Michigan outshooting the Purple Eagles 30-9 after two periods, the outcome was never in much doubt once the Wolverines got a lead.
"They're young, and they're loose," Berenson said. "We're trying to keep them focused, and we're all on the right page. That doesn't mean we're going to win anything, but they've won everything they've set out in their minds to win this year: the College Hockey Showcase, the GLI, first place in our league, the CCHA championship."
Next up: Saturday's East Regional final against Clarkson, the first game between the teams since a 1962 NCAA semifinal game in Utica that saw the Golden Knights beat Berenson and the Wolverines, 5-4.
"That was the last time I played," Berenson said. "I don't remember a lot about it. I remember that I was supposed to do the scoring, and I don't know if I scored in that game."
For the time being, though, the 24th-year head coach is more concerned with getting to the 2008 semifinals than rehashing the 1962 semis.
"We still have a lot to prove in this tournament," Berenson said. "This is one game, and now we'll see how we match up tomorrow night, but we're glad we're here, we're glad we got that first game behind us, and we'll see how we do tomorrow."
If one thing can be gleaned from Saturday's game, though, it's that the Wolverines are perfectly comfortable playing as favorites.