Possibly the story of the weekend at the Frozen Four will be Notre Dame making its first appearance in school history on college hockey's ultimate stage. No team has made its Frozen Four debut since 1998, which Ohio State reach the pinnacle for the first time.
One thing that will help the Fighting Irish, though, is their coach. Third-year bench boss Jeff Jackson has more than been through this before. He led Lake Superior State to the NCAA tournament in all six seasons he spent in Sault Ste. Marie, including three straight Frozen Fours between 1992 and 1994 and two national titles ('92, '94).
His experience, he hopes, can be the beacon that guides the team through what is one of the craziest weeks of their lives.
"Until they actually see it themselves, it's difficult [for them to understand]," said Jackson. "But it's big."
He said that every level of play — whether it's the league playoffs, the NCAA regionals or ultimately, the Frozen Four — the attention, the microscope watching these players increases.
"This scrutiny, the press coverage, the bandwagon, it all loads up and the distractions become immense," said Jackson. "The family, friends, professors, classmates, other athletes — everybody makes an effort to distract you, though not intentionally."
Jackson's advice to his team, then? Treat this like a business trip.
"It's about focus. It's about approaching this in a very business-like manner," said Jackson. "If you get all wrapped up into everything that's going on around you, then what you really are here for becomes less of a factor.
"In my opinion, it's about forgetting all of that and remembering what's important and what put us in the position to be here."
If you're looking for any sympathy from Notre Dame's opponent, Michigan, don't hold your breath. The Wolverines are making their NCAA record 23rd Frozen Four appearance.
Season Defined Early
Michigan senior forward Chad Kolarik listed off a number of the season highlights for the Wolverines, and they included what you'd expect.
The season-opening overtime victory over Boston College in the IceBreaker tournament.
The double-overtime Great Lakes Invitational victory over Michigan Tech, the program's first GLI title since 1996.
The CCHA playoff title victory over Miami at Joe Louis Arena.
With that as the landscape, what stands out as the defining moment for the Wolverines?
For coach Red Berenson, it goes all the way back to the first weekend in the Xcel Energy Center in St. Paul, Minn. There, the Wolverines showed their coach that they could play.
"When I stood back and watched our team compete with Boston College and Minnesota — two premier teams — with our team, which had 12 freshmen at the time, it was pretty impressive that we could more than hold our own," Berenson said. "I think that was the defining moment where we all looked around and said, 'Hey, this is a pretty good team.'
"Because we didn't know what we were going to have. As Kevin [Porter] and Chad took off in the ensuing weeks, we could see that this team could play every night. That's the main thing about this team, it's not any one moment. It's been the consistency, night after night."
Big Men on Campus
At Notre Dame, a school dominated athletically by football and, in some ways basketball, hockey at best takes third fiddle.
Reaching the Frozen Four just a year after making the regional final has elevated the profile of the program and its players around the campus.
Since returning from Colorado and the West Regional, the Fighting Irish players have noted that they've gotten plenty more recognition in South Bend.
"I haven't heard the 'Is hockey Division I at Notre Dame?' line anymore," said Irish captain Mark Van Guilder. "I heard that a couple of times my freshman year. I think everyone has figured out we're Division I.
"It's fun with all the support so that it's not, 'Did you guys play this weekend?' it's, 'Man, you played a great game. We watched every second.'"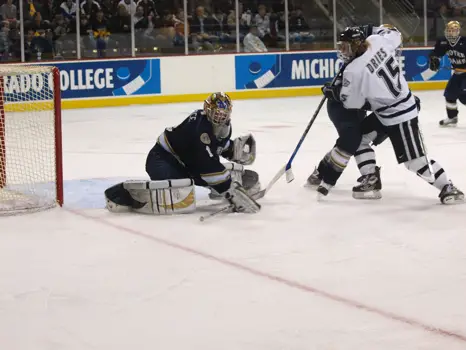 Junior goaltender Jordan Pearce says this success comes at a good time after the Notre Dame football team struggled through its season.
"I think we had a sour year in our football this year, so everyone is looking for our team to get behind and root for," Pearce said. "Everybody is excited and motivated. Every one is wishing us good luck and wanting to make the University proud.
According to Jackson, he hopes to build momentum from his program's success. He is at the helm just three years. A year ago the club was the dominant number one seed entering the tournament only to have eventual national champion Michigan State knock them out in the regional final.
But Jackson can see momentum.
"Everything is in the process of changing at Notre Dame as far as hockey goes," said Jackson. "We're selling out every game. We're turning people away from our games. We've raised $25 million for a new arena in 18 months."
He's also gotten tremendous support from his fellow head coaches in the athletic department.
"[Head football coach] Charlie Weiss called me yesterday and had a great conversation," said Jackson. "The camaraderie and the family atmosphere that comes from different sports teams, I've never experienced it before so I really have learned to appreciate that.
"It's not forced. It's all connected. You actually like to participate and watch other teams succeed at Notre Dame. That's something new for me because I've never experienced it at that big of an athletic program."
All In The Past
Michigan goaltender Billy Sauer has started to erase memories of sub-par freshman and sophomore seasons with a sparkling junior campaign.
But there's one thing that won't seem to go away.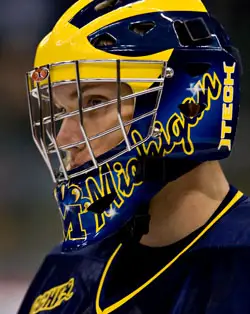 A reporter at Wednesday's news conference addressed a question to Sauer about giving up seven goals to North Dakota in last season's West Regional final at Pepsi Center. Berenson interrupted, saying, "Let's talk about this year."
If you want to talk about this year, Sauer has been one of the biggest reasons that the Wolverines are among the final four teams playing.
A 30-4-3 record, 1.89 goals against average and .927 save percentage show the improvement he has made.
"He's matured into an older goalie now," Berenson said. "He just turned 20 and he's already played three years of college hockey. He was 17 when he came in and he was probably too young to be a starting goalie for our team.
"No. 2, the fact that he had something to prove over last year. We knew we had a good team last year but we didn't quite get there. And rather than give up, he came back on a mission.
"I think No. 3, he's had three goalie coaches in three years at Michigan, and this goalie coach is the first one that's actually been a player and a starter at Michigan, Josh Blackburn. He was a four-year starter, and I think he can relate to Billy really well. They seem to have something going."
Wolverines Notes
• Porter, the favorite to win the Hobey Baker Award on Friday, said he hasn't been overwhelmed by the media requests over the last two weeks.
"I try not to think about it," Porter said. "We're here for one reason: to win a national championship. Everyone's putting distractions behind them, and that's what I'm trying to do. So it hasn't been a problem."
• Michigan has the second-youngest team among the 16 that started the NCAA tournament, trailing only Boston College in that category.
Having 11 freshmen on the Wolverines' roster was the reason Berenson considered this team a surprise.
"I think we've had teams that were expected to be back in the Frozen Four that never made it," he said. "This team has surprised all of us right from day one. … With such a young team, it's quite an accomplishment to be here."
• There's a certain familiarity in playing a team from your own conference in the NCAA tournament, and Michigan gets that against Notre Dame, just like the Irish got that against Michigan State in the West Regional final.
But Porter said that may be overblown.
"Today, with all the technology, you're watching every game," he said. "We have scout tape and everything like that. You know what Notre Dame's going to bring. You know what North Dakota's going to bring. You know what Boston College is going to bring. It didn't really matter who we play. They're all great teams. They're all playing really well and they're in the Frozen Four for a reason."
Fighting Irish Notes
• With both Notre Dame and North Dakota in this year's Frozen Four, it marks the first time that two clubs with the word "fighting" in their names have been present for the same Frozen Four.
The irony is that North Dakota's Fighting Sioux has, of course, come under public fire to change the name by various Indian tribes and the NCAA.
The lack of organization by the Irish in America has allowed the Notre Dame name to remain unchanged. (And before you berate me with email, please see the humor in that statement — Jim.)
• While the hockey team is making its first appearance in an NCAA final four event, the school has plenty of history on the ultimate stage. Women's soccer has made the most appearances (nine) followed by women's basketball (two) and men's basketball, men's lacrosse, women's lacrosse and baseball, each of which has made one appearance.