When Boston College's 2006-07 campaign ended with a disappointing loss against Michigan State in the national title game, BC head coach Jerry York still had a silver lining. At that time, the prospects for the 2007-08 team were extremely high.
Standout goaltender Cory Schneider was returning for his senior year. Forwards Brock Bradford and Nathan Gerbe and blueliner Brett Motherwell all had All-American aspirations, with Motherwell about to play in their his campaign at the Heights.
"We looked at that group and said this, for sure, is a team that's going to challenge [for a national championship] again," said York.
Then, in three separate blows, that ideal world began to crumble.
It began on July 2 when York got a punch to the gut, receiving word from Schneider that he would forego his senior year to sign a contract with the Vancouver Canucks.
On the opening night of the regular season, the upper cut left was followed by a hard right when Bradford broke his humerus bone and then a disciplinary issue forced York to dismiss Motherwell and fellow senior Brian O'Hanley from the team.
"Losing all three of those players was tough," said York. "But as the season progressed I could see a little more, 'We could do it this year.'"
Much of that attitude has to be credited to York's captains. The triumvirate of Mike Brennan, who wears the 'C' and assistant captains Matt Greene and Dan Bertram were thrust into their leadership roles full force.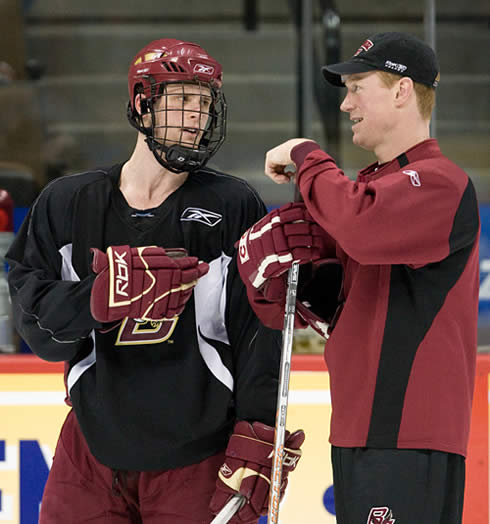 "I think a challenge of being a captain is getting everybody on the same page and getting everybody to look at you and trust you and know that you have their best intentions in mind," said Brennan. "It's shocking because all three of those guys [that were lost] were going to be All-Americans. You never plan for these things to happen. They just happen and that's life."
A big discussion on Friday, as the Eagles once again sit a single win away from the school's third national championship, centered around the team's desire not to waste the talent that remained.
"At the beginning of the year you never expect the season is going to go smoothly," said Greene, a native of Plymouth, Mass., who grew up watching the Eagles and who remembers watching their last national championship win in 2001. "Everybody expected that at some point we were going to have to sit down as a group. It would be ideal if we didn't have to do that but you do.
"I think it was great because coach kept a lot perspective on things and let us handle some of the brush fires. But bigger things, he sat us down and he challenged us personally. We got everyone to realize we do have a good club here it would have been a shame to let this go to waste."
Brennan echoed Greene's sentiments.
"It would be a shame to have the team just fold over because of [the club's early adversity]," said Brennan. "We weren't going to fold over. We met and put everything behind us and tried to move forward from it. It's worked out thus far."
York talked Friday of the relationship he built with his captains. It's obvious that the bond extends well beyond the hockey rink. He told stories of the weekly meeting that the captains would have with York (those meetings also included Bradford once he was injured.)
The goal of those meetings was to talk about hockey and the team but a lot of times, the veteran bench boss admits, hockey never came into the conversation.
"Sometimes we wouldn't even talk about hockey and I think [because of that] you develop a great relationship with some of your leaders," said York. "They become more owners of our club, because it's their team just as much as it's BC's team or Coach York's team."
That ownership was best summed up by Brennan, who has high anticipation of his final game as an Eagle and what it will mean to put the BC sweater on for one last time.
"A lot of blood and sweat goes into putting that jersey on and every time I put it on you have a lot of pride," said Brennan. "You know guys like Mike Mottau and Brian Gionta have worn that jersey. It's been an honor to wear it and when I take it off, I'm going to be proud to be a member of a group like that."
He's hoping that he'll also be a national champion.
Hobey not Front of Mind
Friday night may be the Hobey Baker Award ceremony and BC's Nathan Gerbe joins Miami's Ryan Jones and Michigan's Kevin Porter as one of the three finalists, but on Friday when Boston College took the stage at the Pepsi Center, there was almost no talk of the Hobey.
"My teammates have done a great job not mentioning it," said Gerbe. "The team goal is to win a national championship and that's the one thing we're focused on. If the Hobey Baker did come, that would be great. But we have one goal, and that's not the Hobey."
Heavy Hearts
The mood at the Frozen Four took somewhat of a somber tone on Friday when it was learned that Dave Murphy, the assistant to the supervisor of officials in Hockey East had passed away after suffering a heart attack on Wednesday afternoon. A native of Beverly, Mass., Murphy had worked for the league as an observer of officials before taking over this off-season for Bill Riley as assistant to the supervisor. Murphy also spent one season overseeing refereeing assignments for the Atlantic Hockey Association.
Our thoughts and prayers are with Dave's wife Beth and his two sons as well as with the Hockey East family to whom he was an invaluable friend and employee for many years.