It's been my pleasure to bring you this blog. As I sit in the pressroom in the bowels of Pepsi Arena, watching the BC players file past wearing their championship hats, it's dawning on me that I've seen my last of 47 college hockey games this season. I had the privilege to see both the Division I and Division III champions crowned, and to see some incredible hockey these past six months.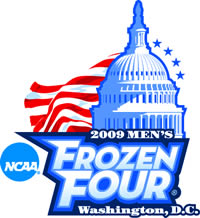 And in six more months, we'll start it up again. It may take you that long to read all of the coverage we've been able to bring you this weekend, in both words and pictures. A special thanks to Jim Rosvold and Melissa Wade for their photos used in this blog.
Enjoy and we'll see you in Washington.