Offense
Off-what?
The 'Tute finished last in the league with 2.08 goals per game overall, and a league-low 45 in conference play. Helfrich (9-20-29) and Polacek (7-21-28) were the only 20-point scorers, and nobody mustered 10 goals despite a healthy 38-game schedule.
Ornelas (9-8-17), Lord (6-10-16) and Jake Morissette (6-8-14) are the big producers who graduated last year, but on the bright side, Rensselaer didn't really lose all that much in raw numbers. Helfrich and Polacek were only freshmen last year, senior Matt Angers-Goulet scored eight, and classmate Andrei Uryadov potted seven. (Uryadov is going to miss an undetermined number of games to start the year, to complete a team-rules-related suspension.)
Seth Appert picked up a half-dozen new forwards this year, including Angers-Goulet's sibling Alexandre and (unrelated to Jake) Christian Morissette. Both are 180 pounds and an inch or two shy of six feet, and with similarly built Pat Cullen, Appert thinks this trio "could make quick contributions."
Have fun watching Justin Smith and Jordan Watts: the rookie wingers were brought in "to grind and agitate," according to their new coach, and Watts in particular is hoped to play a "Sean Avery"-style role, added Appert.
Defense
The defense won't miss a beat this fall, as the entire Trojan unit is back for another run. Third-year player Peter Merth (3-10-13) and sophomore Bryan Brutlag (3-9-12) lead the pack, though juniors Christian Jensen (2-5-7) and Erik Burgdoerfer (2-3-5) and sophs Jeff Foss (1-3-4) and John Kennedy (0-0-0) each played more than two dozen games last season.
In fact, every sentinel who took the ice last winter played a significant amount of time. Kennedy was the scarcest member of the club, playing in 26 contests.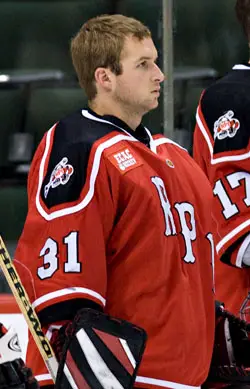 Transfer Mark Zarbo from Bentley and freshman Mike Bergin out of Smiths Falls of the Central Ontario league are the only additions, and the competition for playing time should be a fierce one at the Houston Field House this year.
"It should be one of the better — if not the best — D-corps in the league, with a top goalie tandem," predicted Appert. "We're going to be an aggressive team with a strong defense."
Goaltending
Mathias Lange (2.47 goals-against, .916 save rate) is the frontrunner for the 'tender tip, and so far, only freshman Allen York is around to challenge him. York has the goods, at six-three and wiry, and was tapped with the 158th pick in the 2007 NHL Draft.
Outlook
Appert's not lying; the defense looks good. York will have to give Lange a push and maybe make some quality starts himself, and the entire team will have to play tight in its own end as the offense struggles to develop into something resembling a threat.
The Engineers have looked better, but the ceiling for this team is impressively high. Home ice in the first round should mark a successful regular season by the 'Tute.