In each of his first three seasons at Merrimack, head coach Mark Dennehy's team took steps forward. After winning just six games in his first campaign in 2005-06 and three games the year following, last year's club posted 12 wins total and surpassed the win total of a year prior by November 1.
Seems like a great positive, but as Dennehy points out, there's still a small flaw.
"Last year, the statistics moved in the right direction," said Dennehy. "But obviously, that wasn't enough to make the playoffs."
Such is the challenge that Merrimack faces heading into the 2008-09 campaign. The club continues to improve and is recruiting better players, yet still struggles to move from the Hockey East cellar.
That's the bad news.
The good news comes in the passion that Dennehy and his coaching staff have to make this program successful. That passion translated well on paper this year when the club landed goaltender Joe Cannata, the first U.S. National Team Development Program player to play for Merrimack.
"You add [Cannata], one of the best 18-year goaltenders in America, to the mix with Pat Watson and Andrew Braithwaite — we're going to be deep and we're going to be strong," Dennehy said about his goaltending.
Still, goaltending has never been the gaping hole for the Warriors. Both Watson and Braithwaite stole a number of games last season on nights when the defense spent far too much time in its own end. Thus, improvement will need to come in other areas. That's something that Dennehy has addressed as well.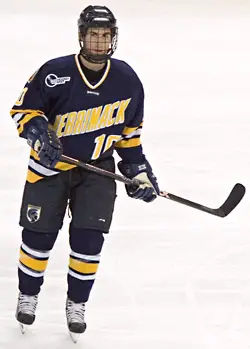 "We've identified three areas [for improvement]," said Dennehy. "We need to improve our penalty defense. We need to improve our scoring without giving up and more than we did. And we need to be able to handle the better-skating teams in our league."
The third point is possibly the most important for the Warriors and something Dennehy and his staff addressed, bringing in a class of seven forwards and defensemen that emphasizes speed over strength.
"Speed was something we looked for," Dennehy said of his recruiting. "We identified guys who can skate with the elite skating teams in our league. Because of that speed, hopefully we'll take less penalties and draw a few more and because of that speed hopefully we'll get to a few more loose pucks and generate some scoring chances."
Two freshmen whom Dennehy hopes can make an immediate impact are defenseman Karl Stollery forward Jesse Todd. Both players played for the Camrose Kodiaks of the Alberta Junior Hockey League, Todd playing on a line with Joe Colburne, the top pick of the Boston Bruins in last summer's NHL Entry Draft who is headed to Denver this season.
While Todd will challenge for playing time as a rookie, Dennehy expects Stollery to immediately jump in and shore up Merrimack's defense.
"He's a great skater," said Dennehy. "We feel we're going to spend a lot less time in our zone because of him."
Plenty of positives abound for Merrimack heading into the season. Now the challenge will be taking the next step, one that means moving from the Hockey East basement and into a playoff spot.
That would be an improvement, without any question.