When Hockey East coaches picked Northeastern to finish fourth this year, it marked the Huskies' highest preseason projection within the league. It's easy to see the reasons for the optimism and why they are likely to continue the program's progress under coach Greg Cronin.
Northeastern returns all but two players from the squad that finished sixth last year, missing home ice by just three points. With another year of development and some new talent arriving, the Huskies would look like a near-prohibitive favorite to meet the coaches' projection if there weren't so many other positive outlooks across the league.
There should be more competition on the top forward lines, where Joe Vitale, an All-Hockey East selection, is the clear go-to guy. Wade MacLeod, Tyler McNeely, and Ryan Ginand all reached the 20-point plateau last season and Randy Guzior also scored 10 goals.
While Cronin has been building the program, top recruits up front have gone straight to the top two lines (do not pass go, do not collect two hundred dollars). At times, they haven't been ready for those challenges. Now they'll be forced to earn those spots.
"Everybody's coming back and the new faces that we are going to play this year won't be square pegs jammed in a round hole," Cronin says. "This year's group will be asked to play roles that they are comfortable playing.
"[The players coming back] will be more battle-tested with more maturity and experience."
Hopefully, that will translate into better special teams, a considerable weakness last year.
"If you don't have good special teams, you just get your nose above the water line every game and you're in nailbiting one-goal games," Cronin says. "The first half of last year, we went on that run of 11 games without losing, but they were all one-goal games. Our power play wasn't winning the games; our penalty killing was.
"The second half of the year, our penalty killing failed and our power play got worse so we lost all those one-goal games. So it's easy to identify the resource to get us to compete with BU, BC and UNH."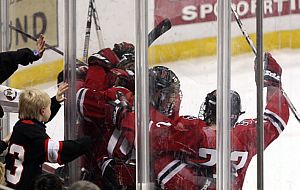 On the blue line, the Huskies return all eight defensemen, led by senior Louis Liotti and junior David Strathman. Joining them will be freshman J.P. Maley, who is expected to add an offensive dimension.
"We struggled last year defensively," Cronin says. "Our goals against [average] was near the bottom of the league. That shouldn't happen again with all our D back. We've really got to develop an attitude where we are stingier on the back end and our forwards have to participate in that attitude."
After a strong rookie campaign and first half last year, goaltender Brad Thiessen struggled in the second half, getting yanked a few times. Cronin has brought in a volunteer goalie coach to provide the more immediate feedback Cronin feels Thiessen needs.
"Brad's the first guy that will tell you he was disappointed with his season," Cronin says. "He's got to reverse that this year if we're going to enjoy any success. He's learned a lot and has come back with a tremendous amount of focus."