If anyone told you on the final night of the regular season last year that the Boston College Eagles could win the national championship, you'd likely have had them committed to a mental institution.
An inconsistent team all season, the Eagles stumbled into the playoffs, barely earning home ice, before unbelievably putting the pieces together for a five-week run that could only be described as incredible. The run, of course, was capped with the team's third national title.
Much of that turnaround could be credited to the play of two individuals: forward Nathan Gerbe and goaltender John Muse.
Muse is back and will once again be relied upon to carry the Eagles. Gerbe, though, was the one offseason casualty for BC, leaving a year early for the NHL.
Eagles coach Jerry York knows that replacing Gerbe's offense will not be easy. More importantly, it won't be done with just a single player.
"It's going to be a lot of guys [who replace Nathan Gerbe]," said York.
If there was a single player who could take away the sting of Gerbe's loss, it would be Brock Bradford. A season ago, Bradford inexplicably broke his upper arm not once, but twice, translating to just five games played by the talented forward. Bradford returns 100 percent and (knock on wood?), and one would think he'll be a major contributor up front for the Eagles.
"Brock is as good as possible right now," said York. "He's got mental strength. He feels really good. The doctors all say he's 100 percent."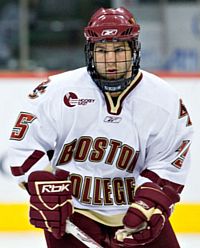 Bradford will have additional help from fellow senior Benn Ferriero, along with Joe Whitney and Ben Smith, both 50-point scorers a year ago.
As well, you'll see plenty of fresh faces for Boston College, which brings in nine rookies that York hopes can contribute immediately.
"We've got a good incoming class joining a lot of our core players from last year's team," said York. "We have a number of players who could really help us this year, forward in particular. Two really speedy, crafty players in [Barry] Almeida and [Cam] Atkinson, then two bigger, stronger forwards in Paul Carey and Jimmy Hayes."
The Eagles will also bring in two highly-touted defensemen in Tommy Cross and Edwin Shea to join an experienced blueline corps that includes seniors Tim Filangeri, Kyle Kucharski and Anthony Aiello.
But there's one position that will look the same this season as it did when the Eagles carted the national championship trophy off the ice last April: goaltending.
"If he stays healthy, [John Muse] has shown that he can [play every game] so I don't see any reason why he won't play every game," said York.
At least some things stay consistent.