If the college hockey regular season ended in the first week of February rather than March, last year's campaign for the Providence Friars would likely have been considered a glowing success.
It was those final 30 days, though, that took things from a banner year for the Friars to one of mediocrity.
The turning point was a 1-1 tie at home against New Hampshire on the February 15. From that point to season's end, which came exactly one month later on March 15, the Friars posted just one win. What seemed like a sure bet for Providence to make its first NCAA tournament appearance since 2001 turned into a scenario that left the team and its coaches shaking their collective heads.
The cruelest joke came at season's end when Boston College, a team the Friars beat twice and tied once in three regular-season contests, swept Providence from the Hockey East quarterfinals by identical 5-1 scores. The Eagles used that weekend against Providence as a springboard for their season, never losing again en route to the national title.
Hope springs anew, though, for this year's Friars squad and with a new season comes new faces. And plenty of them.
Despite losing just five players, Providence boasts a rookie class of nine, including five forwards brought in to replace a single departure.
"We have nine players coming in and we've gone younger with our recruits," said Providence head coach Tim Army. "We have 31 kids on the roster and that's my own personal philosophy. When we took over three years ago, we didn't have the depth."
Army noted that he intentionally recruited a younger freshman class this year to help with the learning curve. He talked of a philosophy of developing players through each year and feels that bringing in freshmen at age 18 or 19 has a major advantage in the development process rather than the 21- or 22-year-old freshman who has become increasingly common throughout college hockey.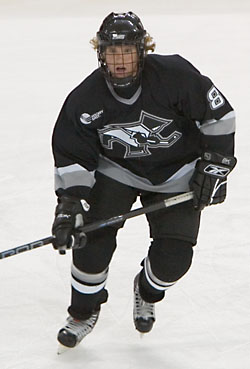 "We have a number who are ready to play but they're all young," said Army. "My own opinion is that when you recruit 20- and 21-year-olds, what you see when they come in is what you'll see when they play out.
"An 18-year-old player, by the time he is 21, has a tremendous curve to progress."
Such is a case study with one of Providence's returning players who will be key to the team's success, goaltender Ryan Simpson. Simpson, a redshirt sophomore, will have the task of replacing Tyler Sims, who graduated having set multiple Providence goaltending records.
Simpson entered Providence two seasons ago but was injured in December. He never fully recovered from the injury and missed much of the last two seasons. Army says that in bringing him in at a young age has helped his development as he now is a stronger goaltender physically, ready to face the challenge at hand.
"He's at full health," Army said. "He's come a long way in two years. His conditioning has improved tremendously.
"Now he can concentrate on playing. He's a very good goalie who is a redshirt sophomore. We thought he'd be our guy coming into this year and he's on track."