Massachusetts reached new heights midway through last year when, after toppling Notre Dame and Colorado College in a holiday tournament, pollsters ranked the Minutemen fifth in the country. Unfortunately, they could not sustain this lofty perch, dropping the next five games and going winless over seven. The euphoric and sadly premature talk among some supporters of a national powerhouse fell silent.
Nonetheless, it's clear that the days of UMass perennially hanging around the Hockey East basement are long gone. This program can expect to contend for home ice most every year and this one is no different.
The questions faced between the pipes going into last season have been answered. Paul Dainton earned his berth on the league's all-rookie team, recording goals-against and save percentage stats that ranked fifth in Hockey East. While Dainton looks to get even better, junior Dan Meyers will be pushing for more playing time.
"Paul has proven that he can be a very effective player, if not a terrific player, at this level, and Danny has gone through a development which is going to serve him pretty well," coach Don "Toot" Cahoon says. "We feel that we've got good goaltending and a solid core to build off of. It's just a matter of giving them the confidence on a day-to-day basis and giving them the type of development over the first few weeks to get off to a good start."
On the blue line, the Minutemen must replace Mike Kostka, an All-Hockey East selection, and David Leaderer. Juniors Justin Braun and Martin Nolet will assume leadership of this group, which hopes to get senior John Wessbecker back in about a month. Wessbecker, a terrific defensive defenseman and the team's best penalty killer, left a major void last season when he was sidelined late-November. Fellow senior Topher Bevis rounds out the returning nucleus.
Freshmen Michael Marcou, younger brother of top scorer James Marcou, and Matthew Irwin will battle Kevin Kessler and Douglas Kublin for the other two spots in the rotation.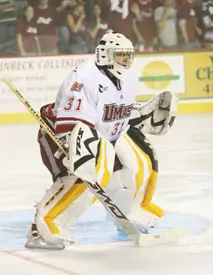 "John [Wessbecker] is a key element that was missing the second half of last year," Cahoon says. "We're looking to get him back hopefully in the first part of this season.
"Braun and Nolet are going to be terrific players, seasoned players with a lot of game experience, big bodies. I think they're going to be terrific.
"We think we've got enough experience. We're going to be okay back there and Braun and Nolet could be terrific."
Up front, P.J. Fenton must be replaced, but almost all the rest of the cast returns, supplemented by four freshmen. James Marcou joined Dainton on the league All-Rookie team after contributing 32 points. Seniors Cory Quirk and Chris Davis are the other two returning forwards who topped 20 points. If Alex Berry and Will Ortiz can join them, that will go a long way toward lifting UMass to home ice contention.
"Our forwards are our depth, the strength of our team," Cahoon says. "We think we've got a really solid skating group. We're five lines deep. I literally think I can play anyone within those five lines and not hurt my team.
"Certainly there are some key players among the first two lines because those are the point producers, but we think our depth will give us the ability to keep healthy bodies on the ice and always a maintain a good level of team speed."