Boston University rebounded from a potentially disastrous start to finish second in Hockey East last season but still failed to secure an NCAA berth for the first time since 2004. Don't count on that happening again this year. The Terriers return a lot of talent and have supplemented that with a strong recruiting class.
All eyes will be on net, a position that went from best in the league ("where have you gone, John Curry?") to one of the worst. It did stabilize down the stretch, but no one should have been surprised when coach Jack Parker opted to start afresh.
Grant Rollheiser, the top collegiate goaltender selected in the 2008 NHL draft, comes in as the favorite. Fellow freshman Kieran Millan looks like the primary competition, but Parker isn't counting out sophomore Adam Kraus even though he managed to get into only two games last season. Don't forget that Curry was once third on the depth chart too.
"The most important thing we have to do is shore up that position," Parker says. "We brought in two talented freshmen and we have a sophomore that didn't play much last year so we have three guys with a total of two games experience.
"Our philosophy will be: those who play well will be rewarded with further play. It might be that we have a rotation; it might be that we have a one and a one-A. It might be that we just have a number one guy. It all remains to be seen."
Five of the top six defensemen return, led by All-American Matt Gilroy. He and sophomore Kevin Shattenkirk both recorded 21 points so production on the blue line won't be a concern. Colby Cohen, Eric Gryba, and Bryan Strait fill out the returning nucleus. Highly regarded freshman David Warsofsky should make an immediate impact, including on the power play.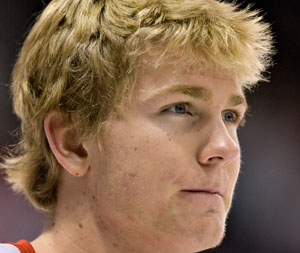 "This is as good a group of offensive defensemen as we've ever had here," Parker says. "Our defensemen are very, very solid and very, very talented, but they're so talented offensively we have to make sure they're thinking about defense first. We don't want to leave the rookie goaltenders out to dry."
The team's strength should be up front despite losing its top two scorers, Pete MacArthur and Bryan Ewing. Senior Chris Higgins provides the top scoring punch among upperclassmen and also adds a well-rounded defensive game; he's the consummate complete player. Sophomore Colin Wilson, last year's Hockey East Rookie of the Year, will be expected to take his game to the next level along with Nick Bonino, who scored 16 goals as a freshman.
"We were the top scoring team in the league last year and we have eight of our top 10 scorers back from last year," Parker says. "We had the best power play in Hockey East last year in league play and we've got most everybody back in all those situations. So we should be in pretty good shape there."