Three Favorites, Then Anything Goes
On paper, Boston College, Boston University, and New Hampshire rank as the clear favorites in Hockey East this season. The three programs contend for the title almost every year — perennial powerhouse Maine usually joins them but has fallen on hard times — and while each has questions that remain to be answered, talent abounds and expectations are high.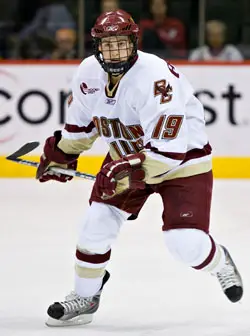 Almost any other team could claim the final home ice berth. Vermont brings back most of the squad that finished third last year. Northeastern and Massachusetts-Lowell return almost their entire rosters. And Maine can't really miss the playoffs two years in a row, can it?
If you ask BU coach Jack Parker, however, there's only one team for the rest of the field to beat.
"The favorite is BC, and then there's a gap," he says. "BC lost the best player in the league [Nathan Gerbe, who turned pro], but they've got Brock Bradford, who didn't play for them much last year. They have everything on paper to be a repeat national champion, not only a repeat Hockey East champion."
It's hard to argue with that point of view, though many will. That's what's great about this time of year. Every team is undefeated and almost everyone can say, "If we just catch a couple breaks …"
Here, then, are thumbnail views of each team's outlook. Click on the links for more details.
Coaches — 1st; Dave — 1st; Jim — 1st
The defending national champion is the odds-on favorite.
If the Terriers get good goaltending, the sky is the limit.
Coaches — 2nd; Dave — 2nd; Jim — 3rd
Lots of holes; can the Wildcats fill them all?
Coaches — 3rd; Dave — 3rd; Jim — 2nd
4. Vermont
Coaches — 5th; Dave — 4th; Jim — 4th
The Catamounts fell just short of a title last season.
5. Northeastern
Almost everyone returns. Can the Huskies take their game to the next level?
Coaches — 4th; Dave — 5th; Jim — 5th
The River Hawks also bring back virtually their entire roster from last year. They should contend for home ice.
Coaches — 7th; Dave — 6th; Jim — 6th
Add the Minutemen to the growing list of teams that would look quite comfortable in that final home ice berth.
Coaches — 6th; Dave — 7th; Jim — 8th
8. Providence
Coaches — 8th; Dave — 8th; Jim — 9th
The Friars will try to put a disappointing finish behind them.
9. Maine
Coaches — 9th; Dave — 10th; Jim — 7th
The Black Bears are rebuilding; will lowered expectations help or hurt?
10. Merrimack
Coaches — 10th; Dave — 9th; Jim — 10th
A playoff spot would be the next step for Mark Dennehy's squad.