"Goaltender U."
While by no means an anachronism at the University of Wisconsin, these days the platitude seems a bit misdirected, as defensemen — in the pros, currently in school, and incoming freshmen — are challenging that nickname and the conventional wisdom that formed its basis.
Under the tutelage of recently-retired goaltending guru Bill Howard, Badger netminders have excelled both on the collegiate and professional levels. The dominance began in the late 1970s and early '80s with Julian Baretta and Mark Behrend both earning Frozen Four Most Valuable Player awards, respectively, for Wisconsin's 1977 and 1981 national titles.
Soon, however, those names were overshadowed by two goalies who have combined to win over 791 National Hockey League regular season games: Mike Richter and Curtis Joseph. Separated by only one season in college, these two solidified Wisconsin as the go-to place for premier goaltenders.
After Richter manned the crease from 1985-87, Joseph swooped in to post one of the most amazing statistical years in WCHA history, finishing with a 21-11-5 record, 2.49 goals against average and .919 save percentage. His efforts netted him a first team All-WCHA selection, second-team All-American, and both Rookie of the Year and Player of the Year for the 1988-89 WCHA campaign. A full two decades removed from that historic season, he is playing for the Toronto Maple Leafs.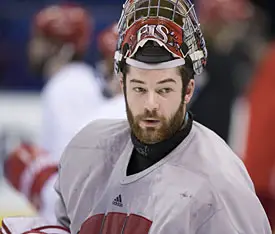 Equal excellence followed in the '90s as Duane Derkson, Jim Carey (a future Vezina Trophy winner for NHL's top goaltender in 1996), Kirk Daubenspeck, and Graham Melanson carried on the storied goaltending tradition.
Beginning with Bernd Brückler — and coinciding with a more defensive-minded philosophy instituted by new head coach Mike Eaves when he took over before the 2002-03 season — yearly and all-time records began to fall precipitously.
In 2006, the year of Wisconsin's last national championship, Brian Elliott finished as Hobey Baker runner-up, setting team single-season records for goals against average (1.55), save percentage (.938), and shutouts (eight). For his career, Elliott finished 51-27-6 and owns Badger records for lowest GAA (1.78), highest save percentage (.931), as well as a WCHA-record 16 shutouts.
Current senior netminder Shane Connolly has been no slouch either, posting a 22-22-7 record, 2.30 GAA, .913 SV%, and five shutouts
Yet it was around this time, too, that defensemen started to get their fair share of the limelight — auguring the fundamental shift out from the crease to the blue line.
As with many elite programs, high-profile defections had always been part of the process. From the aforementioned Richter and Joseph to Dany Heatley, Joe Pavelski, Robbie Earl, and last season's Kyle Turris, star goaltenders and forwards regularly left Wisconsin to make the jump to the NHL.
Only when first-round pick David Tanabe left for Carolina after the 1999 season did defensemen begin to figure into the mix. When Ryan Suter was also drafted in the first round four years later, there were signs of an emerging trend.
No one, however, better exemplifies this paradigm of excellence, consistency, and success than Chris Chelios.
After two extremely successful seasons as a Badger — including leading the team to its fourth national title in 1983 — Chelios left school first to play for the 1984 Olympic team in Sarajevo before joining the Montreal Canadiens in their pursuit of Lord Stanley's Cup. Twenty-four years later, though a bit slower of foot, little of his game has changed: he is still shutting down top forwards, killing penalties, and winning Cups.
While goaltenders were rightly stealing most of the spotlight, top-notch defenders were consistently emerging from Wisconsin's ranks. Following earlier star defensive turns by Brian Engblom and Craig Norwich, from 1983-1994 the Badgers produced NHL blueliners Bruce Driver, Gary Suter, Mark Osiecki, Sean Hill, and Barry Richter, with all but Osiecki representing their respective countries in the Olympics.
1994 may seem like an arbitrary deadline, but it was the next year that Brian Rafalski — three-time Stanley Cup winner as a top-two defensemen and well on his way to a Hall of Fame career — graduated, ushering in the age of (mostly offensive) defensemen reared at Wisconsin.
While Rafalski was playing in Europe, the exceptions to that rule — two old-school, stand-up blueliners in Alex Brooks and Andy Wozniewski — began playing in the National Hockey League. Then came Tanabe. Though never reaching his full potential in the pros, the smooth skater from White Bear Lake, Minn., left after just one year at Wisconsin, laying the groundwork for many defensemen to follow.
Five years later, it was Ryan Suter's turn. The nephew of NHL great Gary and son of 1980 gold medalist Bob, Suter also spent just a year at Wisconsin before going pro and, after just a year in the minors, becoming a top defenseman for the Nashville Predators.
While a tremendous loss to Wisconsin, the departure of Suter fortuitously coincided with the hiring of former Badger and NHL blueliner Mark Osiecki in the summer of 2004.
Fittingly, he has built upon the defensive tradition he helped to create as a player. Known in his day as the consummate shot-blocker, under his tutelage Wisconsin has consistently led the WCHA in blocks, perpetually sacrificing bodies to clog up the shooting lanes and frustrate opposing players.
Currently, five of the 17 Wisconsin players in the NHL (Chelios, Tom Gilbert, Rafalski, Suter — who, along with Gilbert, just signed a lucrative contract extension in the offseason — and Wozniewski) are defensemen. In all likelihood, that will soon change.
Since Osiecki has begun to mold the defensive talent at least partially in his image, the Badgers have had a remarkable six defensemen — Nigel Williams and Jamie McBain in the second round of 2005, Brendan Smith and Ryan McDonagh in the first round last year, and Jake Gardiner and Cody Goloubef in the first and second round, respectively, in the most recent draft — selected in the first two rounds of the last three drafts.
It's a classic example of success feeding upon itself. While other high-profile schools had reputations for superstar players peaking in college and ultimately becoming disappointing pros, Wisconsin has just the opposite problem.
Athletes, their parents, and so-called "family advisors" see the Badgers as the perfect steppingstone to the next level. Likewise, NHL general managers and scouts appreciate the experience and teaching methods of Mike Eaves and his staff, particularly Osiecki, and feel comfortable drafting players who have or intend to play there, as they are assured of smart, hard-working, fundamentally-sound defensemen joining their ranks.
It's no wonder then that the current defensive crop has the college hockey world and professional scouts abuzz.
After his inability to crack the starting lineup of a team that went on to win the national championship, Nigel Williams left school early on in his freshman year. McBain, McDonagh, Smith, Goloubef, and Gardiner, however, all remain.
So it was that the No. 14 Wisconsin Badgers took the ice atop Chestnut Hill against the top-ranked and defending national champion Boston College Eagles on Friday with five elite prospects on D, led by junior All-American candidate Jamie McBain, the only upperclassman of the group.
Such a talent base is a testament to the program's rich history, its dynamic coaches, and the faith that incoming recruits, current players, and professional scouts and general managers have in Wisconsin to turn out top-notch, NHL-ready blueliners.