It's almost hard to think that the Minnesota Golden Gophers would finish anything less than in the top three of the WCHA.
Maybe it's due to their history or reputation alone, but for some, I'm sure, it was hard to see Minnesota end up in seventh last year.
The Final Five and NCAA tournament berths probably made up for it, though, especially given the turbulent season the Gophers had. The team lost forward Ryan Stoa two games into the season, Kyle Okposo halfway through and didn't figure out its goaltending situation until mid-January. Plus, they still didn't come close to replacing the points they lost on the blue line.
However, Minnesota fans do have a few things to look forward to including the return of goaltender Alex Kangas, the return of Stoa and a lot of potentially exciting new freshmen, as the Gophers have the largest rookie class in the league with 12 new faces.
Still, it might be a long season for the Gophers and a longer offseason than Gopher fans are used to if the freshmen don't adjust quickly, the team doesn't score more than last year and if Kangas slumps at all, especially with Minnesota's tough opening schedule.
Up Front
The Gophers struggled to score goals last year and, with three of their four top scorers gone to either early departure or graduation, scoring is going to be even harder this year.
The team does get redshirt junior Ryan Stoa back as well as the return of Jay Barriball, Mike Hoeffel, Mike Carman and Tony Lucia, all of whom had either 20 points or close to it.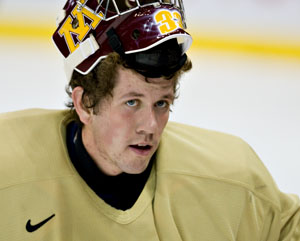 "If we can score one more goal a game, I think that's going to go a long way for us," coach Don Lucia hopes. However, the odds of that happening don't look too good.
The most likely freshman savior is Jordan Schroeder, a U.S. Under-18 Team Product.
On the Blue Line
Minnesota's defensive situation looks to be a little stronger than its offensive one, but for the second year in a row, the team still lost an offensive blueline presence with the departure of Derek Peltier.
"We lost our captain in Derek Peltier and Stu Bickel signed with Anaheim in July, so some of the young guys are going to have to play again right away, but the stabilizing [force] again has to be defensemen," said Lucia.
The four he hopes to be the cornerstones on the blue line are sophomores Cade Fairchild and Kevin Wehrs, junior David Fischer and senior R.J. Anderson.
In the Crease
Goaltending for the Gophers starts and ends with Kangas.
"It starts with our goaltender Alex Kangas," said Lucia. "He took it over the second half of the year, he stabilized the position and in reality, stabilized our team and he had a great second half and certainly a great playoff run and a big reason why we got as far as we did."
If Kangas suffers a sophomore slump, however, the Gophers will have to fall back on either Jake Kremer or Kent Patterson, both freshmen.