It's early in the hockey season but some huge games are on tap, with good stories to follow.
Let's start with "measuring-stick games." There are a few out there, and a couple last week that might have fallen into that category. Miami went 0-1-1 at Vermont in a battle between two teams that lost their conference title games. Wisconsin got swept at Denver but did play well for some stretches of the weekend. BU, which was 5-1-1 in its last seven at UNH, lost to the Wildcats 2-1 last Sunday.
However, this early in a season measuring sticks are not as vital as hockey sticks. Playing well, focusing on the process, and finding chemistry on and off the ice take precedence over measuring-stick games.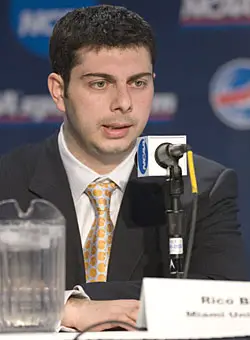 Start with Miami at Notre Dame. This matchup could have both PairWise indications and CCHA standings implications when it's over; these are Miami's only games with Notre Dame this season, and the young RedHawks face a veteran group in South Bend, one that was picked to win the CCHA.
"I think you need to be careful about how much you emphasize these two games with our team," said Miami head coach Enrico Blasi. "We're at a point where we want to win but we're still working on getting better every day."
Blasi has two rookie goalies and a young team led by a pair of super sophomores in Carter Camper and Pat Cannone. Those two will try to penetrate what might be the best defensive team in the CCHA in Notre Dame, which likewise is looking at continuing to play well and build off a pair of home wins against Sacred Heart.
"We have most of last year's team back. so we have a pretty good idea what we have, but its is still early to determine how good you can be after a pair of league games,' said Jeff Jackson, head coach at Notre Dame.
Next we have Michigan at Boston University. As seen on CSTV (now CBS College Sports), Michigan handled BU at Yost last season, but as Wolverine head coach Red Berenson discussed, very few teams had an answer for Kevin Porter and Chad Kolarik. This season is different as Michigan's top line of all sophomores invades America's best hockey city for a date with a fellow top-10 team.
"We'll find out pretty quick what we have against BU," said Berenson as his team prepared for a visit from the defending CHA Champion Niagara Purple Eagles. "They have a real good team and a real good program. We are not 100 percent and everyone knows that with three defensemen out of the lineup. The onus on us will be to play better missing those guys."
This is another game with PairWise implications.
Heading west, Minnesota and Wisconsin renew an old rivalry, but these are two programs going in opposite directions in the standings. Wisconsin is 0-4 and just got swept at Denver. Minnesota is unbeaten after sweeping a home-and-home with rival St. Cloud State.
The Gophers have turned things around off what has to be termed a disastrous first semester last season. Ryan Stoa got hurt before anyone knew the season started and Kyle Okposo defected to the NHL at Christmas. Mike Carman was academically ineligible and netminder Jeff Frazee couldn't stop a basketball if it was rolled to him.
That has all changed. The mood in the room is as good as it has been in years because there are 20 guys in the lineup who want to be there, and one guy who everyone wants there is goalie Alex Kangas. Taking nothing away from Kellen Briggs, this is the best goaltender the program has had in years. Kangas has steadily improved and solidifies the position that has been an Achilles heel at key times for Minnesota the last five years or so.
Stoa is back after a season-long injury, and after being named captain shortly after Minny's loss to BC in the Worcester regional last March, Stoa won over the team with how hard he worked to rehab his surgically repaired knee. Quiet and understated, Stoa, in the words of associate coach John Hill, has proven to be the leader you want to follow in the dressing room.
For Minnesota going on the road to a raucous Kohl Center, it will be a test for the young kids. Wisconsin, meanwhile, needs to focus on just playing 60 minutes. At Denver, the Badgers did a great job surviving the initial blast from the Pioneers on Friday night and then converted a power play for a 1-0 lead. They were getting shelled in every way but goalie Shane Connelly held down the fort. Bucky scored three in about two minutes in period two and led 4-1 before the roof caved in.
Wisconsin is all about system and focus and that still has time to flourish. However, the Badgers have Minny this weekend and are at NoDak next week, and there is a real chance they could be 0-8 — not because they aren't a good team, but thanks to butting heads with teams that are just playing better.
Lastly, Ohio State plays at Denver coming off a split with Lake Superior State. Denver is rolling with wins over Wisconsin and Notre Dame but has yet to be tested on the road. The Buckeyes are a very young group and for them the issues are establishing their goalie, getting line combos together, and getting their youngsters indoctrinated to the rigors of college hockey. There's no better place to get tested than at Denver, where the Pioneers have speed and grit and can score in bunches.
The Buckeyes don't need to use this as a measuring-stick game because they'll be under assault, but this is the weekend series that could go a long way for them to continue to rebuild.
Fans will perceive these weekend games in different ways, but what needs to be remembered is come Monday, these teams will be looking towards next Friday and will leave these games behind. Don't invest too much in mid-October, because it's way too early to figure out how these key matchups affect March.