With Halloween upon us, scary times have hit College Hockey America.
But it's not all bad. Seriously.
On the opposite end of the league's well-documented uncertainty for the future, look to the present and many positives came out of last weekend's nonconference games, including one upset, one near-upset and a 13-0 drubbing of an exhibition opponent.
And we're only knocking on November.
As for this weekend, it's anyone's guess which teams will play the Jekyll-and-Hyde role as the CHA continues to be a roller coaster-type league that gives opposing teams many a head-scratch year in and year out.
Heck, even if the league disappears at some point down the road, the world will still be visiting as it was announced this week that the 2011 World Junior Championship (held during the 2010 holidays and into the 2011 New Year) is coming to Buffalo with Niagara's Dwyer Arena being the secondary host rink.
More below, as well as the latest from the CHA.
NU Plays Michigan Hard, Then Tops Merrimack
In a rematch from the first round of last spring's NCAA tournament, Michigan produced the same result as the Wolverines topped a game Niagara squad, 4-2, last Thursday night at Yost Ice Arena.
But it wasn't easy, according to the Wolverines.
"Overall, I thought that was a hard-fought game," UM head coach Red Berenson said. "Niagara is a good team and they gave us everything we could handle. It was anyone's game going into the third."
The game was tied at 2 after 40 minutes.
Michigan improved its all-time record against Niagara to 5-1-0 and is currently riding a four-game win streak against the Purple Eagles.
Danny Baco and Brian Dowd scored for NU, Sam Goodwin added two assists and goaltender Juliano Pagliero finished with 36 saves.
"I was very proud of how our young players played (Thursday night)," said Niagara head coach Dave Burkholder. "Dowd, Baco and Goodwin were outstanding and got us going."
Rebounding Saturday night, Pagliero made 31 saves en route to his sixth career shutout as Niagara pulled a Frank Tanana special and defeated Merrimack, 1-0.
(Note: Detroit Tigers fans of the 1980s will understand the above sentence.)
"We had a good defensive effort with guys willing to block shots," Burkholder said. "Our No. 1 penalty-killer tonight was Pagliero."
Goodwin scored the game's only goal in the middle period on a slapshot from the right faceoff circle over the shoulder of Warriors netminder Andrew Brathwaite.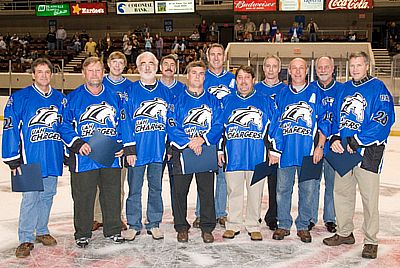 Chargers Romp Over Tennessee In Historic Exhibition
In a rematch of the first-ever UAH game at the Von Braun Center back in 1979, Alabama-Huntsville routed the Tennessee Volunteers, 13-0, on Friday night in an exhibition game on the same ice.
Clark MacLean tallied a hat trick, Cale Tanaka and Jamie Easton scored two apiece and Chris Fairbanks, Kevin Morrison, Joe Federoff, Neil Ruffini, Brandon Roshko and Cody Campbell added singles.
Brennan Barker had four assists for the Chargers as well.
Wyatt Russell played all three periods between the pipes for UAH and stopped eight shots in the shutout, but had no work in the third as UAH held the Volunteers without a shot on goal.
During the first intermission, the Chargers took a moment and honored the 1979-1980 team, the first at UAH. A total of 13 players from that first squad attended the game.
BSU Surprises St. Cloud With Home Split
Bemidji State didn't want to start the season 0-6, but will settle for 1-5 at this point.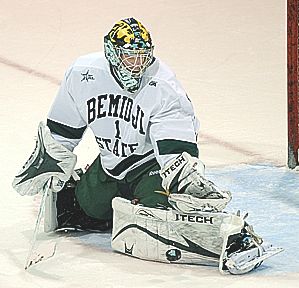 After playing the first two weeks on the road and posting their longest winless streak to open a season since 2002-2003, the Beavers returned home to a sold-out John Glas Fieldhouse and responded with a 4-2 victory over then-No. 15 St. Cloud State Friday night.
The win marked the first time the Beavers had defeated the Huskies since Dec. 6, 1986 — a game in which BSU head coach Tom Serratore suited up as a junior forward.
Senior captain Travis Winter, Matt Read, Brandon Marino and Ben Kinne scored for Bemidji State and goaltender Matt Dalton stopped 33 shots for the win.
"Now that was Beaver hockey," said Serratore to the Bemidji Pioneer. "The intensity level was high and we played with a ton of desperation. We played pretty darn good the first 50 minutes. The last 10 minutes we were pretty fatigued, but we packed it in well and didn't allow any great scoring chances."
Clinging to a 3-1 lead midway through the third, the Bemidji State penalty kill was tested. With Read already in the box for tripping, BSU's Cody Bostock and Graham McManamin were whistled for two-minute penalties putting SCSU on a 5-3 advantage for 2:38. The Beavers stood strong and kept the Huskies off the scoreboard.
The roles were reversed Saturday night as St. Cloud State took a 5-3 decision.
Brad Hunt and Tyler Scofield scored late to make the game respectable and Bostock scored at the end of the first period for the Beavers.
Orlando Alamano made 23 saves for Bemidji State.
For the first time this season, the Beavers also outshot their opponents.
BSU still has the lead in the all-time series, 43-36-3, but St. Cloud has an 11-1-0 record versus the Beavers since Bemidji State began competing at the NCAA Division I level in 1999.
Colonials Drop Both At Governor's Cup
It was that kind of a weekend for Robert Morris.
The Colonials ventured north to Albany for the Governor's Cup and headed back to Pittsburgh empty-handed with two losses and just three goals to show for their efforts.
Last Friday afternoon, Colgate upended RMU, 5-2.
Colgate took a 3-0 lead just 8:58 into the first period to chase starting goaltender Wes Russell for Jim Patterson.
To start the second period, freshman Trevor Lewis notched his first goal of the season to make the score 4-1 and less than one minute later, Kyle Burton would cut the Raiders' lead in half with an unassisted goal.
The third period was scoreless.
Russell made just three saves and Patterson stopped 23 shots in relief.
In the consolation game against Rensselaer on Saturday evening, the Colonials were unable to bounce back from a two-goal deficit and Rensselaer defeated them 2-1.
Lewis recorded his second goal of the weekend with just over two minutes left in the second to cut the Engineers' lead in half and that completed the scoring.
Russell finished with 30 saves.
Niagara Gets 2011 World Juniors Event
The Buffalo Sabres and Niagara University will team up to host the 2011 IIHF World Junior Championships, it was announced during a press conference at HSBC Arena on Monday afternoon.
Dwyer Arena and the Purple Eagles will be the secondary host for the 10-nation, 31-game tournament that will begin on Dec. 26, 2010 and continue through the first week of January. Dwyer Arena will host 14 games during the two-week span.
"The chance to host a tournament of this caliber doesn't happen very often," Niagara Director of Athletics Ed McLaughlin said. "Our relationship with the Buffalo Sabres and HSBC Arena made this possible and we look forward to having the best hockey in the world at Dwyer Arena."
HSBC Arena and Dwyer Arena will see some of the top talent around the world, including teams from the United States, Canada, Russia, Czech Republic, Sweden, Finland, Slovakia and Germany.
"To be associated with the Buffalo Sabres and USA Hockey to host one of the biggest hockey tournaments in the world is great exposure for Niagara University," Burkholder added.
Beavers Get Commitment From McLeod
Ottawa Junior Senators 20-year-old center Aaron McLeod has verbally committed to Bemidji State for next season.
McLeod, 5-foot-8 and a shade under 170 pounds, had a 31-47-78 line in 58 games last season and currently has 20 points (eight on the power play) to lead Ottawa in scoring through 18 games this year. He's also tied for 16th in Central Junior Hockey League scoring.
He Said It
"You look at a school like Alabama-Huntsville, and they're just sitting down there by themselves. I mean, like it or not, economics plays a huge role in these programs and we have to minimize travel costs as much as we can and, as a whole, the proximity of the CHA to the CCHA is not good in that respect. But like I said, we're open to ideas and don't want to see a conference fail like that, but right now, it's just very difficult." — CCHA commissioner Tom Anastos, to NHL.com, on the prospects of the CCHA helping out the CHA
And Finally …
Alabama-Huntsville head coach Danton Cole was on "The Scott Owens Show" when UAH played at Colorado College earlier this month. Owens asked Cole what it was like to recruit players to come play down south and Cole's response was, well, epic. Let's just say the word "banjo" gets used.
Click the following link to hear what Cole said (with a little tweaking): http://gfmorris.net/audio/Cole%20Banjo.mp3.
(Thanks to former CHA Correspondent Geof Morris for the link)