Another Wild One
The game lived up to its billing. And instead of a one goal, low scoring affair, Fredonia and Buffalo State did one better — a high scoring deadlock.
Just how wild was it? One team jumped out to a quick 2-0 lead and couldn't hold on. The other team scored four unanswered goals to take a three goal lead, but that too proved short-lived. The teams traded goals in the first 26 seconds of a period. To top it all off, there was a penalty shot with 32 seconds left in regulation for a chance to win it. But this game was destined to be tied.
"It was a pretty up and down, back and forth hockey game. We weren't exactly playing a door shutting game," Buffalo State coach Nick Carriere understated.
"It was back and forth," Fredonia coach Jeff Meredith concurred. "I don't think either goaltender for the first half of the game was really spectacular."
James Muscatello and Ian Evans scored for Fredonia in the first 9:05 of the game.
"Going down 2-0, we basically gift wrapped two plays for them," Carriere said. "But then really quick, Nick Petriello came down and buried one and with one minute left in the period, Cory Park buried one. Nice to get back and seal it up at the end of one."
Jeff Aonso put Fredonia back in the lead eight seconds into the second. That didn't last long as Petriello knotted it up again 18 ticks later.
The Bengals proceeded to score three more times with Park getting his second, Petriello notching a hat trick, and Joel Sheppard getting one on the power play.
"And we were up 6-3, and all of a sudden they come back," Carriere said.
"They're very explosive," Meredith said. "We replaced the goalie [Kody Van Rentergem] at the 7:27 mark of the second period with Pat Street.
"Our guys did a good job of not taking themselves out of it mentally. When it was 6-3, we just kept going and going and suddenly it's 6-4 and there was a light at the end of the tunnel. Then, it's 6-5, and we're back in the game."
Aonso scored late in the second followed by third period tallies thanks to Jordan Oye and Muscatello, the latter with 4:33 left in the third. Now the score is tied 6-6. But of course, the excitement wasn't done.
Buffalo State was awarded with a penalty shot when Colin Sarfeh closed his hand on a puck in the crease during a scramble. Jim Durham was chosen to take the penalty shot, but Pat Street stopped it.
"When it comes down to it, we weren't playing the style of play we're accustomed to," Carriere said.
Both teams know going into next week's game against Morrisville, they will need to tighten it up against a hard working squad.
"We talked to the fact that they tied a team [Oswego] we were unable to tie, and that's a scary thing," Carriere said. "We have to make sure to get back to doing a lot of little things we've been doing before."
"We'll see a good hard working team that's well organized," Meredith said. "We've got to be ready."
Speaking of looking ahead, mark you calendar for Saturday, February 7. That's when Buffalo State and Fredonia go at it again — this time in Fredonia. Let's get greedy and hope for a playoff match up as well. …
Just When You Thought It Was Safe …
… to play Morrisville, the Mustangs return to their hard working style of hockey and once again gave fits to the favorite. And this time, the Mustangs stole a point as Oswego fell victim to a team that refused to pack it in.
"It's really been a work in progress," Morrisville coach Brian Grady said. "We focus on our strength and what works for us. In previous weeks, we turned into something we're not. I thought we had the better chances through regulation and carried the play. Credit to our defense and goalie."
What makes this result so impressive is the Mustangs could have cashed it in various times against a team they may have felt they had no right to hang with.
For starters, Oswego jumped out to a 2-0 lead halfway through the opening period on goals by Eric Selleck and Ryan Ellis.
"We talked so much about the mental aspect of the game," Grady said. "How the next shift is the most important one. The previous one doesn't matter. They had just made it 2-0, then a minute later we scored a goal and made it 2-1, and that was a huge momentum shift."
Actually, it was 41 seconds later when Andrew Alarie scored. That was followed by a Kyle Roberts goal a minute into the second and a Geoff Matzel score, both on the power play. Suddenly, the underdogs had a 3-2 lead.
Oswego knotted it up with 19 seconds left in the second. With that sort of momentum, once again it would not have surprised anyone if Morrisville called it a day — especially when the Lakers took the lead early in the third when Garren Reisweber scored.
But no.
"We knew the type of team Oswego is," Grady said. "We knew if we got away from our focus, they could score three to four goals."
Keith Williams tied it up for Morrisville midway through the period. Brendan McLaughlin retook the lead, 5-4, for Oswego on the power play. This time, Morrisville could have conceded.
But no. Instead they shocked the large crowd with a single tick left on the clock.
"Their crowd was almost like a seventh man for us by counting down the seconds. It helped us," Grady said.
Matzel, a freshman, had the puck in the corner with a few seconds left. Three Oswego players did the logical thing and collapsed near the crease to prevent a centering pass. But Matzel outsmarted them knowing there was enough time to pass it out to the point to Evan Kernohan.
The defenseman put the puck on the net and Rob Sgarbossa got a stick on it, deflecting it over the shoulder of Chris Hyk just inside the post and just beating the clock.
The crowd was silenced. Morrisville celebrated.
"We haven't been able to express that sort of emotion," Grady said. "It was good for us especially on the road in front of a large stage like that."
In regulation, Morrisville out shot Oswego, 31-28, but Oswego poured it on in the extra period for an 8-2 edge. Ultimately, though, Caylin Relkoff held them off for 31 saves on the night to preserve the 5-5 tie.
"The best part for me was walking into the locker room and the tone of the guys was geez, we should have won that game," Grady said. "Very satisfying in a lot of different ways."
Next up is traveling to Buffalo State and Fredonia.
"Two great teams to go up against," Grady said. "This is such an exciting league as there is always a good team to face every week."
Opponents better count Morrisville amongst that category or they may find themselves watching the Mustangs do a lot more celebrating.
The Stats Are Still Impressive
True, Brockport only got one point from the weekend, losing to Plattsburgh, 5-0, and tying Potsdam, 2-2. Look a little closer, and there's still something very impressive about the Golden Eagles — their stingy defense.
Against Plattsburgh, only one of those five goals came when the teams were skating five aside. Ditto for the Potsdam game. In six games overall this year, Brockport has allowed just 14 goals. That's 2.33 goals per game. However, now consider this — only five of those goals were let up when both teams were playing at full strength. That's 0.83 a game.
If you are going to score against Brockport, you better do it when you're on the power play or when teams are skating four-on-four (they have not allowed a shorthanded score). Otherwise, you're just skating in circles.
Part of the reason is the play of Todd Sheridan who has never been healthier, and it's showing with a 2.16 goals against average (GAA) and a .935 save percentage. That translates to the team willing to take more offensive chances, and thus keeping the puck out of their zone more so than in years past.
"He's steady as a rock back there, and our guys appreciate having him back there," Brockport coach Brian Dickinson said. "It gives them some chances to go on the offense."
What's keeping Brockport from having a better record with defensive stats like those is their own inability to score. They scored 19 goals in those six games for an average of 3.16 per game. But they too have not scored much while five-on-five — nine goals for an average of 1.50 per game.
If Brockport's offense comes alive, and they are skating very well but not converting, watch out. The Golden Eagles could be in for a better season than anyone expected.
The Stats Are Definitely Impressive
For Plattsburgh, the stats do indeed tell the story. The Cardinals have also played six games overall, and have let up only 10 goals (1.67/game). Of those 10 goals, only three have been let up in five-on-five situations. And Plattsburgh has not allowed a goal in the last 133:13. All thanks to Bryan Hince's 1.67 GAA and a .929 save pct. while playing every minute of the season so far.
"We have all our defensemen returning from last year, and we had a pretty good year defensively last year," Plattsburgh coach Bob Emery explains. "So, that gives us a solid base and combined with two good freshmen defensemen, it has created a lot of competition. So, everybody is making sure to do the right things. And obviously, your goaltender is your best defender."
Unlike Brockport, Plattsburgh's offense is having no trouble scoring — 33 goals for an average of 5.5 per game. Dylan Clarke and Joey Wilson each have five goals while defenseman Nick Rolls has nine assists.
SUNYAC Short Shots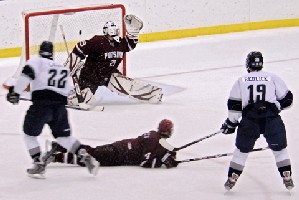 Kevin Galan scored twice and Jeff Pasemko made 32 saves as Geneseo rolled over Potsdam, 7-2 … In that game, Geneseo scored two goals in 16 seconds spread across two periods … Joey Wilson got the hat trick in Plattsburgh's 5-0 win over Brockport with Hince making 21 saves … Hince made 19 saves the next night for his second straight shutout, beating Geneseo, 5-0 … Cortland's Patrick Palmisano scored twice leading the Red Dragons to a 6-3 win over Morrisville … James Cody scored with 2:01 left in the third to give Brockport a 2-2 overtime tie against Potsdam as Sheridan made 36 saves while Trevor O'Neill stopped 47.
Game of the Week
With no column for Thanksgiving week, there are a plethora of games to choose, from conference match ups this weekend to very competitive holiday tournaments the following weekend. Therefore, I'll take the easy way out, and simply mention a few of the games to keep an eye on.
Brockport at Oswego is a very intriguing game. The Golden Eagles are just two points behind the Lakers with both playing the same number of games. When was the last time Brockport was in a situation where second place was on the line? Sure, it's early in the season, but it's still an intriguing scenario.
"I'm going to call the SUNYAC office to find out if there is way that we can send somebody else to Oswego because I'm sure they are not happy with the fact that they got a tie in their own building," Dickinson joked. "We just have to take it one game at a time and play our game. We can't deviate from what we do to allow us to generate opportunities.
"That's the way we'll approach it. Their last two games were a 3-2 comeback against Buffalo State in overtime and obviously a tie against Morrisville. Hopefully, our guys will understand that they are human. And if we go in there and outwork them and obviously we'll need Todd to be strong in the net."
Geneseo at Cortland is another important game for both teams. Geneseo needs to get some points back, and Cortland needs just to get points. Depending on what happens, Friday will determine how much more important the games are Saturday when the travel partners switch opponents.
Then, of course, there's the North Country rivalry of Plattsburgh at Potsdam.
"I think Plattsburgh should be ranked the number one team in the country," Potsdam coach Aaron Saul said. "I think they are very good. We're going to try to just keep up with them. We know that they don't stop and are a great skating team. We have to be a little more focused in our D zone. A little more aware. It seems like our team always gets up for a team like Plattsburgh especially at home."
"Always a tough place to play," Emery said. "I think this year is going to be the same. Especially combining it's probably the most talent Potsdam has had in the last 10 years and is very well coached, it's going to make it that much harder."
The following weekend, SUNYAC teams compete in two super tournaments. Oswego returns the favor last year when St. Norbert traveled east for the Pathfinder Bank Oswego Hockey Classic by going to Green Bay to play in the St. Norbert Thanksgiving Tournament.
This time, in order to make sure these teams that met in the national championship two years ago meet again, the pre-determined set up has them facing each other the first night. A game every Division III fan will be eagerly awaiting. The next day, Oswego faces St. Scholastica.
Meanwhile, Plattsburgh once again participates in the Primelink Shootout which takes place at Middlebury this year. Their first day opponent is Norwich, a team that ranked sixth in the nation despite not playing a game yet. The Cardinals will face another tough opponent on the second day either against the host team or St. Thomas.
All great games to enjoy while feasting on turkey.
On The Periphery
Many of you have heard about the amazing feat Niagara performed against Canisius back on November 11. Niagara scored three shorthanded goals in that game. But, not just three in one game (Buffalo State did that against Cortland a few days before). Niagara scored three shorthanded goals on the same penalty. A minor penalty no less. It took them 1:09 to do it, making ESPN's pick for number two play of the day.
This got me thinking . . . since this is such an embarrassing feat to give up, maybe we need to enact a special category of kill rules. You know, like softball has a kill rule when the score differential gets to be a certain amount, as other sports at the youth level do.
So, we'll call this the Embarrassment Kill Rule (copyrighted by yours truly). You do something so embarrassing, you don't deserve to play anymore. You lose. End of game. Go home. Try again some other time.
The only problem is, I couldn't think of any offhand. Not just in hockey, but in any sport. Perhaps if you score on your own goal during a delayed penalty call. I actually saw that once many, many, many years ago when Potsdam did it to themselves against Brockport. It can't just be a normal own goal or a relatively common embarrassment. It has to be a real zinger.
You can't apply the rule if the embarrassment ends the game anyway. For example, hitting a batter with the bases loaded in the bottom of the ninth to give up the winning run. You already lost, so no sense applying the Embarrassment Kill Rule.
Or, when Mark Martin pulled into the pits during a full course yellow while leading on the last lap because he thought he took the checkered flag the lap before. In situations like that, you should check to see if the athlete had a lobotomy, but the damage is done before you can apply the Embarrassment Kill Rule.
I'm going to keep trying to think up some to fit this new rule. What can you come up with?