Last weekend was a slow one for College Hockey America with just a single game on the schedule, but as famed WWE broadcaster Jim Ross would say about this weekend, business is about to pick up.
Niagara hasn't seen any CHA action yet, but will host Bemidji State Friday and Saturday night in a rematch of the CHA title game from last March that the Purple Eagles won.
The two other schools, Robert Morris and Alabama-Huntsville, are traveling as RMU ventures to Lake Superior State and the Chargers head up to Yale.
In other news of note, BSU is inching closer to getting a new rink and conference and all four CHA schools seem to have a decent crop of recruits coming in next fall.
OSU Blanks Robert Morris At Showcase
In front of its largest crowd so far this year, Robert Morris traveled to Mellon Arena across town to play Ohio State for the second consecutive year in the Pittsburgh College Hockey Showcase last Friday night.
Although the Colonials outshot the Buckeyes, 32-17, Ohio State managed to beat RMU by a 4-0 final in front of an announced crowd of 2,745.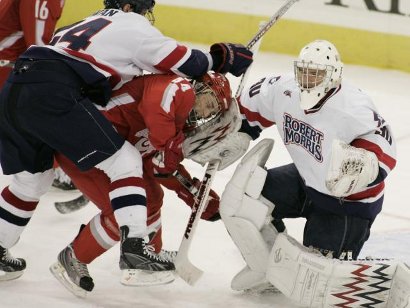 Junior goalie Wes Russell made his ninth start of the season in goal and made a dozen saves through two periods before getting lifted for freshman Brooks Ostergard's collegiate debut at the beginning of the third period.
Ostergard made one save on just two shots in the third.
For the first time this season, the Colonials outshot their opponent and did not come away with a victory. RMU also won 33 of 61 faceoffs in the loss.
"We played hard and skated well, but at the end of the day, we need to finish around the net better," said RMU head coach Derek Schooley. "It was frustrating to outshoot a very talented team and not finish our chances."
In keeping with the idea of the Showcase, a total of seven players between both teams are western Pennsylvania natives: Robert Morris freshmen Josh Jones (Scenery Hill), Furman South (Sewickley) and Ron Cramer (New Wilmington) and sophomore Denny Urban (Pittsburgh) and Ohio State sophomores C.J. Severyn (Beaver) and Sergio Somma (Plum) and freshman Matt Bartowski (Mt. Lebanon). OSU assistant coach Jason Lammers (Pittsburgh), video coordinator J.B. Bittner (Pittsburgh) and equipment manager Tim Adams (Cranberry Township) are also Pittsburgh and area natives.
Robert Morris travels a bit farther this weekend to Lake Superior State for a pair of nonconference games.
"The Lakers are playing extremely well right now," Schooley said. "Jim Roque has them playing hard and they are well-coached. The Lakers have some very skilled players and they play tight defense. As always, this will be a challenging weekend.
"We have scored one goal in our last three games, so we need to bear down around the net on our chances."
Recruits Update — All Four Schools' Futures Look Bright
Several CHA recruits for next season continue to pile up decent numbers this year with their junior teams.
Robert Morris recruit Zach Hervato has 14 goals and 27 points through 18 games with the Smiths Falls Bears of the Central Junior Hockey League and also played for Canada East at the World Junior A Challenge this past month.
Nick Vassos is the captain of the Orangeville Crushers in the Ontario Junior Hockey League and is a power play specialist with nine of his 12 points coming with the man-advantage. Alex Allan, a 24-point producer so far with the Prince George Spruce Kings of the British Columbia Hockey League, will join Vassos at Alabama-Huntsville next season.
Niagara looks pretty well stocked for the future with goalie Andrew Hare and forwards Marc Zanette and Brent Vandenberg.
Hare is 10-3-2 this season with one shutout for the OJHL's Burlington Cougars and will look to battle for the backup spot with Chris Noonan next year. He also played in the World Junior A Challenge as a teammate of Hervato.
Vandenberg has popped 13 goals for the BCHL's Penticton Vees and Zanette has tallied 23 points with the OJHL's Markham Waxers.
Bemidji State has four forwards ready for next year in Sioux Falls Stampede (United States Hockey League) stud Victor Anilane, Aaron McLeod from the Ottawa Jr. Senators (CJHL) and Matt Hartmann and Jordan George from the North American Hockey League's Topeka RoadRunners.
McLeod is at a point-per-game clip with 25 points in 24 games, while Anilane, from Sweden, is tied for the Stampede lead in scoring with four goals and 14 points and a plus-9 rating.
The diminutive George (5-foot-7, 145 pounds) is the second leading scorer in the NAHL with a 9-19-28 line, while Hartmann is tied for 11th in league scoring with 20 points.
Hartmann just committed this week and it appears the Beavers may be getting a steal with the Hugo, Minn., native.
"Matt's hardworking style has paid off and obviously hasn't gone unnoticed with the scouts," said RoadRunners head coach Scott Langer.  "He has been a pleasure to coach and has proven himself to be a top-tier captain.
"Matt's dream has been to play at Bemidji and I'm very happy to see that dream come true."
"Matt is a player that personifies Beaver hockey," said Bemidji State head coach Tom Serratore.  "He competes hard and has a well-rounded skill set. We feel he can play in all situations and has outstanding leadership qualities. We're ecstatic to have him part of the Beaver hockey family."
WCHA To Vote To Lift Moratorium — Beavers In?
In Bemidji State's latest attempt to someday join the WCHA, the league voted Wednesday to vote in January on lifting the expansion moratorium currently in place.
If the WCHA votes to allow the expansion, presentations from potential teams would be made in April.
"The community and the athletic department are excited to share with the WCHA our story and all of our successes," BSU athletic director Rick Goeb said in the Bemidji Pioneer.
Also Wednesday, the Minnesota State Colleges and Universities Board of Trustees gave formal approval to BSU to continue negotiations on a lease for the Beavers' new rink, the Bemidji Regional Events Center. The arena should be completed in 2011.