Finally!
Just a few days before Thanksgiving and the last of the D-III leagues get underway this weekend after three grueling weeks of practice and looking at players wearing the same color shirts. Surviving without sustaining any injuries to players anxious to start the season is only one of the areas of concern for coaches looking to put all of the pieces together with returning and new players alike.
Just about everyone is ready to play somebody else at this point and see what they really have on the ice against some very talented competition in both the NESCAC and ECAC East conferences. Just how competitive is it? Well, last year's sixth seed (Trinity) in the tournament ended up riding a hot goalie and great team play right through the conference championship and into the second round of the NCAA tournament.
The theme from all of the coaches has been pick me sixth — just kidding. For most it has been enough of the practice, let's get the games going! There is a lot of condensed action starting this weekend. And the next three weeks includes some great tournament action and key league match ups before the holidays.
"I don't expect anything to be much different than the past few seasons," stated Colby head coach Jim Tortorella. "It will be very competitive without any nights off and the final standings will probably be decided on the final weekend. Everyone wants to bank some points early, survive some lumps and bumps in January and be playing their best in February to peak at the right time. It will be fun and it all starts with some great games this weekend."
Here we go. Get ready for some exciting action starting on Friday night.
Teams are listed in order of predicted finish by USCHO.com.
Bowdoin Polar Bears
2007-2008 Overall Record: 17-7-0
2007-2008 League Record: 13-6-0
2007-2008 League Finish: Third
2008-2009 USCHO Prediction: First
Team Overview: "We are in great shape and have a great work ethic with balance across all of the classes," noted head coach Terry Meagher. "Our kids have been through the league and know how to produce. We just need to get our save percentage above .900. I think it's become the most important statistic in hockey and if we can get there we will be competitive."
Special Teams: Bowdoin excels on special teams and converting on 25% of their power plays like they did last season will put pressure on opponents to stay out of the penalty box.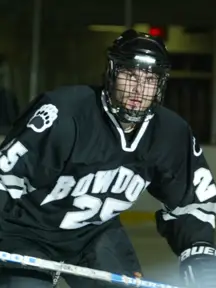 Players to Watch: Junior forward Colin MacCormick looks to build on a solid sophomore season which produced 12 goals and 14 assists for 26 points. Freshman goalie Richard Nerland adds greater depth to the goaltending position and will challenge incumbents Nick Smith and Chris Rossi for playing time.
Summary: The Polar Bears have a ton of talent and a group of players that seem to enjoy everything about playing the game. The January 18 opening of Sid Watson Arena on campus against Williams will be a very exciting event and usher in a new era for Bowdoin hockey.
Trinity Bantams
2007-2008 Overall Record: 16-11-2
2007-2008 League Record: 8-9-2
2007-2008 League Finish: Sixth
2008-2009 USCHO Prediction: Second
Team Overview: Last year's edition of the Bantams saw the team peak at the right time, backed by terrific goaltending and timely scoring in securing their second NESCAC championship and third NCAA bid in the past five years.
"Our strength is from the goal mouth out," commented second year head coach Dave Cataruzolo. "Our real questions are going to be about who steps up offensively and playing better away from home where we struggled last season.
Special Teams: Part of the challenges offensively was a 14% success rate on the power play last season. The Bantams will need to find some goals with the man advantage to take the pressure off five-on-five play where their work ethic has produced lots of chances but not a lot of goals — just 81 in 29 games last season.
Player to Watch: Sophomore Wes Vesprini delivered last year going 11-4-1 with a 2.37 goals against average (GAA) and .922 save percentage. If Vesprini can match last year's play, the Bantams won't need much offense to be in every game.
Summary: Newcomers like forward Paul Jascott and defenseman Mike DeMayo will add to an experienced group of players that looks to build on last year's championship run and play more consistent hockey during the early part of the season. Trinity won't surprise anyone this year but their work ethic will make sure everyone shows up to play every night.
Middlebury Panthers
2007-2008 Overall Record: 18-7-2
2007-2008 League Record: 12-5-2
2007-2008 League Finish: Second
2008-2009 USCHO Prediction: Third
Team Overview: "It's a different look for us this year," noted head coach Bill Beaney. "We will have a lot of new faces in the line up after graduating a big class so things will evolve over time. I do like what I see from the effort in practice but we are ready to go play and see what we have in some real game situations."
Special Teams: A hallmark of Beaney coached teams, the Panthers will look to some new faces to produce on both ends of the ice including freshman Martin Drolet. Senior Jamie McKenna will look to build on last year's 22 point season and two power-play goals.
Player to Watch: Freshman John Yanchek joins senior Doug Raeder in goal for Middlebury and looks to continue the team's reputation for strong goaltending and stingy defense.
Summary: The Panthers lost some key players to graduation, but have brought in a half dozen talented players to build on their reputation for aggressive defense, team speed, and opportunistic offense. Early schedule challenges include St. Thomas and either Plattsburgh or Norwich in the Primelink Tournament which this year will be hosted at Middlebury.
Amherst Lord Jeffs
2007-2008 Overall Record: 14-9-3
2007-2008 League Record: 11-6-2
2007-2008 League Finish: Fourth
2008-2009 USCHO Prediction: Fourth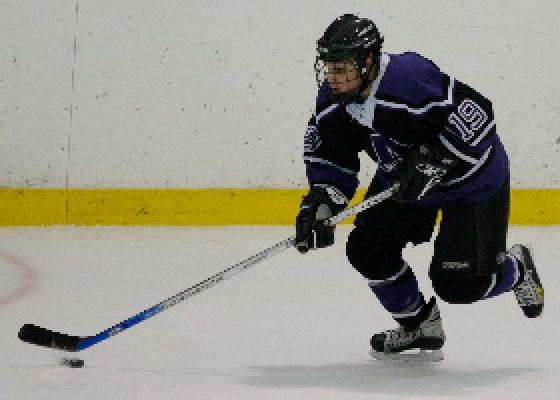 Team Overview: "We have a talent level similar to last year," noted Amherst head coach Jack Arena. "That said, our expectations are higher than last year. We will need to rely on some good depth and strong goaltending and offensively look to last season's leading scorer, senior Joel Covelli [11-20-31], to lead the way."
Special Teams: The Lord Jeffs have quietly built a reputation for an excellent power play. This year will be no different as Arena will be looking for production from a number of people, including newcomer Eddie Effinger.
Players to Watch: Sophomore goalies Jonathan LaRose (8-2-1, 2.12 GAA, .931 save pct.) and Cole Anderson (6-7-1, 2.42 GAA, .924 save pct.) were nothing short of spectacular last year and give Amherst depth, allowing them to keep both players fresh throughout the season. With a veteran group of defenders in front of them, their numbers could be better this season.
Summary: Over the past three seasons, the final six games have determined Amherst's final place in the standings. This season may be different as the Lord Jeffs play eight of their first 10 on the road. A strong start could set them up for a higher seed come February.
Colby White Mules
2007-2008 Overall Record: 15-9-1
2007-2008 League Record: 13-5-1
2007-2008 League Finish: First
2008-2009 USCHO Prediction: Fifth
Team Overview: "It's not about where the goals are going to come from," stated head coach Jim Tortorella. "We have brought in some new faces but are working in the same system and focus on creating the same kinds of opportunities with our current personnel as we did with the talented group that graduated last season."
Over 50% of the team's goals left to graduation and sophomore Billy Crinnion, junior Michael Belliveau and freshman Michael Doherty are the new first line looking to establish themselves as the catalyst for Colby's offense.
Special Teams: The power play will have a new look with some fresh faces but Colby is best known for its ability to stop other teams from scoring. Their strength on defense and in goal should help to showcase a strong penalty killing unit.
Players to Watch:Sophomore goalie Cody McKinney flew under the radar when it came to league recognition last season. All he did as a freshman was go 13-4-1 with a 2.04 GAA and .931 save percentage.
"He plays very within himself," noted coach Tortorella. "We may need to win some more games by a 2-1 score this year but that's okay too."
Summary: The defense and goaltending will be the foundation of this team's success. If the offense comes to life early, look out for the White Mules come February when they are usually playing their best hockey.
Connecticut College Camels
2007-2008 Overall Record: 9-13-2
2007-2008 League Record: 9-8-2
2007-2008 League Finish: Fifth
2008-2009 USCHO Prediction: Sixth
Team Overview: "We are certainly more experienced," commented head coach Jim Ward. "I really like this group of kids and expect that we will continue the trend of improving our play over the previous season. A lot of our younger guys can now build on their experience and make the adjustments needed to produce against teams that are paying more attention to some our better players."
Special Teams: Special teams will be a key area of improvement for the Camels who expect to see results fostered by the return of Trevor Bradley (8-9-17), Ryan Howarth (7-8-15) and Sean Driscoll who played in just two games last season. Sophomore Jordan Gray has looked good early and could also add to the team's productivity on the power play.
Player to Watch: It's tough to keep picking goalies but junior Greg Parker has everyone's attention in the league. In 22 games, Parker was 9-11-2 with a 2.94 GAA and .915 save pct. He faced nearly 34 shots per game and has the ability to steal some points for his team on nights the offense was not clicking.
Summary:This team has graduated only three players from last year's team that finished fifth. A squad that starts out and finishes strong will need to find consistency in the middle of the season where an annual rough patch has put pressure on this team to make the playoffs. Parker will keep them in virtually every game and better offensive output could have the Camels fighting for a home-ice berth.
Wesleyan Cardinals
2007-2008 Overall Record: 8-13-3
2007-2008 League Record: 6-10-3
2007-2008 League Finish: Eighth
2008-2009 USCHO Prediction Seventh
Team Overview: "We are going to live on solid team defense and good goaltending," said head coach Chris Potter. "We have some really good depth in all aspects across four lines, eight defenseman and three goalies. Our special teams have looked pretty good in both practice and our scrimmage against URI [University of Rhode Island] so hopefully we can get off to a good start. We have the quickest team we have had since I have been here and hopefully that opens some things up for us."
Special Teams: The power play is key to this team taking pressure off the back end as last year's 12% success rate will need to be improved upon. The penalty kill was solid and overall team speed improvement should help the Cardinals improve the special teams play.
Player to Watch: Freshman Tom Salah from Northwood Prep brings some offensive talent that should help the team improve its total goal output above last year's meager sum of just 55 in 24 games.
Summary: The Cardinals play a very tight game and will be led by their two standout defensemen: Scott Burns and Dallas Bossert. If the offense can support the solid defense and goaltending expected, this team may be a surprise in the standings come the end of February.
Williams Ephs
2007-2008 Overall Record: 9-12-4
2007-2008 League Record: 7-8-4
2007-2008 League Finish: Seventh
2008-2009 USCHO Prediction: Eighth
Team Overview: "Having the extra week for practice hasn't been all bad," noted head coach Bill Kangas. "It's been good to have the extra practices and get to work on some things. We have done a lot more video work this preseason and hopefully that will help when the real games start.
"One our keys will be finding one or two guys to stand out in the net. We have four guys working very hard and still fighting it out to see who can win playing time."
Freshman Ryan Purdy joins three incumbents in this spirited competition that holds a key to Williams' success.
Special Teams:The special teams will be an area of focus for this Williams squad. Improving on last season's 15.5% power play success rate will help the Ephs narrow their minus 23 goal differential.
Players to Watch: Junior Alex Smegelski (9-12-21) is this year's captain and brings strong leadership to the team. Chris Fahey and David Ramsey add maturity to the defensive corps that will help to support the fluid situation in goal.
Summary: If the goaltending sorts itself out with consistency, this team can skate with anyone in the league. Special teams will be a key along with early contributions from freshmen defensemen Ryan Scott and Justin Troiani.
Hamilton Continentals
2007-2008 Overall Record: 5-18-1
2007-2008 League Record: 4-14-1
2007-2008 League Finish: Ninth
2008-2009 USCHO Prediction: Ninth
Team Overview: Coach Norm Bazin is the new kid on the block, taking over from the recently retired Phil Grady who leaves with over 300 wins at Hamilton. Bazin comes from Colorado College in Division I's WCHA and brings a distinctive western style to his new position for the Continentals.
"It's a different system than what they are used to playing here and everyone has worked very hard," said Bazin. "It's really early to know what we are going to be like as a team but we will need to play some games against the quality teams in the league and start defining this team for the season."
Like several other teams, there are questions in goal for Hamilton with three players competing for playing time. Look for early game action to determine who wins crucial ice time in net on a regular basis.
Special Teams: If coach Bazin can implement his style successfully over the course of the season, the Continentals should see improvement on special teams with increased chances driven by an aggressive transition game. The adoption may take some time, but the players are an enthusiastic group and can build on early successes in both ends of the ice.
Player to Watch: Since his arrival on campus, senior defenseman and captain Kyle Roulston has been a solid contributor to the team on both ends of the ice and on special teams. His leadership will be important to leading Hamilton back to a goal of attaining a playoff berth this season.
Summary: Hamilton is in a transition year with coach Bazin taking over this season. He will introduce a new style of play and their success will be predicated on their ability to adapt to an attacking transition game with lots of puck possession as a focus.
Tufts Jumbos
2007-2008 Overall Record: 6-17-1
2007-2008 League Record: 4-14-1
2007-2008 League Finish: Tenth
2008-2009 USCHO Prediction: Tenth
Team Overview: "It's amazing what having our own locker room and meeting room at the rink can do for a program," observed head coach Brian Murphy. "It's just a lot easier for the kids to get to the rink where we can do video work right there and not have to commute from campus as we have done in the past.
"We will be deeper this season and the team is very coachable. If we can stay healthy and get some solid, consistent goaltending from our two freshmen, we will compete."
Special Teams:The best penalty killer on your team should be the goalie. Freshmen Scott Barchard and Evin Koleini could have an immediate impact on this part of the game.
Player to Watch: Transfer Tom DeRosa from Merrimack College brings his Hockey East experience to the Jumbos. Look for his abilities to translate on special teams as well as his regular line.
Summary: Expectations should be tempered with this squad as there are questions in a number of areas. If the goaltending is good, Tufts could compete for a playoff spot.
The beginning of the season is finally here! Time to drop the puck!