New Hampshire's James van Riemsdyk highlights a list of 13 American college players who will be playing for Team USA at this year's World Junior Championship, taking place in Ottawa from December 26 through January 5. This is the third time that van Riemsdyk will represent the U.S. in this tournament becoming only the 18th player to do as such.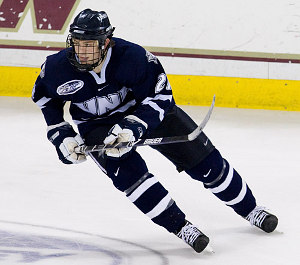 In addition to van Riemsdyk, Boston University's Colin Wilson, Boston College's Jimmy Hayes, Michigan's Aaron Palushaj and Matt Rust and Minnesota's Mike Hoeffel and Jordan Schroeder all are listed as forwards on the team announced today by USA Hockey. Notre Dame's Ian Cole and Teddy Ruth, Minnesota's Cade Fairchild, Wisconsin's Ryan McDonagh, Boston University's Kevin Shattenkirk and New Hampshire's Blake Kessel are all listed as defensemen and round out the 13 collegiate selections. Union head coach Nate Leaman will serve as an assistant coach under Team USA head coach Ron Rolston, who was an assistant coach at Boston College before joining the USA Hockey.
The complete roster is listed below.
All U.S. games in this year's World Junior Championship will be broadcast live on NHL Network. The network will also carry all medal round games in the tournament according to the terms of a deal announced this week by USA Hockey.
In addition to the 13 American college players participating, four other U.S. college players are being considered for Team Canada's roster. Wisconsin defensemen Cody Goloubef and Brendan Smith, Denver blueliner Patrick Wiercioch and Cornell forward Riley Nash will all be part of evaluation camp for Team Canada, the tournament's defending champions.
Team USA will kick off play in this year's World Junior Championship on Friday, December 26, when it faces Germany in pool play at Scotia Bank Place, the home of the NHL's Ottawa Senators. In addition to Germany, USA's pool includes the Czech Republic, Kazakhstan and Canada.
Team USA Roster for 2009 World Junior Championships
Forwards:
Colin Wilson, Boston University
James van Riemsdyk, New Hampshire
Jimmy Hayes, Boston College
Jordan Schroeder, Minnesota
Aaron Palushaj, Michigan
Matt Rust, Michigan
Eric Tangradi, Belleville (OHL)
Mike Hoeffel, Minnesota
James O'Brien, Seattle (WHL)
Mitch Wahl, Spokane (WHL)
Danny Kristo, Omaha (USHL)/North Dakota ('09)
Drayson Bowman, Spokane (WHL)
Tyler Johnson, Spokane (WHL).
Defensemen
Ian Cole, Notre Dame
Cade Fairchild, Minnesota
Teddy Ruth, Notre Dame
Jonathon Blum, Vancouver (WHL)
Ryan McDonagh, Wisconsin
Kevin Shattenkirk, Boston University
Blake Kessel, New Hampshire
Goalies:
Thomas McCollum, Guelph (OHL)
Josh Unice, Kitchener (OHL)