Scott: Jim, we had high tide for the Atlantic last weekend, if you'll pardon the lousy pun. Not only did Air Force meet our expectations against Colorado College and Denver (both games went the way we picked them, I feel obliged to point out), but the rest of the league went crazy, including Mercyhurst providing the season's biggest upset against Princeton. You've already covered this in a blog post, so I won't belabor the point, but a tip of the cap is in order — especially to the Lakers, who suffered through an 0-6-0 start while roaming the country playing road games against Big Four opponents before getting their feet under them. Anything to add to your blog comments?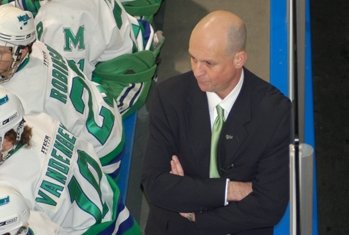 Jim: I think the only thing to add, Scott, is the fact that Atlantic Hockey should be licking its collective chops as teams continue to underestimate the league's members. I really feel that this may be the year that it would be no upset if an Atlantic Hockey team won an NCAA regional, not just a single game. Gone should be the days of needing to call the Atlantic Hockey entry Cinderella. This is a league that has battled adversity — namely playing with fewer scholarships than other leagues and playing the bulk of its non-league games on the road. Add to that the fact that most clubs do not have fancy home rinks to lure recruits only makes this league's efforts more impressive. For now, though, these teams can enjoy the opposition taking them for granted, wouldn't you agree?
Scott: I would — though they may be taken a little less for granted after last weekend. Of course, here in Minneapolis there's a special history with the AHA. Walking into Mariucci Arena a few weeks ago I overheard an exchange between a Gopher fan and a guy wearing a North Dakota jersey. The Gopher fan yelled something derogatory about the Sioux and the retort was simply "Ahem, Holy Cross." But this gives us a good opportunity to talk about conference strength. The WCHA's position as the top conference over the past few years has been hard to deny, but not this season. I was lurking on the Fan Forum during the Colorado College-Air Force game, and there was a lot of talk about how much an AFA win would mean since the WCHA is having a down year. I checked the numbers on our interconference stats page, and here are the numbers: Hockey East is tops (.674 winning percentage against all other leagues, .625 versus the Big Four), and the WCHA is number two (.644 and .586 in the same categories). Hockey East has a winning record against every other league, and the WCHA has the same — except, of course, against Hockey East.
Jim: We've said it since the beginning of the season and I see it night in and night out. Hockey East is the dominant conference this year. In league play, Hockey East is doing exactly what the WCHA did in years past: beat itself up. Last weekend, Merrimack beat New Hampshire and Vermont topped Maine (okay, that's not an upset this year, per se). But Hockey East is a strong division that I believe has a chance to see one of the not-so-usual suspects win the league this season. I think what will be most interesting is the holiday tournament hockey season, which is just around the corner. Looking down the roster, any tournaments stand out as "must attends" to you?
Scott: Hmm, good one. The good news for fans is that this year is a little quirky in terms of the schedule, as tournament organizers seem to have flipped a coin to decide whether to hold events before or after New Year's. That usually doesn't happen — you normally get almost all the tournaments the same weekend — and it means that determined types could easily go to two holiday tourneys this year. The bad news is that the tournament lineups seem less compelling than usual. The Great Lakes Invitational, which has three of its four teams fixed as Michigan, Michigan State and Michigan Tech every year, gets North Dakota as the fourth this season — and with MSU and UND struggling, it's just not as inviting. Still, hockey at Joe Louis Arena is always a good thing. But my top pick is the Denver Cup with its potential for a Boston University-Denver final, along with Rensselaer and the aforementioned Holy Cross. You?
Jim: It appears Colgate is the only team that is double-dipping in the split tournament schedule, though with limited non-league games for many teams, that's not surprising. As far as my pick for top tournament, I'd add to the mix the new Shillelagh Tournament being played in Hoffman Estates, Ill., and hosted by Notre Dame. If Minnesota-Duluth gets its act together that field could be decent with Notre Dame, Mass.-Lowell and Union. Now being a man from the Midwest, without cheating and checking a map, tell me where Hoffman Estates is located.
Scott: Um, somewhere near Chicago? This is a little embarrassing. Okay, now I looked — just west of O'Hare Airport up I-90, a road I've driven many a time. Maybe that's why I kind of remembered, or maybe I just figured I was safe in guessing that they weren't holding a college hockey tournament in, say, Bloomington. There's an interesting history to the Shillelagh as well. For those who remember or may even have attended the Lightning Classic holiday tournament during the past two years, this is it, in a way. The NHL's Tampa Bay Lightning discontinued their sponsorship and Notre Dame stepped in with new management and a new home, the Sears Centre Arena. Good luck to them this year — Chicago's a town with plenty of hockey history, but there hasn't been a Division I team in the state since former CCHA member Illinois-Chicago shut down its varsity program after the 1995-96 season. Jim, buddy, take us out with your final thoughts on what's news this week.
Jim: History is your thing, Brownie. Geography is not. This week is somewhat hockey's equivalent of Rivalry Week, Part I. Michigan and Michigan State square off in the CCHA with the Spartans looking to salvage a pretty ugly first half with a victory over their rival. Possibly the oldest and most memorable-of-late rivalries will square off on Commonwealth Ave. in Boston when Boston University and Boston College meet. Friday night the two will play at BU's Agganis Arena and then take a three-mile bus ride down the avenue for Saturday's tilt at Kelley Rink. Before we're back again, rivals from the nation's smallest state, Rhode Island, square off when Providence travels to Brown for this year's Mayor's Cup. And we of course should keep our eyes on Colorado Springs, where Air Force will host one of its biggest in-league threats, RIT, for a two-game series. The 2008 portion of the season is winding down here quickly, so until next week…