In late November, the Denver Pioneers were struggling. They had lost three games in a row, and their potent offense seemed to be sputtering. After getting beaten badly by Minnesota, 5-2, in the first of a two game series, the Pioneers held a closed-door team meeting.
Regardless of what was said, the Pioneers big guns needed to get untracked if they were to snap their losing streak.
Just 4:39 into the first period of the Saturday game, Tyler Bozak notched what proved to be the game-winning goal, stepping out from behind the net and firing a rebound past Gophers' goaltender Alex Kangas.
Bozak has, in his short time at Denver, become one of the main sparkplugs for the offense. He led the team in scoring as a freshman, finishing with 34 points, and has 21 points in his first 17 games this season, good for second on the team in scoring.
"He's multi-dimensional," said Pioneers' coach George Gwozdecky. "He can play great offense, he can play great defense. He can play all special teams. He's a multi-dimensional player which is unique and very valuable."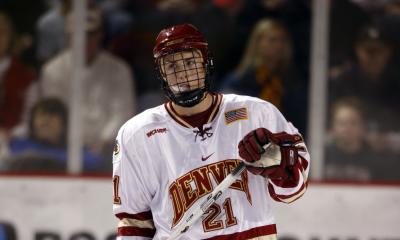 Bozak, a native of Regina, Sask., started skating when he was two, playing in a backyard rink. By the time he was playing in midgets, he knew he wanted to go to play for a U.S. college, and that factored into his decision to play three years in the British Columbia Hockey League for the Victoria Grizzlies.
"Growing up, I always wanted to take the college route and make sure I got an education while playing hockey," explained Bozak. "My main decision that made me go out to British Columbia was it was the most highly recruited league in Canada to go to the United States for college. Coming out here, it's unbelievably fast. It's a very fast, skilled game. There's no fighting, none of that stuff. It's just high tempo, high speed, move the puck and a lot of goal scoring as of late since the rule changes."
In his final year at Victoria, Bozak led the league in scoring with 128 points, attracting the attention of many U.S. schools. He finally decided on Denver, in part because of its tradition.
"I talked to some guys that know a lot about college hockey and some guys who have been here, and hearing how great a school it was, how great the coaches were, it just opened my eyes and made me come here," said Bozak.
Bozak was on the Pioneers' radar quite early.
As potent as Bozak had become in the BCHL, few expected him to become the Pioneers' main offensive threat so quickly. He was named the Red Baron WCHA Rookie of the Week four times, and the HCA Rookie of the Month in December, and was named to the all-WCHA Rookie Team.
"How often do you expect a freshman to come in and lead the team in scoring," said Gwozdecky. "It's very difficult, and I'm probably saying the obvious, it's very difficult for a freshman to come in here and have immediate success throughout the entire course of the schedule. I thought he did a real good job for us as a freshman, he had a very strong supporting cast, he was given opportunities and he made the most of them."
Bozak had many highlights his freshman year, including eight multi-point games and a hat trick against the Gophers. The playoffs however, proved o be something completely unexpected for him.
"It was unbelievable," said Bozak. "Just having the best-of-three series against Duluth at home, it was great to sweep them here. Playing single-game elimination was something I hadn't done before, so being able to play in front of all those fans, and having two unbelievable games, first beating North Dakota, then playing against Minnesota in Minnesota, everyone cheering against us, it was just a great experience."
Despite the success of his first college season, Bozak is quick to give credit to his teammates for making it possible.
"I got lucky enough to be put on a line with Brock Trotter my first 25 games till decided to go pro, then I was playing with Rhett Rakhshani and Kyle Ostrow the rest of the way," said Bozak. "Playing with those guys, they make it pretty easy for me out there."
Of course, regardless of who Bozak plays with, he seems to make those around him better. Bozak spent much of the first half of this season skating Joe Colborne and Luke Salazar. Salazar leads the team with 10 goals, and he and Colborne each have 15 points.
"Obviously 'Bozie' is one of the most prolific players," said Colborne. "He's probably one of the fastest guys I've ever played with so it makes it a lot easier for me. I can just get the puck and put it anywhere in open ice. He makes a lot of plays and takes a lot of pressure off Luke and I. It was great playing with those two guys."
In the offseason, the undrafted Bozak worked on getting stronger, and also on his skating.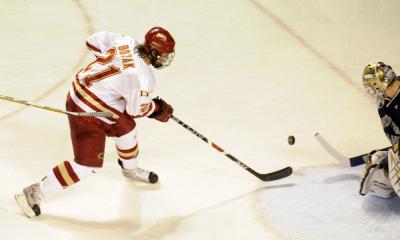 "I lose a lot of weight during the season, and I'm not the biggest, strongest guy, so my main goal in the offseason was to come in bigger, stronger and faster," said Bozak. "I have a power skater that I see every summer back home in Regina that works with a lot of NHL'rs and I give her a lot of credit for helping me. She's helped me with my stride and I skate a lot faster than I was. I feel it's one thing in the game that you can get better than other guys at."
Bozak has developed into one of the players that an opposing team needs to be conscious of in preparing for a series against Denver. After edging Denver 3-2, Colorado College coach Scott Owens was quick to point out that Bozak is a threat almost any time he's on the ice.
Gwozdecky believes that is part of any college team's preparation.
"You look at their top players and try to figure out if there's a key way to shut them down, to defend them so they can be neutralized as best as possible," commented Gwozdecky.
Bozak has also become something of a leader in the locker room. For fellow Canadian Colborne, Bozak has helped his transition to the college game.
"He sits beside me in the room and we've hung out some," said Colborne. "He's a great guy off the ice as well."
Even after his success in his final year in the BCHL, Bozak remained undrafted by any NHL team. However, his
continued strong play at Denver has attracted the notice of many NHL scouts.
"There's been quite a few teams that I've spoken with and have been to our games, but I have my family advisor; he's doing a great job helping me deal with everything," said Bozak. "He basically handles it all and I'm just trying to focus on Pioneers' hockey and trying to help this team go as far as we can."