No Longer A Quilt
Quilts are great for keeping fans warm while sitting in cold rinks watching a hockey game. But a patchwork team is not the best recipe for success.
This year is the first one where Geneseo can be considered Chris Schultz's team instead of a Brian Hills/Jason Lammers/Chris Schultz quilt.
The year started out a bit schizophrenic. Intermixed with nice successes (winning the SUNYAC Challenge, splitting a pair with Neumann, and pounding Potsdam) were some poor outings (needing overtime to beat Morrisville, having every bit of luck disappear against Brockport, tying Cortland, and getting hammered by Plattsburgh).
However, the last three games has seen Geneseo starting to hit their stride and become Schultz's team.
"The system we put into place the guys are buying into," Schultz said. "It revolves around a tenacious forecheck and a gritty backcheck and taking care of the house and taking care of our scoring area and our defensive zone and guys are buying into that and doing a good job with that."
That system was most evident in the Potsdam game when the Ice Knights controlled the center of the rink from crease to crease with their relentless hitting and chasing down the puck. Then, they took control of the corners with more checking. It resulted in few opportunities for Potsdam and numerous easy scoring chances for Geneseo.
Eliminating the quilt to build a seamless blanket takes time which sometimes means you have to suffer through a subpar season.
"Obviously last year we went through a lot," Schultz said. "We really had to keep our guys positive though the wins weren't coming being a pretty darn young team last year. Now that we are a year older we are meshing pretty well.
"We gave a lot of responsibility to first year players last year, and it's paid off this year because those guys are doing a great job for us. This year we haven't had to wait for that transition because our first year players are stepping in and doing the job right now which is even better. It's great when your best line is three freshmen just dominating play in the corners."
That line consists of Clint Olson (five goals, three assists, eight points), Jonathan Redlick (4-4-8), and Stefan Decosse (2-3-5). This line filled the scoring sheet for Geneseo's go-ahead goal against Fredonia 44 seconds into the third period with Decosse hitting the net.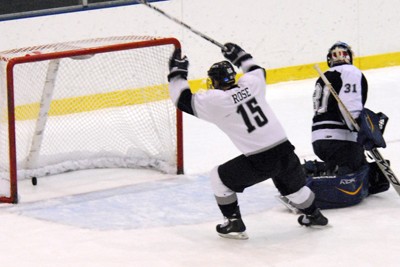 The veterans are continuing to produce and lead the way. Sebastian Panetta (5-8-13) scored the key shorthanded goal that turned the game around against Fredonia, Dan Brown (6-4-10) also scored twice in that game, while Casey Balog (4-5-9) put that game away against Fredonia making it 5-2, and Kevin Galan (5-2-7) tallied twice against Buffalo State.
They have also got what they needed out of their goaltending, a big question mark at the beginning of the season. Senior Jeff Pasemko (6-2-1, 2.56 goals against average, .910 save percentage) has seen more of the action, but freshman Cory Gershon (3-1-0, 2.44, .920) has been more than a capable backup.
Three consecutive impressive wins beating Oswego, 4-2, Buffalo State, 4-2, and Fredonia, 6-2 has propelled Geneseo into a tie for second place with Oswego, a team they currently win the tie-breaker against for playoff positioning. More importantly at this stage of the season, the Ice Knights have already won nine games halfway through, one more than all of last year.
However, Schultz is being cautious rating his team's early success: "I probably say maybe a B+. It's always good going into the break feeling good about yourself. We're very happy with where we are right now but by no means are we resting.
"I think it's early to determine how good we are. We have a lot to prove against the ECAC West teams in January when we play Utica, Elmira, and Hobart. I believe in the team we have. I still think we have a ways to go before we reach our peak. And if we can do that, we'll be in pretty good shape."
The quilt is gone, and Geneseo is looking forward to more seamless success.
"It's great going into the break for the guys knowing there is a bright future," Schultz said.
Déjà Vu All Over Again
Another great Plattsburgh-Oswego battle. Another nail biter. Another Plattsburgh win.
Once again, Plattsburgh needed a third period comeback to continue their unbeaten season. Plattsburgh had the initial lead when Eric Satim scored a late first period goal. Oswego scored three times unanswered in the second period (Mark Lozzi, Josh Chamberlain, and Kyle McCutcheon) for the 3-1 lead.
That held up till midway through the third period when Satim scored again with 14 seconds left on a power play.
"I thought we were in control until they got the goal with a few seconds left in the power play, and they got the momentum," Oswego coach Ed Gosek said.
Plattsburgh pulled their goalie late, and with 1:03 left in the third, Phil Farrow knotted the game.
"Their tying goal, they got the extra attacker out, and we were on a long change, and they got the goal," Gosek said. "Until that point, I'm very pleased with the way we were playing and into overtime."
"Our players worked really hard in the third period," Plattsburgh coach Bob Emery said. "They worked really hard to get pucks to the net. And we were lucky. You have to be lucky also along with working hard."
Kyle Taylor won it at 2:05 of overtime. Bryan Hince made 20 saves.
"We had a good chance, but their goalie made a good save, then they came back the other way and put it through the five-hole," Gosek said.
"Our players believe they can comeback especially since we've done it twice," Emery said. "Our team is in pretty good shape because we have tough practices."
"We didn't close the deal," Gosek said. "We had the opportunities. They did, too. I felt we played well. Their goalie made the saves when he had to."
SUNYAC Short Shots
Brockport fired 50 shots at Fredonia, including seven in overtime, but could only manage a 1-1 tie thanks to 49 saves by Pat Street … Despite Potsdam scoring twice within 21 seconds to tie the game, Cortland won 3-2 thanks to Kyle Haines second goal of the night … Tim Crowley scored twice and Todd Sheridan made 31 saves as Brockport defeated Buffalo State, 3-1 … Dylan Clarke notched a hat trick and Riley Hill scored the other two goals in a 5-3 Plattsburgh win over Cortland … Oswego's Chris Hyk got his first career shutout making 21 saves in a 2-0 win over Potsdam; the Lakers scored their goals 1:14 apart late in the second period … Andrew Alarie, Bobby Cass, and Dana Calderone each got a pair of goals as Morrisville pounded Franklin Pierce, 9-1.
Game of the Week
There are two tournaments being played over the holidays: the Pathfinder Bank Oswego Classic and the Cardinal Classic.
"It's gone very well based on comments from the teams that participated. Pathfinder does a great job," Gosek said of the tournament entering its third year. "If we did a tournament, we wanted to do it first class, and Pathfinder does that.
"If you bring one Western team in, it gives a little bit of a different look. And we try to bring in a New England team and a New York team. That didn't work out last year as we had two New England teams, but we did that this year. And next year, we already know we will have the Milwaukee School of Engineering, Elmira, and Connecticut College."
As for this year's field, Gosek said, "[t]his year will be quality teams. Babson is always a quality team. Skidmore is playing better than I think people expected them to. Augsburg struggled a little out West, but look at the teams they have played. Chris Brown does a great job with that program, and we know they won't be coming all the way out just to go through the motions."
On the same dates, January 2-3, Plattsburgh hosts a tournament that has been around for quite awhile.
"It's something we take pride in," Emery said. "It's been around before the Primelink. When the Primelink got started, the Cardinal Classic has sort of taken a backseat. We used to have it around the Thanksgiving weekend. Now, we host it around New Year's. It gets people out of the house. Schools call us all the time to play in it, so it's still recognized as a strong tournament.
"Three out of the four schools play in the ECAC East/NESCAC, so they haven't played that many weeks. So, it's hard to get a read on them. Castleton has played some good games. Williams has some wins. Wesleyan has been in every game. Anyone can win this tournament."
Despite what should be two entertaining tournaments to get people back to the rink after the holidays, I'm going with a game of the week that is played afterwards — Norwich at Plattsburgh on January 6. Whenever two schools from the Primelink get together, it's always thrilling. The fact that when these teams did meet in the Primelink nothing was really settled (a 3-3 tie that used a shootout to decide who moved on) makes it all the more meaningful for bragging rights.
On The Periphery
With the holidays upon us, this column will be taking a break, returning January 8. In the meantime, I'll be enjoying some time with my family, catching up on chores, and getting out to the Oswego tournament. I hope you are able to do similar activities.
Of course, I also have my gift list which includes a number of college hockey related items:
I would like to one day see a 10th team enter the SUNYAC. It will help even the schedule and travel partners, and it will be good for the expansion of college hockey.
I want every playoff game, at least the ones I attend, to go to overtime. Double overtime. Heck, why not triple overtime? Sure, it may cause the coaches to go over budget on Grecian Formula and antacids, but this is my gift list, not theirs.
I want packed crowds at every hockey game, because the players deserve it, and the fans will enjoy it.
I want to see the MCHA get an autobid because the rules say they should get one, and the ECAC Northeast proved that having one helps elevate the league's competitiveness.
I want to see 12 teams make the NCAA tournament because again this means college hockey is expanding, and I hate working with odd numbers (though I sure like that number one).
I want perfect weather every time I drive to and from a hockey game. Except Oswego, because we all know the best we can hope for is less than a foot of accumulation during that drive.
I would like to see a 24-hour period, any 24-hour period, without a single Adrian post on the USCHO.com message boards. I know this is the hardest item I'm asking for, but I so desperately want this gift.
Happy Hanukah, Merry Christmas, and Happy New Year to you all!