The National Hockey League's Central Scouting Service released its mid-term rankings of draft eligible players this week, with Minnesota's Jordan Schroeder headlining the list of players with U.S. college ties.
Schroeder, who has compiled 24 points (eight goals, 16 assists) through 18 games in his freshman campaign with the Gophers, was ranked fourth among North American-born forwards and defensemen.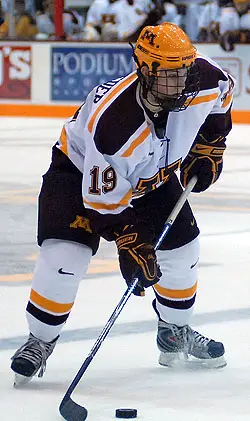 Michael Lee, a goaltender committed to attend St. Cloud State in the fall, was the top-rated goaltender with college ties, ranking third. Lee currently plays for Fargo in the United States Hockey League.
The top overall North American skater is Canadian John Tavares, while the top-rated European skater is Swedish defenseman Victor Hedman. Both players had outstanding performances at the recent World Junior Championship. Many believe that one of these two players will be the number one overall pick in this year's Draft slated for June 26 and 27 at the Bell Centre in Montreal.
"(Tavares) went in with deserved hype to be the No. 1 North American player," said NHL Director of Central Scouting E.J. McGuire. "Hedman went in with deserved hype to be the No. 1 European player and both played admirably (at the WJC). Tavares, by judgment of people other than Central Scouting, got the MVP of the tournament. His team won, he was a leader and high scorer on his team. He solidified his No. 1 position."
Among the remaining college players ranked among the top 30 North American-born skaters are defenseman John Moore (eighth, incoming-Colorado College), forwards Chris Kreider (14th, i-Boston College 2010), Zach Budish (16th, i-Minnesota), Louis Leblanc (18th, i-Harvard), and Kyle Palmieri (19th, i-Notre Dame), blueliner Nick Leddy (25th, i-Minnesota) and forward Chris Brown (29th, i-Michigan).
The NHL Central Scouting Service ranks the top 210 North American-born skaters, the top 30 North American-born goaltenders, the top 148 European skaters and the 12 best European goaltenders. A final ranking will be released prior to the NHL Entry Draft in late April.