For a longer period of time than anyone connected with Northeastern hockey cares to remember, the Huskies have played in the rather large shadow cast by Boston College, Boston University and Harvard.
Until this season.
Due in large part to junior goalie Brad Thiessen, the Huskies are on track for one of the very best seasons in school history.
Going into the week of Jan. 11, Northeastern was ranked No. 3 in the USCHO.com/CBS College Sports poll — its highest ranking ever in the poll, which was established in 1996. But even though the Huskies began the week with a 14-4-2 record and led Hockey East, Thiessen isn't overly impressed.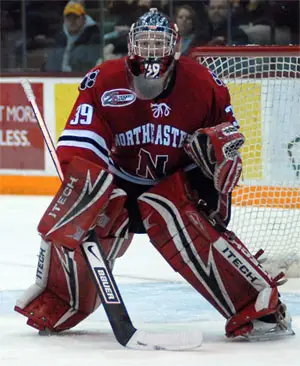 "Obviously last year we tasted some success in the first half of the season and took a hit in the second half," Thiessen said while referring to Northeastern's 10-4-2 record through its first 16 games and its 6-14-1 slate through its last 21 which left the team with a 16-18-3 overall record — including a quarterfinal-round exit from the Hockey East tournament courtesy of Vermont. "I think it was a case where we felt we didn't belong. Northeastern hasn't had a lot of success.
"Coming into this year we knew what we were capable of and could accomplish. We have an experienced group of guys who've been here two or three years. We've grown together and we came here to change things and rebuild the program. But we haven't won anything yet and have a long way to go."
Good point, considering the Huskies have had only one winning record in the previous seven seasons and haven't had back-to-back winning records since 1993-94 and 1994-95.
Arguably one reason for the Huskies' improvement is the fact they're no longer playing in a building (Matthews Arena) where it's possible to fire a cannon and not hit anybody.
The Huskies are averaging nearly 4,600 per game, which might not be a big deal in, oh, Minnesota or North Dakota, but which is on St. Botolph Street.
"It's made a huge difference going into the rink and looking up and seeing a packed house," said Thiessen. "The students are proud of the team and we feed off the energy they give us.
"Looking around before a game, you see a line all the way down the street and on campus you hear people talking about the team. It makes a lot of difference for us as players to see all the support that's behind us."
Thiessen certainly has held up his end of the bargain.
Through his first 20 games, Thiessen has:
• A 1.88 goals-against average which is second-best in Hockey East and ninth-best in the country.
• A .940 save percentage which leads Hockey East and is tied for fourth in the country.
• Allowed two goals or less in 13 games during which Northeastern is 11-0-2.
And even before he stepped on the ice this season, he was Northeastern's all-time leader in goals against average and save percentage. Then he broke the career record for shutouts.
But Thiessen is far from content with those career accomplishments.
"Last year for me, personally, was a learning experience," he said. "I struggled a little bit with some parts of my game. I was able to take those and work over the summer and fix parts of my game to turn things around.
"Coming back this year, I was pretty focused and ready to have the success that we had last year for a whole season. The experience of everyone around me has helped."
So has the addition of goalie coach John Carratu, who's coached over 300 players ranging from Mites to the NHL.
"It's good to have someone who knows the position and can critique it," said Thiessen. "Coming off a weekend we'll watch video on Monday and look at things I did well and didn't do well and look at what I need to improve.
"It's made a lot of difference for me to work with someone who's seeing another view of my game."
In retrospect, Thiessen already has provided fans with "another view" of his game in particular and hockey in general.
Thiessen is majoring in journalism at Northeastern and admittedly grew up in Aldergrove, B.C., listening to sports talk radio and devouring every sports section he could get his hands on.
"I want to do something with sports and journalism," Thiessen said of his plans after he hangs up his equipment. "When I played juniors in Canada (for the Merritt Centennials and the Prince George Spruce Kings), I did a radio feature once in a while. And I had a little column called 'In the Crease' where I wrote about different things that people wouldn't know about the team, like what happens on road trips."
Hmm.
Whether Thiessen eventually earns any awards in journalism remains to be seen. But he already is accumulating a bunch in hockey at Northeastern.
As a freshman, he was a unanimous selection for the Hockey East All-Rookie Team.
Last season he received the Eberly Award, presented to the outstanding goalie in the Beanpot, and was voted the Most Outstanding Player in the Badger Hockey Showdown.
So far this season he's been voted the Hockey East Player of the Month for October and November; the Hockey East Player of the Week three times; and the goalie on the Kendall Hockey Classic All-Tournament Team.
Big deal, as far as Thiessen's concerned.
"It's nice to be recognized for those things but it's about winning championships," he said. "The reason I came to Northeastern was to rebuild and bring the team back to where it was during its heyday. That's my main focus.
"It's nice to have guys on the team recognized for different accomplishments but what we want to do is to celebrate as a team. We've set ourselves up and now we've got to finish it off."
Good point.