Scott: Jim, buddy, another week is in the books. Looking back at last weekend, I'm going to start with the team I see most: Minnesota. The Golden Gophers were coming off a pair of bad losses to North Dakota and couldn't have looked more different against St. Cloud State, winning both games — handily on Friday, and holding off the Huskies Saturday in a wild third period that included a total of six goals. The goaltenders (Alex Kangas for Minnesota and Jase Weslosky and Dan Dunn for SCSU) had a rough go of it Saturday, giving up a combined 13 goals on 57 shots, but for fans of offense it was an exciting game. The usual suspects appeared on the scoresheet for the Gophers, with a post-World Juniors version of Mike Hoeffel scoring three goals on the weekend. All in all, just what the Gophers needed with head coach Don Lucia back on the bench. That's my marquee headline of the weekend — what's yours?
Jim: I have to say, the Gophers really did impress me with their ability to bounce back last weekend. I think my marquee headline of the week came from Boston University. Believe it or not, it wasn't the fact that the Terriers swept two games over the weekend after losing to Providence last Tuesday night. No, it was the fact that Jack Parker was irate at Hockey East officials after last Friday's game at Merrimack. According to both reports I've read and sources who were at the game that night, Parker felt that Merrimack players were intentionally taking runs at his players. Both Chris Higgins and Matt Gilroy were knocked out of the game with injuries, and Parker commented after that he's been complaining to the league about lack of enforcement of dangerous penalties for five weeks now and that this was a proving point. There were also reports that Parker had words with Merrimack coach Mark Dennehy after the game, accusing the Warriors' bench boss of actually sending players out with the mission of taking runs at BU players. This hasn't received a ton of coverage, namely because the game was played at Merrimack and not in Boston around the inherent media blitz. But it does bring to light at least one coach's dismay with the way games are being called. Have you seen anything similar out in your neck of the woods?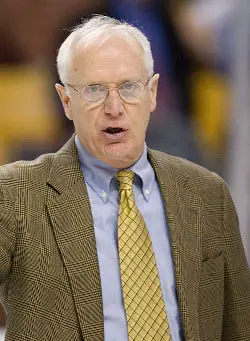 Scott: You know, I haven't — or at least if I have, I haven't recognized it as such. Oddly enough, I had the occasion yesterday afternoon to explain to a friend of mine how gentlemanly the college game is compared to the caricature that some people believe about hockey — especially regarding the old days in the NHL and the tired old line about going to a fight and seeing a hockey game break out. My impression has always been that officials watch for and crack down on those sorts of shenanigans. I've only met Dennehy a couple of times, but it's hard to imagine he would be orchestrating that sort of misconduct. Having said that, Parker's been around the game a lot longer than I have, so it's impossible to simply disregard his comments. Let's hope that the resolution is better enforcement no matter why this happened.
Jim: I agree. It's hard to just brush off Parker's comments. That said, having not been there or seen tape, it's hard for me to comment whether there seemed to be any ill intent. Switching gears, there are two teams out there that continue to roll along: Notre Dame and Cornell. The Fighting Irish are now unbeaten in their last 20, a school record, while Cornell is 9-0-1 in its last 10 and has just one loss on the season. Both of these teams have quietly run off these streaks, and Notre Dame sits atop the USCHO.com/CBS College Sports poll while Cornell leads the PairWise Rankings. So how legit do you think these clubs are?
Scott: Jim, you read my mind with this topic. Obviously, it's impossible to argue with either team's results on the ice, in large part because both teams are getting outstanding goaltending. For Notre Dame, Jordan Pearce is having a stellar season; he's top-five nationally in both save percentage and goals against average. But the ridiculous numbers Ben Scrivens of Cornell is putting up — including a .956 SV% and 1.18 GAA, both first nationally — are something else entirely. Neither goalie sees a ton of shots, which is a credit to their defenses; Pearce is facing 24 shots on net per 60 minutes of play, and Scrivens 25. (Compare those numbers to another top netminder, Northeastern's Brad Thiessen, who's seeing 32 shots per 60 minutes.) Defense and goaltending have long been Cornell hallmarks, but Notre Dame is building a tradition in net considering Pearce and his predecessor, David Brown. The question for each team is strength of schedule, where Cornell ranks 21st nationally and Notre Dame 24th according to the SOS from the Ratings Percentage Index. Still, I won't argue with these squads' success until and unless they actually start losing games. Your thoughts?
Jim: The strength of schedule is the most interesting fact about these two teams. It goes to the old "it is what it is" adage — these teams, for the most part, can't control how good the teams that they play will be. When it comes to living up to the criteria set forth by the NCAA to decide which teams are the best come tournament time, both are doing just fine. As I mentioned, Cornell is number-one in the PairWise while Notre Dame is third. Personally, though, I still have a somewhat difficult time believing either of these teams is the best in the country. I've seen each play (Cornell twice, Notre Dame only once), and still believe that the best team, top to bottom, in the nation is Boston University. You can call it homerism as a Hockey East guy, but we've been saying for weeks on end that Hockey East is the best conference in hockey. Put all of that together and I think BU comes out on top. And by the way, can I make fun of the fact that in all of this, we're not talking about a single WCHA team?
Scott: It's sure hard to argue with the facts. I've defended the WCHA's standing as college hockey's top league for several seasons, and the statistics have made the argument nearly impossible to refute. This year, the numbers belong to Hockey East, and that's all there is to it. WCHA supporters can comfort themselves with the thought that the NHL is raiding the league's top talent in disproportionate fashion, or that next season the WCHA will bounce back to its customary top spot, but for now there's no debate about the top conference. Of course, when the NCAA tournament rolls around, anything can happen in a single-elimination format, so Hockey East's dominance may or may not be rewarded with a second straight national title. And since we're talking NCAAs (well, I am, at least), let's look at our favorite first-half team, Air Force. The Falcons have gone into a brutal tailspin, and are all the way down to a tie for No. 22 in the PairWise Rankings. As Ed Trefzger noted in his recent Bracketology blog entry, AFA doesn't have a lot of chances to boost its credentials the rest of the way, which could mean that the Falcons are down to needing the Atlantic Hockey tournament title to make it in. If that doesn't happen, the what-might-have-been laments might be audible from Colorado all across the nation.
Jim: It's almost unimaginable how quickly Air Force went from penthouse to outhouse. Seriously, I feel like it was last week that I was arguing that this team should be number-one in the country and now I barely was able to keep them on my ballot this week. I don't have the contact with Atlantic Hockey and its coaches that I once did, but I'd be interested in hearing opinions as to what happened. If there is a beneficiary in this collapse, though, it's RIT, which (though it has played two more league games than most) now sits alone in Atlantic Hockey's top spot. If there's anything that Atlantic Hockey has taught us for years, though, its that once the conference tournament rolls around any team can win. With that being the case, what once looked like a lock for an NCAA tournament spot for the Falcons now becomes a 1-in-10 shot for Atlantic Hockey's tournament bid. If anything, it certainly makes for an interesting ending, which we'll learn more about as it unfolds. So, until next time…