Another week in the books and yet another week of shuffling for NCHA and MCHA teams in the latest USCHO.com Division III poll.
No longer do six NCHA teams grace the top 15, as winless weekends by the University of Wisconsin-Eau Claire and UW-Stevens Point dropped both from the realm of the ranked. Though those two teams fell, wins over both by UW-River Falls obtained the Falcons a single vote, which means there are now seven NCHA teams receiving votes.
Up at the top, yet another strong weekend from each held St. Scholastica and Superior at No. 2 and No. 3 respectively. The Saints retained their three first place votes.
St. Norbert's 0-1-1 weekend dropped the Green Knights from fifth to eighth and they were leapfrogged by Stout who now stands at No. 7.
You've got that right people: half the top eight teams in the country are made up of squads from the NCHA.
Speaking of the top eight, it's a location Adrian no longer finds itself in, as despite a 3-1, 10-1 sweep of then second place Marian, the Bulldogs actually dropped a spot down to No. 9. They remain the only MCHA team to receive votes.
Well, there's no rest for the weary as both the MCHA and NCHA have two weekends of conference play remaining. As a result, this week we finally check in with Superior, as well as two MCHA teams mired in battles for playoff home ice.
Twin Ports, Twin Powers
Last weekend was more of the same from the northern travel partners, as UW-Superior and St. Scholastica traveled to St. Norbert and Lake Forest and skated away with a combined seven of eight possible points.
Both picked up wins at Lake Forest and Superior skated to a 2-2 tie at St. Norbert. Meanwhile, the Saints scored a 3-0 victory at St. Norbert. It was the Saints' first victory over St. Norbert ever at the Cornerstone.
Despite the Saints impressive 17-3-2 overall record, win at St. Norbert and an earlier 7-2 victory over Superior, with two weeks and three games to go the Yellowjackets remain atop the NCHA, albeit barely.
They sit at 17-2-3 overall, 8-1-2 in the NCHA, and one point clear of the Saints for the conference lead.
How are they doing it?
One thing to take note of is that this has not come out of nowhere. Superior sets its proverbial bar extremely high, and was no doubt disappointed in the past few seasons — especially its playoff disappointments.
That being said, the Yellowjackets posted a 33-12-8 ledger over the past two campaigns, which is certainly a record most teams would be more than happy to have achieved.
They are also loaded with upperclassmen, 17 in all, eight of whom are seniors. Like it has for St. Scholastica, the wealth of experience appears to be paying dividends for the Yellowjackets.
I must admit I feel foolish for dropping the ball on Superior and picking them fifth in my preseason predictions. Especially considering I was the one expecting big things from them in the NCHA playoffs last season.
One interesting element to this year's edition of the Yellowjackets is that they don't necessarily resemble some of the Superior teams of past years.
Warranted or not, Superior has a reputation of being a skilled and physical team that plays with a bit of an edge. Certainly we've all seen the jokes about players of past year's hair length or their propensity for chirping with the best of them.
Accurate or not, it's a perception that is out there. The interesting thing about this year's club, however, is that they are almost the "anti-Superior" team relative to those preconceptions.
They are a bit smaller, a tad less physical, and just as skilled. They quietly go about their business and they have done it extremely well.
In fact, I'd go so far as to say they resemble something closer to the Middlebury team I saw at the Frozen Four two years ago more than they do their own 2002 national championship squad. Not that anyone would complain about being either, but the style contrast is indeed noticeable.
Parts seem interchangeable, everyone looks sort of the same, everyone does everything out on the ice, and they are all on the same page a vast majority of the time.
As one Western coach said just yesterday, "[b]y the second week of the season they looked like a team that was in mid-season form."
The Yellowjackets have exhibited nothing to dispel that notion. Much of that begins in goal with senior netminder Chad Beiswenger. Just as he was last season, Beiswenger has been lights out this year and played a major role in Superior's success.
He is the only goaltender to touch the ice for the Yellowjackets this season, having fashioned a 17-2-3 record with a 2.02 goals against average and a .917 save percentage.
He leads the nation in minutes played by over two full games and his 2.02 GAA ranks him 13th nationally. His 17 wins are good for second most in the country.
The Yellowjackets defense ranks second in the NCHA and has conceded a meager 22 goals through 11 games. Though Beiswenger is a key reason for their stinginess, he isn't doing it alone.
They also boast a host of skilled mobile defensemen and are led by a pair of juniors in Brian Bina and Art Clark. A converted forward, the versatile Ryan Kuntz has also played a key role on the Superior blue line, as have Jeff Seifert and Josh Herman.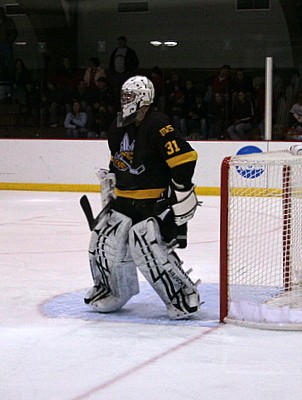 With Beiswenger in net and three strong defensive pairings, it's highly unlikely the Yellowjackets' defense will crack any time soon.
The Superior offense is no slouch either, ranking second in scoring in the NCHA. Its 4.41 goals per game are also good for ninth best in the nation and the Yellowjackets rank third nationally in scoring margin, winning by an average of 2.36 goals per night.
One of Superior's main strengths up front is its balanced attack. The Yellowjackets currently lay claim to five 20 point scorers, but none have more than 27. Juniors Braden Desmet and Chris Wilson lead the Yellowjackets with 12 tallies apiece, while senior Kevin Huck leads the team with 18 assists.
A pair of sophomores — Logan Isley and Talon Berlando — as well as senior Seth Reda help to fill out the chamber on Superior's scoring revolver.
Another boon for the offense this season has been improved production on the power play. The Yellowjackets struggled with the man advantage the past few years, scoring at a 16.4% clip a year ago, 14.6% the year before and a paltry 12.2% in 2005-06.
While not setting the world on fire, they have continued to improve and are currently converting 20.9% of their power play chances, a definite upgrade over recent years.
Overall, it is not an exaggeration to say this year's version of the Yellowjackets has no discernable weaknesses. On top of that, despite being a point back in the NCHA race, they are in the enviable position of controlling their own destiny.
Their three remaining games are at home: after hosting Eau Claire and Stevens Point they close out the season by welcoming national No. 2 St. Scholastica to their barn. Win out and the regular season NCHA title, as well as home ice throughout the playoffs, is theirs.
In a league as combustible as the NCHA, it's easier said than done to string three wins together against teams that were nationally ranked as recently as a week ago.
That said, there is certainly no reason to think the Yellowjackets cannot lay claim to their first NCHA regular season title since 2001.
After all, they've done nothing to suggest otherwise.
UP in the Valley
As MSOE and Lawrence were discussed last week, it's time to take a look at the other two teams jammed up in the race for second through fifth in the league: Finlandia and Marian.
It was a short two seasons ago that Finlandia dethroned the Milwaukee School of Engineering from its MCHA perch, defeating the Raiders to win the MCHA Harris Cup. Just last season the Lions finished third in the regular season, but made it all the way to the MCHA finals before coming out on the short end of a 1-0 overtime loss to Adrian.
The strength of those Finlandia teams was a large crop of talented and experienced upperclassmen. It's been a little bit different of a story this year, as the Lions lost 12 players to graduation and two more to the professional ranks. All told, those 14 accounted for 205 of the Lions' 291 points last season.
With so many new faces, the Lions have struggled at times this season. They currently stand in fifth place in the MCHA at 7-7-2, five points behind MSOE for fourth place.
According to Lions' head coach Joe Burcar, losing so much firepower from a year ago has been a large hurdle to overcome.
"We lost some pretty gifted players and probably around 80% of our offense," Burcar said. "Overall, it's probably a combination of losing that many guys and bringing in such a large group."
Not that injuries haven't taken their toll on the Lions.
"At the same time we've had a lot of injuries this year," explained Burcar. "We've been hit pretty hard this year, but I see us slowly getting stronger and hopefully that continues as we face a pivotal series this weekend."
Obviously, the Lions have had to rely on many of the newcomers to be key contributors this season, but it's taken a while to get the ball rolling. After developing a reputation as a bit of a high octane offensive-minded team in past seasons, this year's edition has struggled a bit putting the puck in the net.
Though goal production is down, Burcar is nonetheless impressed with some of his newcomers.
"We're pretty happy with the new guys," he said. "It's been quite a learning curve and not to take anything away from the new guys but it's been tough at times. I think the best thing about this group is that right now they are not quitting.
"I really like the way Eric Schultz and Quinn McIntosh are playing. They are new guys but they are experienced college hockey players and both have junior status and they've done some good things for us. Quinn really jumps out as a guy who has really stepped up our D-corps."
He also pointed to freshman forward James Neitsch. Neitsch currently leads the Lions with nine goals and 16 points on the season.
One of the main reasons the Lions find themselves in fifth place and currently in position to have to travel for the opening round of the playoffs are their struggles against the top four teams in the league.
All told, the Lions are 0-7-1 against the four teams above them in the standings. Despite the disappointing results, the Lions certainly have not been getting blow out by anyone.
"Yeah we've lost some tight games but the guys have done some pretty darn good things in those games," Burcar explained. "Aside from the 5-0 loss to MSOE game against MSOE we've had four consecutive weekends where we have been in overtime games."
This is best highlighted by a recent two week stretch against Lawrence and Marian. Though the Lions failed to garner a win in either series, they were victim to two overtime losses and only outscored 15-9 in the four contests.
As of now, the Lions are hoping to find a way to sneak up on MSOE to finish in fourth — good enough for a home playoff series. One thing that might work in the Lions favor is that MSOE has to close out with Adrian and Marian and any stumble by the Raiders might open the door for Finlandia.
"We'd like to be in the top half and still have a chance to get home playoffs so that's the biggest thing right now," said Burcar.
"We have not done well against good teams," he continued. "We've talked about it in the locker room. We didn't see Marian, Lawrence and MSOE until the second half of the season and we've had close games with them but if we want to have any success in the playoffs we're going to have to go through the good teams."
If the Raiders should indeed struggle, the Lions will have to get the job done against Crookston this week and Lawrence in the season finale. Thanks to some heads-up scheduling by the MCHA, Burcar is pleased that Finlandia gets to close out the season with MCHA North rival Lawrence.
"I like it a lot. It's a great series and says a lot about the parity in our league. It's going to be a battle right down to the last weekend. There are other series where that is going to be the case as well, but I really do like finishing the year up against Lawrence."
Though the Lions will no doubt be disappointed with a finish out of the top half of the league, it's somewhat expected considering the large turnover of talent they faced last off-season. The Lions pulled it together at the end of last season and it will be interesting to see if they can make a similar run this time around — whether it begins at home or on the road.
Sliding up the MCHA standings a little, one can see Marian is currently 10-5-1 and tied with MSOE for third place. The Sabres currently sit two points behind Lawrence in the race for second.
Unlike Finlandia, Marian has fared well against the other top teams in the league, and has thus far posted a 4-1-1 record against the Lions, Lawrence and MSOE. In fact, four of Marian's five conference setbacks have come at the hands of Adrian.
"Obviously we like to be competing for our conference title, but with four of our five losses coming to the same team we'd like to finish in second," said Marian head coach Jasen Wise. "We have our work cut out for us and need help from some other teams but I think being right behind Adrian isn't so bad I guess."
After defeating Adrian once — and almost twice — last season, the Sabres were hoping to close the gap on the Bulldogs this season. After last weekend's 3-1 and 10-1 losses at Adrian, however, Wise isn't quite sure if the Sabres were able to make any progress to those ends.
"This time last week I'd have said the gap was a little bit smaller but after last weekend I think maybe that gap is a little bit bigger," Wise admitted. "The rest of the teams in the conference have our work cut out for us if we want to compete with those guys."
Despite its success against the rest of the league's contenders, he is quick to point out that no one has been running anyone else out of the barn.
"I don't know if there really is a gap between us and any of those three schools. We have found ways to win a couple, but we split with MSOE and only scored three goals against Lawrence."
There is certainly merit to Wise's point, as despite its 4-1-1 record against those foes, the largest margin of victory they have obtained in those contests is two goals.
Aside from Adrian, scoring in the MCHA seems to be down across the board this year and Marian is no exception. The Sabres have tallied 56 goals on the season thus far, which is well off the pace of the 90 they put up last season.
"I'm not sure why that is the case," wondered Wise. "We lost a 25 goal scorer last year but have two freshmen who currently lead us in goals with 22 total. The rest of the guys are finding it difficult to find the back of the net and I'm not sure what it is."
He added, "[a] lot of it maybe has to do with teams focusing more on defense, and we face a lot of really good goaltenders in this league. I think a lot of credit should go to the goaltenders we've played against."
An interesting thing to follow earlier this season was the progress of Marian in its non-conference competition. The Sabres appeared to be on the brink of making some non-conference noise on behalf of the MCHA, as last season the Sabres defeated Gustavus Adolphus, 4-0, and dropped a couple of heartbreakers to really solid teams — most notably River Falls and Stout.
Unfortunately for the Sabres, this year proved not to be an exception, as the Sabres posted a 0-3-2 non-conference record and once again suffered some numbingly tough losses.
"We wanted to get some wins for sure," said Wise. "We had chances to win most of those games and we are closing the gap but we just aren't there yet. We've been talking about it every year here at Marian and maybe it's taking us a little longer that we thought it would but at least we are going in the right direction."
The Sabres came out on the short end of three one goal losses to Stout, River Falls and Bethel, with the River Falls coming in overtime.
"I think in all of those games we played well enough to win. That's probably the biggest difference from past years. In the past we had to play absolutely great and those other teams had to stumble a bit to keep it close."
Despite the tough losses, the quality of competition has likely served the Sabres well as they are within striking distance of a second place finish.
Like Finlandia, however, the Sabres end the season with a difficult conference series as they face a home and home with MSOE. Wise wouldn't have it any other way.
"It's great," he said. "It puts a lot of pressure on us in that last weekend of the season. Also, if Lawrence loses we have a chance to catch them for second, so the way the schedule is set up really makes things exciting down the stretch."
Indeed it does.