Logjam
The stress level just keeps increasing as no one has been able to pull away from the rest in the middle of the pack.
Heck, not even Plattsburgh has clinched first place. To wit: if Oswego wins their match-up on Friday and beats Potsdam, and if Plattsburgh losses to Cortland, the two teams will be tied. Then it comes down to the tie-breaker which will depend on how much Oswego wins by–it will have to be by two goals or more. Otherwise, Plattsburgh takes the regular season title tie-breaker.
Brockport is in the playoffs. That's for sure because Cortland and Potsdam face each other, and thus one of those teams cannot get the four points necessary to catch Brockport. The question is, can Brockport hang onto home ice?
Geneseo can pass Brockport, but if they tie, Brockport wins the tie-breaker. If the Ice Knights do get by Brockport, then the Golden Eagles have to worry about whether any of the three teams who are four points behind can catch up.
Brockport wins the tie-breaker against Potsdam. Currently, they also hold it against Cortland, but that can change depending on the scores of the respective teams' final two games. Buffalo State would have to beat Brockport in order to have any chance to tie them, and if that would happen, Brockport would win the tie-breaker based on total wins since they would have split their two games against each other.
Thus, Brockport is looking very good for their first home ice playoff game in school history. A lot of that is due not just to their play on the ice this year, but their newfound confidence and attitude.
Brockport coach Brian Dickinson said after the one goal lost to Oswego this past Friday:
"Last year when we lost 4-3, the guys were excited by the way we played. It was almost a win for us to lose by a goal to an Oswego and have them on the ropes at the end of the game. This year I go in the locker room and there wasn't a guy in there that isn't upset. We felt for 50 minutes we were as good if not a little better than the number nine team in the country, and we deserved to win the hockey game as much as they did. And that's a good sign. We understand what's at stake."
As for what happens if there are multiple teams tied with Brockport, well quite frankly that's when my head hurts. There are numerous possibilities, and I'll either leave it for those with more time or simply wait till Sunday morning.
This all leaves five teams fighting for three playoff spots. For Potsdam and Cortland, it's relatively easy because they play each other on Friday. Essentially, barring a major upset on Saturday, whoever wins that game on Friday is in the playoffs, and will even still have a shot at hosting the first round.
For Geneseo, Buffalo State, and Fredonia, it gets a little more complicated because Geneseo plays both those teams. Add the factor that Brockport also plays the far western New York teams, and the possibilities are endless. Fredonia essentially must win out. Geneseo and Buffalo State could afford to slip a little, but both also have a shot at hosting, and in that scenario really need to win both.
"We'll do everything in our power to get them [the home fans] another game on home ice," Geneseo coach Chris Schultz said. "If we can sweep the weekend, we might have a chance at that. I'm not really a standings watcher at this point. I just know we need to win our next game every time we play. There's some hockey to be played yet."
The Geneseo-Buffalo State game might not spell doom for either one's playoff hopes, but it would spell doom for home ice hopes. If ties become part of those games involving the Rochester area schools and the Buffalo area teams, well that gets back to when my head hurts.
Morrisville's season is over, but at least they got to play in February. Last year, they stored their pads on January 22. The Mustangs may have only gotten three points this season, just one more than last year, but they were a lot tougher to beat and put scares in plenty of teams this year. There's no reason to think they will not continue to improve next season.
Playoffs? Playoffs?!
Don't talk about playoffs!
Once again, due to the new playoff format implemented by the SUNYAC before last season, this column comes out too early to know the play-in round match-ups, and the next column comes out too late to preview that round. Plus, unlike last year where one of the seeds was determined, this year's logjam has every position up in the air.
What I can tell you is the play-in round will be played on Tuesday, February 24. The third place team will host the sixth place team and the fourth place team will host the fifth place team. It's a one game winner-take-all to determine who moves on to the semifinal round. If necessary, overtimes will be played in typical postseason 20 minute segments. Ticket prices will be different than the regular season because the SUNYAC dictates the pricing. If your school hosts a game on Tuesday, contact your ticket office for the details.
Maddy
All of us at USCHO would like to send our condolences and prayers to the family and friends of Madeline (Maddy) Loftus as well as the Buffalo State and St. Mary's University hockey communities.
Loftus, 24, played two years for Buffalo State (2002-04) before transferring to St. Mary's to finish out her collegiate career. She was on her way to Buffalo for a women's hockey reunion aboard Continental Express Flight 3407 which crashed a few miles from the airport on February 12, killing all onboard.
SUNYAC Short Shots
Fredonia snapped their 13 game winless streak with a 5-4 win over Morrisville despite blowing a 3-0 lead … Sean O'Malley scored twice for Brockport, but Oswego's two goals within 14 seconds in the final 35 seconds of the second period was the difference for a 5-4 Lakers' win … All the scoring was done in the second period when Geneseo beat Cortland, 3-2.
Plattsburgh hammered Potsdam, 8-1, going undefeated at home in the regular season (14-0-0) for the first time since 1991-92 … Tim Potter made 20 saves, the same number in his first shutout against Fredonia, for his second whitewashing since transferring to Oswego as the Lakers defeated Geneseo, 5-0, with two goals by Mark Lozzi … Dave McNabb got two goals and two assists as Brockport held off Cortland, 5-3, with all three Red Dragons' goals coming on the power play … Alan Fritch made 33 saves as Buffalo State beat Morrisville, 5-1.
Game of the Week
Just how do you pick a game when ever single contest this weekend matters? With the exception of one, there is not a single game this weekend that does not have playoff implications, and that one exception is one of the biggest rivalries in Division III hockey. Plus–though it's a long shot–that exception can have implications on the regular season title.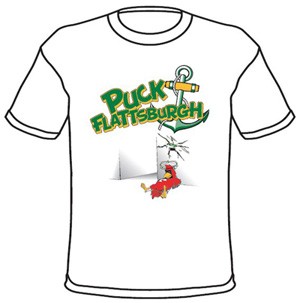 Of course, that rivalry is the Plattsburgh at Oswego contest. Oswego fans have been gearing up for this game for weeks, selling clever "PUCK FLATTSBURGH" shirts in an attempt to white out the Campus Center.
"They always bring their 'A' game to our barn as we do to theirs," Oswego coach Ed Gosek said. "Last couple of years at home we felt we haven't played that well. Part of it is them playing very well against us. We think the last few games we've played we've done a lot of things to beat ourselves. We hope it's a team we face again in the finals probably in their barn. It's a chance for us to see where we are from when we played them earlier in the year, to see what we need to work on, to see what maybe we need to change if we get the opportunity in the playoffs."
"I always said Oswego is one of the best teams in the country," Plattsburgh coach Bob Emery said. "I said that heading into the season, and I still say that. It's a big weekend for us. As anyone in the league, the goal is to win the regular season championship. Nobody has clinched anything this year."
"Our fans love it. Their fans love it. Their players enjoy it. That's what makes a rivalry," Gosek said. "It's a mutual respect between the two teams, the coaches. We all work hard to try and be the best."
Plattsburgh fans have loved it a lot more recently as they have controlled the series the last few years. Oswego has not won since February 3, 2005. The Cardinals have gone 7-0-1 since then, including three playoff wins.
"They've certainly had the upper hand, and maybe this is the year we can change that around," Gosek said.
"They'll be fired up because of what happened last time," Emery said. "It's payback for them."
"I hope it's a great hockey game," Gosek said.
I suspect fans in Oswego this Friday will not have to worry about that.
Fans elsewhere will also likely not have to worry about seeing playoff style hockey this weekend, because like I mentioned above, many games taking place will be do or die contests. The importance of Saturday's contests will greatly depend on Friday's results, and all three games involve teams with a lot at stake.
Potsdam at Cortland, where the loser is most likely done and the winner is most likely in. Geneseo at Buffalo State, where the winner is a lot more comfortable and the loser is sweating a bit more. Brockport at Fredonia where Brockport can clinch home ice and Fredonia must avoid being eliminated.
"Our concern right now is our game Friday night against Buffalo State," Geneseo's Schultz said. "Obviously, it's very important to get points in every game we play. Buff State is a tough game to play at [their] home. A very good offense. A very good power play."
The game for Buffalo State and Geneseo is not only special on the ice, but off the ice as well. On Friday, the Bengals are sponsoring a fundraiser with all proceeds benefiting the Jacquie Hirsch for "A.L.L." Foundation for research towards acute lymphocytic leukemia at the Roswell Park Cancer Institute.
Hirsch, a former student-athlete at Geneseo and family friend of Buffalo State head coach Nick Carriere, lost her year-long fight with acute lymphocytic leukemia on September 6, 2008.
The event will feature various money raisers including a 50/50 raffle, a brown bag auction featuring 25 baskets, chuck-a-puck, a bake sale, and the sale of Jacquie's foundation merchandise including hats, T-shirts, bracelets, decals, and memory teddy bears.
The playoffs may officially start on Tuesday, but for all intents and purposes, they begin on Friday. If you haven't been to a SUNYAC game yet this year, this weekend is a perfect time to go. Pick any game. It won't matter which one because you won't be disappointed. They are all 'game of the week' worthy.
On the Periphery
I am writing this from Fort Wayne, Indiana. One thing about the Midwest is the great tasting beef you find no matter what restaurant you are in. Family style, bar, high class, it doesn't matter. You order a burger or a steak, and it will be delicious.
Speaking of food, it's time to name this year's hot, soft pretzel winner amongst the SUNYAC rinks. Just like the action on the ice, it's been a "hot" battle in the middle of the pack, but the continuation of a dynasty on top.
Plattsburgh may be the dominant power when it comes to hockey, but when it comes to pretzels, Brockport has no equal. Where Plattsburgh shines on the ice, Brockport shines in the pretzel machine. In fact, just last weekend I had what was probably the worst pretzel I've ever had at Brockport. Yet, it was still better than any other rink could offer.
As for the others, Buffalo State, which was the only school ever to upset Brockport, has now fallen off the list. Their pretzels just aren't cooked properly anymore, and they are extremely inconsistent. Instead, two new contenders, Morrisville and Fredonia, fought it out for runner up position and it was too close to call. Oswego remains behind the pack simply because their pretzels are too small to be properly considered and not quite as tasty as the others.