Quick someone find me a mathematician–the possible playoff permutations are mind boggling as we head into the regular season's final weekend. What we know about next week's conference playoffs won't fill a thimble compared to what is completely up in the air including: who is in, who is out, who can win the regular season crown, who has a shot at home ice, and who can put together a strong couple of games as a prelude to play for the big conference prize over the next couple of weeks.
So, despite not being a stats whiz or math guru, your intrepid reporter will boldly go where no sane SID dares to tread this week: to the list of possible, probable and otherwise far-fetched scenarios for the conference playoffs.
Take a deep breath because here we go!
ECAC East
Okay–so here is what we do know. Other than the two D-II schools preparing for their Northeast-10 tournament, everyone is in the ECAC East conference playoffs so there will be no team omissions. That said, where everyone will end up is absolutely wide open with but one exception.
The University of Massachusetts-Boston is guaranteed the eighth seed regardless of this weekend's results. That said, does anyone really want to play the Beacons? They have been very close in a number of one goal games and last week rallied in the third period to tie Middlebury on the road before winning the game in the first minute of overtime. Whoever ends up in the top spot will have a difficult first round game.
Well so much for clarity because after figuring out No. 8–no rocket science there–it does get very confusing in looking at one through seven, which are only separated by five points.
Norwich is at home this weekend hosting the NESCAC contingent from Maine. The Cadets have seemingly always won the regular season title and to repeat this year they will need some points this weekend against Colby and Bowdoin. Expect home ice and what is at stake overall to be the difference makers as Norwich should be hosting the Beacons from UMass-Boston next weekend.
Cross state rival Castleton–who holds the head-to-head tiebreaker with Norwich after beating the Cadets will have to beat Wesleyan and Trinity this weekend to have a chance for the top spot. The unofficial Vermont sub-division champions (having beaten Middlebury, St. Michael's and Norwich this season) will be pushing hard to win their first ever regular season title.
They will need to take points from a Wesleyan team playing with an outside shot at the final playoff position and for pride as well as Trinity who can finish no worse than fourth in the final home ice spot. I believe Castleton will ultimately finish second, but not for lack of want for the top prize.
New England College sits in third place just two points out of first but just three points out of seventh. The Pilgrims face Salem State and Southern Maine in the final weekend and both teams are just two and three points behind so these games really do matter.
NEC has fought off the flu season and injury bug but will need to rekindle the level of play that got them off to a 9-2 start. The playoffs really start for NEC this week on the road trying to keep their home-ice berth. Earning a split gets it done for Tom Carroll's squad.
Salem State has a tenuous hold on the final home position in this their final season as a member of ECAC East. Three teams are all within one point so there is little margin for error. Head coach Bill O'Neill has been consistent in stating he just wants his team to be playing its best at the end of the year.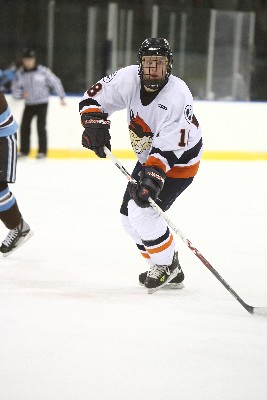 It wouldn't hurt to dangle the last hurrah motivation before setting off to the MASCAC conference next season. Fourth, fifth, sixth or seventh–any one is a possibility for the Vikings and playing without star forward Justin Fox will mean everyone will have to step up their game to overcome his loss.
Babson, Skidmore and Southern Maine all have 16 points heading into the final weekend.
The match-ups only have USM playing ECAC East foes so the others will have to try to take advantage of their NESCAC opponents to advance their position. I give Southern Maine the advantage here at home with a slight edge over Babson, who needs to gain a bit more consistency at this critical juncture of the season.
Skidmore should come away with two points this weekend so it will take three or more to stay or move into the final home ice spot that is just begging for someone to take it.
So if my helter-skelter calculations hold true your play off seeds will be as follows:
No. 1 Norwich vs. No. 8 UMass-Boston
No. 2 Castleton vs. No. 7 Skidmore
No. 3 NEC vs. No. 6 Babson
No. 4 Southern Maine vs. No. 5 Salem State
NESCAC
The only thing we know about this conference is that the top four seeds have been secured, although the order can change and the bottom half is up for grabs in terms of getting in and moving up.
For the first time a game on the last weekend will go a long way to deciding the regular season title while a hungry Williams team hopes a couple of teams struggle and open the door to moving up from the third spot.
Amherst hosts Middlebury on Friday night and a win ensures the top seed and the important possibility of hosting the conference final four. The defense and goaltending have been extraordinary, which may be enough to shut down the conference's best offense. My prediction? Amherst wins a tight one on Friday and Middlebury holds on to second by getting enough on Saturday.
Williams probably would like to see a tie on Friday night in Amherst while they beat Hamilton, giving them the opportunity to pass Amherst in the final conference standings. That scenario would potentially create a three-way tie at the top which will create tiebreaker mayhem.
There are a few other scenarios but coach Kangas knows he can only control the game they are playing in. The Ephs are on a roll, but probably won't mind settling for the third seed and home ice in the first round for the first time in a long time.
Trinity has the only weekend match-ups with ECAC East teams that are in a dogfight for everything. Goaltender Wes Vesprini is back from a minor injury and his stellar play will be a key for Trinity's run to repeat as conference champions. Ultimately, I don't think the Bantams move from the four spot playing at home and a re-match with Connecticut College.
Conn. College is sitting in fifth and plays at Babson and UMass-Boston this weekend.
Goaltender Greg Parker has been the mainstay for the Camels this season and they will need him to be solid as they look to finish at their highest position in the league. Forwards Brett Moore and Trevor Bradley will key the offense for a team that is not just happy to be in the post-season tournament this time around.
Bowdoin has struggled to find some offense in the second half of the season but the revitalized play of junior Mike Corbelle has Polar Bear fans optimistic that they might be able to get some momentum in the post-season.
Last year Trinity came out of the six spot to win the conference tournament and Babson did the same in the ECAC East two seasons ago. Can the six seed be lucky again this year? Bowdoin hopes to find out by getting a couple of points and getting some favorable results from other crucial contests.
Hamilton has been a great story this year under first year coach Norm Bazin.
After missing the playoffs the past two seasons, the Continentals are guaranteed to be playing in the post-season but would like move up if they can. The weekend match-ups are tough with Middlebury and Williams coming to town but they are at home and the trip to Hamilton is tough on many teams. Bazin's squad will probably stay put and possibly see one of the final weekend's opponents again in round one of the playoffs.
Tufts needs just two points or a Wesleyan loss to clinch the final spot in the playoffs but has no easy task, facing UMass-Boston and Babson. Tom DeRosa has been dynamic for the Jumbos and freshman Scott Barchard will need to continue his solid play if Tufts looks to return to the playoffs this season.
Wesleyan has struggled for points all season and plays two teams from the East with equal motivation to move up in the standings. It should be a playoff atmosphere all weekend, but this has not been the Cardinals year and it will most likely be over after this weekend.
A young Colby squad has been trying to find itself this season both offensively and in terms of wins. One of the more successful and consistent programs over the past several seasons, the White Mules will miss the playoffs for the first time and look to re-build next season.
It really is amazing how many different possibilities there are for the standings–top and bottom. Think we will see mostly predictable stuff this week but come playoff time all bets are off. Here is the seeding for NESCAC as I see it:
No. 1 Amherst vs. No. 8 Tufts
No. 2 Middlebury vs. No. 7 Hamilton
No. 3 Williams vs. No. 6 Bowdoin
No. 4 Trinity vs. No. 5 Conn. College
It has been a great season and while we look to close out the regular season with a great deal of fanfare and excitement, the playoffs and potential NCAA berths are right around the corner. Keep the Internet handy, blood pressure medication refilled, and enjoy some great hockey.
Drop the puck!