A First And A Return
Brockport did something never before accomplished in school history and Geneseo returned to their winning playoff ways after a three year drought in the SUNYAC play-in round.
Brockport not only hosted their first playoff game ever, they won their first playoff game in school history, defeating Potsdam, 3-1.
"It feels great," Brockport coach Brian Dickinson said. "There's a lot of cheering going on in the locker room. I said to the guys, 'Hey we just made history. How does that feel?'"
Brockport accomplished the task thanks to 43 saves by Todd Sheridan who played perhaps the best game of his collegiate career. By the time he gave up a goal with 2:39 left, the Golden Eagles were in control, thanks to the Jason Gorrie (who scored the first goal), James Cody (who scored the second two), and Justin Noble (who got two assists) line.
"That line played extremely well all night," Dickinson said. "They got great chemistry. The first [Cody goal] was a cannon. The second one was Johnny-on-the-spot."
Gorrie got things going with a shot from the right boards that bounced in off the goalie's leg pad at 9:26 of the first. Cody made it 2-0 at 2:09 of the second swooping in to fire a rocket from the slot over the goalie's shoulder. He knocked in a rebound at the doorstep at 15:45 of the same period just as two Potsdam players came out of the penalty box.
"I couldn't be more proud of our accomplishments this year, and hopefully, we can continue that down the road," Dickinson said.
The last time Geneseo won a playoff game was in 2006 when they took the SUNYAC championship before losing in the NCAA first round. It wasn't easy as Geneseo needed 11:30 of overtime to finally put away Buffalo State.
"It was a great typical SUNYAC game," Geneseo coach Chris Schultz said. "First period, we were kind of feeling each other out. We got a little sloppy in the first. By the time the second period came around, our guys relaxed and played better."
After Kevin Galan provided the Ice Knights with the original lead at 10:09 of the first on the power play, the Bengals returned the favor 48 seconds later thanks to Justin Merritt. A couple of minutes afterwards, Buffalo State took the lead when Nick Petriello scored.
Casey Balog scored the only goal of the second period at 11:40 to knot the game. Over 20 minutes later with 5:31 left in regulation, someone finally retook the lead. Petriello scored his second, this time on the power play for the Buffalo State lead. Once again, that didn't last long — a whole 46 seconds. Casey Smith helped ensure Geneseo's season would continue to overtime.
Then came the bonus hockey. Jeff MacPhee skated out of the zone and then chipped it off the wall to Brandon French. He in turn passed it up to Daniel Sullivan. With a Buffalo State defender pinching up along the wall, Sullivan was sprung loose on a 2-on-1 with Trevor Elliott. Sullivan kept the puck and buried the shot.
"Real simple play," Schultz said.
A Near Sweep
As Plattsburgh nearly swept through the SUNYAC season, their only blemish a tie against Potsdam, they also nearly swept through the first team All-Conference selections, with the only blemish also caused by Potsdam.
Forwards Dylan Clarke and Joey Wilson, defensemen Ryan Corry and Nick Rolls, and goalie Bryan Hince all were named to the first team. Connor Treacy of Potsdam was the only non-Cardinal to make the list.
Brockport was awarded for their excellent season by placing two members on the second team, goalie Todd Sheridan and blue liner Mike Gershon. The two top conference scorers from Buffalo State, forwards Jason Hill and Nick Petriello, joined them. Ryan Ellis from Oswego once again made All-Conference, but this time the forward is on the second team. Rounding out that list is Gerard Heinz from Cortland.
No announcement yet on the Player of the Year, Rookie of the Year, and Coach of the Year.
Humanitarian Finalist
The Bank of New York Mellon Hockey Humanitarian Award announced their 10 finalists, and a SUNYAC player made the list: Plattsburgh's Eric Greene.
After listening to a motivational speaker from the Montreal Canadians talk about a project the Edmonton Oilers did and challenging the Plattsburgh team to do something similar, Greene got involved with the North Country Down Syndrome Association's Buddy Walk.
There he met Matthew Thomson, a 24-year-old, who enjoyed sports and athletics and was very competitive. Greene "adopted" him immediately.
"We kind of adopted Matty as team manager," Eric Greene said. "I took on a liaison, team leadership role. He's a great person. Comes from a great family. He loves being there. Comes to every practice. Comes to every home game and any one-day away trips."
Greene organizes rides, bringing him to and from the rink, goes to dinner, movies, and invites members of the women's hockey team for some outings, as Matty is a big fan of the women's team as well.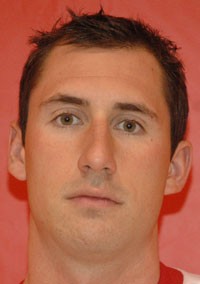 "It's not just something that happens during the season," Greene said. "Even in the spring and fall, I'll call him up and see if he wants to hang out. I probably learn more from him than he'll every learn from us. It puts life in perspective. Never had any relationship with anyone from Downs before. Kind of fell into it. Now, we're best friends."
Matty was in Lake Placid last season, and if the team should make it that far again, he will be there to root them on. If not, Matty will be sure to let the team know when they are not doing well.
"He wears his emotions on his sleeve, and he's honest," Geene said. "He'll tell us when we are not playing well. He lives and breathes hockey."
"Eric has been a great leader since he's come here," Plattsburgh coach Bob Emery said. "His great leadership skills has been more off the ice than on the ice. He's given so much back to the Plattsburgh community. I'm happy he's been honored as a finalist for this award."
SUNYAC Short Shots
Plattsburgh extended their unbeaten streak against Oswego to nine (8-0-1) with a 2-1 victory over the Lakers as Joey Wilson and Kyle Kudroch scored with Bryan Hince making 26 saves … Potsdam jumped out to a 2-0 lead in the first 3:18 of the game en route to a 4-1 win over Cortland as Trevor O'Neill made 31 saves … Geneseo burst out to a 5-0 first period lead over Buffalo State as the Ice Knights won 6-3 with Kevin Galan scoring twice and Buffalo State's Joel Sheppard notching two within 54 seconds in the first 1:25 of the second period … Bryan Goudy scored twice in the first period to lead Fredonia to a 5-2 win over Brockport with Jason Gorrie scoring twice for the losers.
In a wild back and forth game, after Fredonia's Bryan Ross tied the game with six seconds left in regulation, Geneseo's Andrew Rygiel won it 46 seconds into overtime, 6-5 … Potsdam stunned Oswego, 4-2, thanks to a key power-play goal early in the third by Fraser Smith and 19 saves by Trevor O'Neill … Buffalo State got into the playoffs by beating Brockport, 4-1, courtesy of the Nick Petriello, Jason Hill, Joel Sheppard line as they each scored a goal, with Hill getting two, including a shorthanded empty netter, and 31 saves by Alan Fritch … Plattsburgh closed out the regular season with a conference undefeated record of 15-0-1 by beating Cortland, 6-1, with Riley Hill scoring twice.
Semifinal Previews
It's the battle of the goaltenders up north and the question of which teams will show up by the lake. Brockport has already accomplished a number of firsts and now they try to upend the top team in the country, Plattsburgh. Oswego looks to reverse being on the wrong end of a weekend sweep by holding off a resurgent Geneseo squad.
The single game format continues, so everything is on the line Saturday night. If the game is tied at the end of regulation, they will go to 20-minute periods until someone scores.
(All statistics in the previews are for conference play only.)
Geneseo (14-11-1 overall, 8-7-1 in SUNYAC) at Oswego (17-7-1, 11-4-1)
Which Geneseo team will show up? For that matter, which Oswego team will take the ice?
Geneseo has won their last three games and four out of five. The one loss? A thumping by Oswego, 5-0. Before that, Geneseo only won one game in their last seven overall. And before that, they had gone 4-1-1, including beating Oswego, 4-2. A team of streaks.
Oswego was on quite the run of their own, winning nine in a row and 10 out of 11 before getting swept this past weekend. Historically, when Oswego comes off a bad weekend, opponents tend to pay for it. After blowing a lead to Morrisville winding up with a tie, they pounded Brockport, 11-3. After losing to Hobart, they beat Skidmore (the only team to beat Plattsburgh this season), 8-3. Last year, after losing to the Cardinals, they shutout Potsdam, 6-0.
"We played hard with Platty," Oswego coach Ed Gosek said of this past weekend. "It didn't go the way we had hoped. Saturday, it was the direct opposite. We weren't focused. We got outplayed. They're embarrassed about it. So far we've had good practices, hard working, back to fundamentals. They've responded well. They know it will be tough against Geneseo."
"I expect to see their four lines," Geneseo coach Chris Schultz said. "Their four lines are probably the most skilled four lines in the league. We have to make sure we get in their lanes, block their shots. We're going to have to play really good defense."
Defense first is a good philosophy since Oswego is the second most potent offense in the conference averaging over four goals a game. Leading the way is Ryan Ellis (eight goals, 12 assists, 20 points) once again, rookie sensation Erik Selleck (9-10-19), and Brendan McLaughlin (6-11-17).
Oswego has also fixed their goaltending problem by acquiring Tim Potter from Clarkson during the break. Since then, Potter has gone 9-1 overall, 6-1 in conference with a goals against average of 1.79 and a .932 save percentage. If Potter displays cramping problems again, Paul Beckwith is an able backup.
"At this time of year, everybody plays hard," Gosek said. "Everybody realizes what's at stake and want their season not to end. It comes down at this point in the season to special teams and goaltending."
Geneseo has two choices to go with, rookie Cory Gershon (3.46 GAA, .887 save pct.) and Jeff Pasemko (3.86, .866).
"We faced both," Gosek said. "We lost to Gershon here. Even though we won in their barn, Pasemko made some good saves."
"When it comes down to the playoffs, it's whoever has the better goalie," Schultz said. "We're completely confident in both of our guys. We're not sure who we're going to play right now."
Geneseo averages 3.54 goals per game, spreading their scoring around. Sebastian Panetta (4-10-14) leads the way, followed by Dan Brown (6-7-13), Kevin Galan (8-4-12), and their top rookie, Jonathan Redlick (5-6-11).
Speaking of special teams, Geneseo is the second most penalized team, but shockingly Oswego has the worst power play in the league, converting at a sub par 16.2% clip. Geneseo is third best despite not being much better at 19.5%. Oswego does, however, have the second best penalty kill (85.2%) while Geneseo is second worst (76.3%). They do, however, have five shorthanded goals.
"The key is going to be how well we capitalize on our chances," Schultz said. "We just can't take shots on net, but have to convert those opportunities."
Oswego doesn't take many penalties, but they seem to do so at the most inopportune times, such as when Matt Whitehead committed a ridiculous slashing penalty in the waning minutes against Plattsburgh, removing any hope of his team getting the tying goal.
"Our concern now is ourselves," Gosek said. "Let's not beat ourselves."
That's true for both teams as the players need to avoid pulling a Matt Whitehead.
Brockport (14-9-3, 7-7-2) at Plattsburgh (22-1-2, 15-0-1)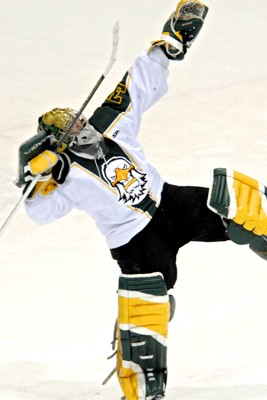 If there is one goaltending match up everyone wanted to see, this is it: Bryan Hince versus Todd Sheridan. First against second team All-Conference. .937 save pct. versus .916 save pct. These two netminders have been the topic of a heated debate on the USCHO.com message boards. Whether it gets settled or not on Saturday, it will at least be fun to watch.
"They are going to rally behind their goalie and try to win the game starting from him on out," Plattsburgh coach Bob Emery said.
"When we let him know he was second team All-Conference, he was a little perturbed at that," Brockport coach Brian Dickinson said after the play-in game. "Although we have a lot of respect for Mr. Hince up at Plattsburgh, Todd is a competitor, and he thinks he's the best guy for the job. Obviously, we'll need a healthy Todd Sheridan to be on top of his game because it will be a game where most likely we'll be outshot."
Plattsburgh certainly has the stronger supporting cast, which Dickinson is fully aware of.
"They're deep," he said. "All you have to do is look at the first team All-Conference and see it's basically all Plattsburgh. You just have to take care of the middle of the ice, force everything outside."
Loaded may be more like it as the Cardinals have six of the top 13 scorers: Dylan Clarke (11-15-26), Joey Wilson (12-10-22), Riley Hill (9-12-21), Nick Rolls (5-15-20), Phil Farrow (6-14-20), and Eric Satim (9-10-19). This allowed Plattsburgh to have the top offense with the only team averaging over five goals a game. Oh, and they just so happen to also be the only team that lets up less than two goals each contest. Plus, they are the least penalized team, have the best penalty kill (85.9%) and the second best power play (26.7%), and they have not allowed a shortie all season.
"If we play the same game we did a couple of weeks ago and get a couple of timely scores when the game was close, we'll take our chances," Dickinson said.
Plattsburgh knows not to take Brockport lightly. The Golden Eagles in some ways seem to be a team of destiny. Just when people want to count them out, they perform an accomplishment the school has never seen before.
"I know we'll run into a very hard working team," Emery said. "They are going to come in and throw everything but the kitchen sink at us. They have a few former Plattsburgh players that will be coming in here with a lot of emotion."
"We've got to work hard. We've got to be energized. We do that, we play our best hockey," Dickinson said. "We have to tighten up our zone a little bit.
Leading the way for Brockport is Sean O'Malley (4-14-18), Tim Crowley (6-9-15), Dave McNab (8-6-14), James Cody (5-9-14), and Mike Gershon (6-6-12), along with two excellent rookie defensemen, Greg Amato and Andrew Simmons.
"You are only as good as your goalie in this game," Emery said. "It's like a pitcher in baseball. If you don't have a good goalie, you're not going to have a chance to win."
"To advance in this league when it's one and done, if you have a solid goaltender, you can go far," Dickinson said.
Let the battle commence.