It's go time in the CHA.
Tournament time.
March madness in northern Minnesota.
For all the marbles.
An NCAA bid on the line.
Insert any old cliche here and it probably fits what's going down this weekend with the four CHA teams vying for a spot in the NCAA tournament.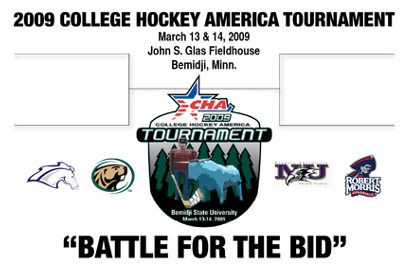 The past three years have seen three different schools win the CHA tournament and this season, each school has a 25 percent chance to take home the McLeod Trophy.
Last weekend, Bemidji State won the Peters Cup as regular-season champs, but can the Beavers make it a double dose of hardware on home ice this weekend? Or will Niagara be the first team to repeat since BSU in 2005 and 2006? Or will the lone CHA team to never make the NCAA round of 16, Robert Morris, get two wins? And last, but not least, will Alabama-Huntsville recreate some of its postseason magic from 2007?
Let's dust off the crystal ball and see what the second-to-last CHA tourney has in store for us, shall we?
Semifinals
No. 2 Niagara vs. No. 3 Robert Morris
'08-09 Head to Head: NU won series, 4-0-2
Niagara has eliminated RMU from the CHA tournament three of the last four years and was unbeaten against the Colonials this season. The key to this game will be goaltending — the grizzled veteran for Niagara versus the young stud from Robert Morris. This may be the most evenly-matched game in the tournament, but NU comes out on top, 4-2.
No. 1 Bemidji State vs. No. 4 Alabama-Huntsville
'08-09 Head to Head: BSU won series, 5-1-0
Things just didn't go right for Huntsville this year, but the talent is there and UAH should take bigger steps next season. Unfortunately for the Chargers, opening against the host team, also the top seed, is their undoing here and the Cinderella moniker will have to be put away for another season. Bemidji State wins, 5-1.
Consolation
No. 3 Robert Morris vs. No. 4 Alabama-Huntsville
'08-09 Head to Head: RMU won series, 3-1-2
The only upset in the tournament sees UAH squeeze out a 5-4 win in overtime on a goal by one-time Colonial Joe Federoff.
Finals
No. 1 Bemidji State vs. No. 2 Niagara
'08-09 Head to Head: BSU won series, 4-2-0
Bemidji State won the season series and wins the tournament here behind a packed Glas Fieldhouse. Niagara shouldn't feel shame, however, as BSU has simply been the better team when these two teams meet. The breaks go the home team's way here and the Beavers get to celebrate on campus after a 3-2 win.
Niagara Takes Three Points From UAH
For the third consecutive game, Niagara played to a 2-2 draw, tying Alabama-Huntsville last Friday night before getting a 6-3 win the following night at home.
Friday night, the Purple Eagles got goals from Chris Moran and Sam Goodwin and 29 saves from Juliano Pagliero, who also earned his first career assist on the Moran tally.
"We did everything but get the timely goal in the end," Niagara head coach Dave Burkholder said. "I thought we deserved better. I was really excited by our effort."
Davide Nicoletti and Andrew Coburn scored for UAH, while Cameron Talbot finished with 37 saves.
In the Saturday win, Vince Rocco popped a goal and two assists, while Ted Cook notched two points (both assists) to mirror his Dwyer Arena debut from Oct. 7, 2005 when he also recorded two points.
The Niagara senior class went 45-12-7 in its four years at Dwyer.
"On Senior Night, you hope to get a complete effort from your team and we definitely got that," said Burkholder. "It was a great win in honor of our senior class."
Egor Mironov scored twice and Brian Dowd, Ryan Olidis and Dan Baco added singles to go along with two helpers from David Ross.
"It was nice to break out of the offensive slump we were in," Burkholder said.
Pagliero made just 18 saves in net.
Kevin Morrison, Neil Ruffini and Cale Tanaka tallied for the Chargers, Tom Train chipped in two assists and Talbot and Blake MacNicol combined for 33 saves.
Beavers And Colonials Split In Bemidji
Bemidji State was presented with the Peters Cup after Saturday's 6-4 win at home against Robert Morris, but it was the visiting Colonials who skated away with a 3-2 win the first night.
Matt Francis posted the first multi-goal effort of his career Friday night, but that was all the offense BSU could muster.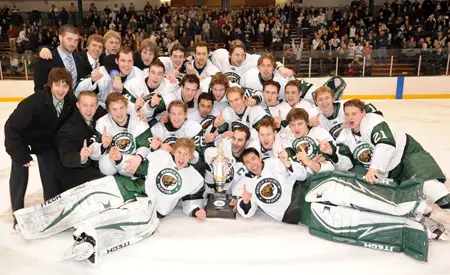 Chris Margott tallied twice and Jason Towsley once for RMU, who also got a 28-save outing from goalie Brooks Ostergard.
In the BSU net, Matt Dalton made 20 stops.
Saturday night, the Beavers came from behind for the victory.
Tyler Scofield netted his first collegiate hat trick during a second period in which BSU scored five goals and grabbed the lead for good. With his second goal of the night, Scofield became the sixth player of BSU's Division I era to post 100 points during a career and now sits tied for fourth on the Beavers' Division I scoring chart with a 43-58-101 line.
"He's one of the most exciting players to ever put on a BSU jersey," Bemidji State head coach Tom Serratore told the Bemidji Pioneer. "He is so competitive and so much fun to watch. I really believe if he was 5-foot-11 and weighed 180 pounds he'd make it in the National Hockey League."
Scofield is listed at 5-foot-8 and 150 pounds.
Five of the Beavers' six goals came courtesy of special teams play. BSU finished the game 2-for-6 on the power play and added a Bemidji State Division I-era record three shorthanded goals. After playing the first 31 games of the season without recording a single short-handed goal, the team was just 29:39 from skating through the entire regular season without a shorty for the first time since the 1966-1967 season.
Francis (goal, two assists), Brad Hunt (three assists) and Matt Read (goal, two assists) registered three points each on the night and Ben Kinne added the final goal for BSU.
Kyle Burton, James Lyle, Denny Urban and Margott scored for the Colonials and Ostergard and Jim Patterson combined for 37 saves.
BSU goaltender Orlando Alamano, between the pipes for the first time since Jan. 17, won with a 20-save performance.
"It was an emotional win," Serratore added. "We gave Alamano the game puck for all that he has been through and all that he's done for the program. It was a fantastic game — you should have felt the emotion at ice level. It was unreal."
BSU, NU, UAH Get New '09 Commitments
Three of the four CHA schools reportedly received verbal commitments this week.
Bemidji State got the nod from Fargo Force (USHL) defenseman Jake Areshenko, South Kent Prep School defenseman C.J. Chartrain committed to Niagara and Finland forward Matti Jarvinen will be off to North America and Alabama-Huntsville.
Areshenko is a Port Coquitlam, B.C., native and his online bio on the Force website is intriguing to say the least. The best advice he's ever been given is "Be the hammer, not the nail," if he could switch places with one person for a day, he'd switch places with Seal and if he could travel anywhere in the world, he'd go to Africa on a safari.
Colonials Recruit Grabs CJHL Honors
Goaltender Eric Levine, an incoming freshman for Robert Morris this fall, was named the Central Junior Hockey League's top goalie last week.
Levine, a 20-year-old with the Pembroke Lumber Kings, went 19-13-0-1 with four shutouts. He started the season with the Hawkesbury Hawks.
CHA Hands Out Yearly Awards
Player of the Year — Juliano Pagliero, Niagara
Rookie of the Year — Brad Hunt, Bemidji State
Student-Athlete of the Year — Vince Rocco, Niagara
Coach of the Year — Tom Serratore, Bemidji State
All-CHA First Team
F — Nathan Longpre, Robert Morris
F — Chris Margott, Robert Morris
F — Matt Read, Bemidji State
D — Brad Hunt, Bemidji State
D — Denny Urban, Robert Morris
G — Juliano Pagliero, Niagara
All-CHA Second Team
F — Egor Mironov, Niagara
F — Vince Rocco, Niagara
F — Tyler Scofield, Bemidji State
D — Cody Bostock, Bemidji State
D — Tyler Gotto, Niagara
G — Matt Dalton, Bemidji State
All-Rookie Team
F — Dan Baco, Niagara
F — Cody Campbell, Alabama-Huntsville
F — Ben Kinne, Bemidji State
D — Brad Hunt, Bemidji State
D — James Lyle, Robert Morris
G — Brooks Ostergard, Robert Morris
All-Academic Team
Alabama-Huntsville — Matt Baxter, Vince Bruni, Ryan Burkholder, Andrew Coburn, Derek Conter, Chris Fairbanks, Scott Kalinchuk, Joey Koudys, Kevin Morrison, Josh Murray, Davide Nicoletti, Cameron Talbot
Bemidji State — Ryan Adams, Orlando Alamano, Emil Billberg, Cody Bostock, Ryan Cramer, Matt Francis, Kyle Hardwick, Tyler Lehrke, Ian Lowe, Dan MacIntyre, Brandon
Marino, Chris McKelvie, Chris Peluso, Matt Read, Travis Winter
Niagara — Travis Anderson, Ryan Annesley, Adam Avramenko, Jim Burichin, Egor Mironov, Chris Moran, Vince Rocco, David Ross, Armando Scarlato, Dan Sullivan, Paul Zanette
Robert Morris — Kyle Burton, Matt Krug, Chris Kushneriuk, Brock Meadows, Jake Obermeyer, Jim Patterson, Wes Russell, Denny Urban, Tyler Webb