Now starts the real work. After losing in the national championship game a year ago, Plattsburgh had one thought on their minds–make it back. They did what they had to do in the regular season towards that goal, and then some.
"Going into the SUNYAC playoffs this year was different than going into a typical SUNYAC playoffs," Plattsburgh coach Bob Emery said. "We knew we were going to be the number one seed no matter what. That may have helped us win the two games. But, it may have hurt us also. We know we didn't play our best 60 minutes against Oswego, and it hurt us."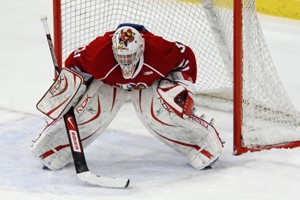 They did, however, manage to pull out the win despite falling behind 2-0 and 3-1 with Bryan Hince looking a bit shaky at first.
"When someone is down, someone else has to pick up the slack," Emery said.
Though Plattsburgh–24-1-2 overall, 15-0-1 in SUNYAC–and UW-Superior have been two of the most consistently hot teams all year long, the Cardinals' opponent in the NCAA quarterfinal round is perhaps the hottest team in the country right now.
"They've been a very good team as of late," Emery said of Neumann. "They've won the championship in a very good league. They've beaten Elmira in Elmira's rink two times in a row. Other than that, we don't know much about them. Anytime you get to the final eight, you know you are up against the best in the country.
"We're going to concentrate on us first and foremost. The key to any hockey team is to know yourself and know what you are best at, and then be the best at that."
What Plattsburgh is excellent at is keeping the puck out of their own net, second best amongst the NCAA playoff field. Of course, the Cardinals score a heck of a lot, too, thanks to their up-tempo game and strong conditioning that allows them to wear opponents down in the third period.
But, it's defense that Emery wanted to work on this year as they have let up two goals or less in 18 games this year, lowering their goals against per game from last year's 2.07 to 1.81.
Thus, it was no surprise the SUNYAC coaches voted Eric Greene the best defensive defenseman and Joey Wilson the best defensive forward in the league and two of their key blueliners are seniors (Ryan Burke and Nick Rolls).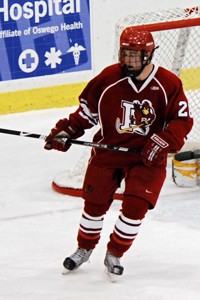 The Wilson pick was particularly interesting because he also happens to lead the team in goals (22) and points (39). The defense first mantra has certainly taken hold even amongst the most dangerous offensive players.
Plattsburgh will take away your passing lanes, clog the front of the net, and clear any rebound Hince allows. And that's when Hince even allows a rebound in a dangerous spot.
"They're a very physical team and have very good goaltending," Emery said. "That's why we have to make sure we keep the puck out of our own net."
They can no longer afford to just think about making it back to Lake Placid. They now have to actually do it.
"We're not planning on anyone having a bad game," Emery said. "Our balance of playing four lines and six defensemen helps us out."