Jim: You can cut the tension with a knife, Brownie. We're down to the final weekend of the league tournaments. At this point we have one champion decided (Bemidji State in the CHA), a couple teams knocked out of their league playoffs and hoping for a miracle (Ohio State, Miami), and a few teams looking to use this weekend to play themselves into the NCAA tournament (Boston College, Mass.-Lowell, Wisconsin, St. Lawrence, Northern Michigan and the all of the remaining Atlantic Hockey teams). And all of this was caused by a crazy weekend of quarterfinal action. Let's start in the craziest of leagues, Hockey East. Two teams pulled off not just road upsets, but road sweeps in Mass.-Lowell and BC. The league's top two teams — Boston University and Northeastern — needed three games to survive, and the Huskies needed overtime to do so. It certainly was an upside-down weekend in Hockey East, but I think it proved the broken-record point we've tried to make all season: Hockey East is an incredible league top to bottom and any team can beat any other on a given night. Your thoughts?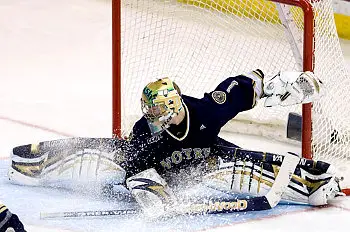 Scott: Jim, the Hockey East playoffs definitely featured the most drama and the biggest surprises — and the biggest worries for bubble teams in the PairWise Rankings since an upset champion like UML can take away an at-large spot, not to mention the possibility of BC getting into the NCAAs as well. The CCHA gave us similar drama, with Ohio State's NCAA hopes now on life support thanks to the Buckeyes' 1-0 Sunday loss to Alaska; OSU outshot UA 43-26 and got shut out. Northern Michigan did the same to Miami, meaning that the CCHA has two underdogs at Joe Louis Arena this weekend. Out my way, the WCHA playoffs went more according to form with only Minnesota Duluth providing an upset by sweeping Colorado College, and that wasn't much of an upset considering that the Bulldogs were positioned for home ice until a breakdown in the final weekend of the regular season. I'm also especially interested in ECAC Hockey, where the top four seeds all got through to Albany. Thanks to the ECAC's use of the third-place game, it's likely that one of those teams will go 0-2 this weekend (barring a tie in the consolation game), which could mean big-time bubble trouble for whoever it is. A hypothetical: which underdog in any conference tournament do you think has the best chance of winning its league title?
Jim: Well, anyone who hears my two answers to that question will scream "Homer!" But I really think that both Mass.-Lowell and BC could easily win the Hockey East tournament. Both teams are playing their best hockey all season right now. Boston College upset Northeastern (handily, I might add) on the final night of the regular season then crushed New Hampshire in game one last weekend before earning the 1-0 series-clinching win. Mass.-Lowell has lost just three games since January 18, once to BU and twice to Northeastern. The BU game was tied at 3 entering the third; the second of the two Northeastern losses was a game in which the River Hawks outshot the Huskies 33-17 but ran into a red-hot Brad Thiessen. Could Lowell get past Thiessen this time? Could BC save against crosstown rival BU on Friday? Absolutely. Do I think either will happen? I'm not sure. That said, none of the other underdogs seems to be in that solid of a position to pull off the upset, particularly in the WCHA where it can take three victories to earn the title.
Scott: I would agree, unless you define Wisconsin as an underdog in the WCHA. I don't, considering that the Badgers played very well outside of a terrible start and a five-game winless streak late in the season, a funk that UW pulled out of last weekend. Plus, a number-three seed can't be an underdog unless the top two teams are bulletproof, a description that doesn't fit either North Dakota or Denver though the Fighting Sioux have been excellent lately. Minnesota and Minnesota Duluth play each other on Thursday; both are true underdogs — it seems odd to call the Gophers underdogs, but there it is. One will be gone from the Final Five come Friday while the other would have to win three games in three days, as you point out. In the CCHA, Northern Michigan has been strong of late but the Wildcats get Notre Dame Friday and when those two teams played a month ago, ND crushed NMU en route to sweeping the regular-season series. There are no underdogs in the ECAC as far as I'm concerned, with the top four seeds all present and looking pretty good, and in Atlantic Hockey, RIT and Air Force are near-prohibitive co-favorites. So I'd take Boston College as my upset pick. We agreed last week that BC would put up a fight before giving up on its NCAA title defense. The Eagles did just that, and though they're playing BU Friday, funny things happen in rivalry games, especially on big stages.
Jim: One doesn't have to travel too far back remember when BC lost its final four head-to-head games of the 2005-06 season against BU and then went into the East Regional final and decimated the Terriers, 5-0. This year's BU seniors were freshmen in that game, so maybe they'll have that in their memory banks. Outside of tournament play, another item to note this week is the announcement of the top 10 finalists for the Hobey Baker Memorial Award, which will be done at the league banquets on Thursday night. Want to take a crack on picking three Western players that we know will be there, and why, when the announcement is made on Thursday?
Scott: I'm admitting right now that I'm going to get this wrong. There have been a lot of very good seasons by players out this way, but few stand clearly above the rest. For instance, I would have thought goaltender Jordan Pearce of Notre Dame was a lock as a Hobey finalist, and then he ends up honorable mention on the all-CCHA team — which seems insane until you notice the numbers Chad Johnson put up at Alaska and remember Jeff Lerg's heroics for a doomed Michigan State squad. Pearce is one of three finalists for the CCHA Player of the Year despite that — strange indeed. There's a similar problem in the WCHA, where it's not at all obvious who the Player of the Year should be. Minnesota captain Ryan Stoa led the conference in scoring and was undeniably great on the ice, but as our good friend Todd Milewski pointed out in his blog recently, the Gophers' second-half swoon may pull him down in the WCHA awards and with the 58 Division I men's coaches who pick the Hobey finalists. Still, I'll say that both Pearce and Stoa make the grade, and since I'm lazy I'm going to declare Air Force a West team and take Jacques Lamoureux, the national leader in goals. Your turn.
Jim: Even though you're stealing my players, I shouldn't have that much trouble picking anyway. Let's start with the obvious in Matt Gilroy at BU. In terms of defensemen, there may not be a better two-way, mobile blueliner in college today. We'll stay in Hockey East and head north to Vermont, where I believe Viktor Stalberg should be a Hobey finalist as well. He's meant more to that team that any forward has to an offense in Hockey East this season. With my last pick, I have to go with the nation's leading scorer in Quinnipiac's Bryan Leitch. Now that we've done the Hobey, there are five tournaments this weekend. Let's pick the champions; I'll start. In Atlantic Hockey, I like Air Force. I feel like Hockey East will see an upset, but still will pick Boston University. I really like Yale in the ECAC, and out West we'll pick two modest upset champions: Michigan takes the CCHA and Wisconsin gets the WCHA title. And you?
Scott: I agree on BU, but I'll take RIT in Atlantic Hockey based on the venue — Blue Cross Arena in Rochester, N.Y., a virtual home game for the Tigers. The ECAC is a tough call, since as I've said I don't think there's an underdog there, but I'm going to go with Princeton to repeat based on goaltending and just enough offense even though I like Yale too. In the CCHA, I'll make the safe pick of Notre Dame, and at the WCHA Final Five — which I'll be calling home all weekend — I'm predicting North Dakota's second-half surge to continue all the way to the title. Next week we'll have plenty to talk about, including the aftermath of Selection Sunday and the upcoming NCAA regionals, so until then …